A number of municipal, provincial, and federal politicians have spoken out against the toppling of Sir John A. Macdonald's statue by activists in Montreal this past weekend.
"Whatever one might think of John A. Macdonald, destroying a monument in this way is unacceptable," Quebec Premier François Legault said on Twitter. "We must fight racism, but destroying parts of our history is not the solution."
"Vandalism has no place in our democracy and the statue must be restored," Legault added.
Montreal Mayor Valérie Plante also spoke out against the vandalism of the statue of Canada's first prime minister, perpetrated by group of activists in the aftermath of a march through downtown on Aug. 29 calling for the police to be defunded.
"I strongly condemn the acts of vandalism that took place this afternoon in downtown Montréal, which led to the John A. Macdonald statue being torn down. Such gestures cannot be accepted nor tolerated," Plante said in a tweet.
Conservative Party Leader Erin O'Toole called on politicians not to sit by while attempts are made to deface Canada's history.
"Canada wouldn't exist without Sir John A. Macdonald," O'Toole tweeted. "We will not build a better future by defacing our past. It's time politicians grow a backbone and stand up for our country."
The statue of Sir John A. MacDonald is shown torn down and sprayed with graffiti following a protest in Montreal on Aug. 29, 2020. (Graham Hughes/The Canadian Press)
A video posted on social media captured the act of tearing down the statue; the crowd can be heard cheering as the statue fell.
The Montreal protest on was part of a nationwide series of rallies organized by the Coalition for BIPOC Liberation. BIPOC stands for black, indigenous, and people of colour.
The coalition wants police budgets decreased by 50 percent and the funds invested in mental health treatment, civilian conflict resolution services, and trauma-based emergency services.
It also calls for the removal of "all statues, plaques, and emblems on both public and private property of any person, act, symbol, or movement that promotes or has promoted slavery, anti-Black racism, or anti-Indigenous racism."
Alberta Premier Jason Kenney also lashed out on Twitter over the vandalism.
"Many of those on the extreme left responsible for this kind of violence claim that Canada is an illegitimate state, all the while enjoying Canada's rights, freedoms, privileges & prosperity. None of those things were created by accident," he wrote.
Kenney noted that Macdonald was an immigrant "who suffered unimaginable personal trauma throughout his life, which he overcame to forge an enormous country out of divided factions."
"It's right to debate his legacy and life. But it is wrong to allow roving bands of thugs to vandalize our history with impunity," he wrote.
Kenney added that if the City of Montreal decides not to restore the statue "to where it has stood for 125 years, we would be happy to receive it for installation on the grounds of Alberta's Legislature."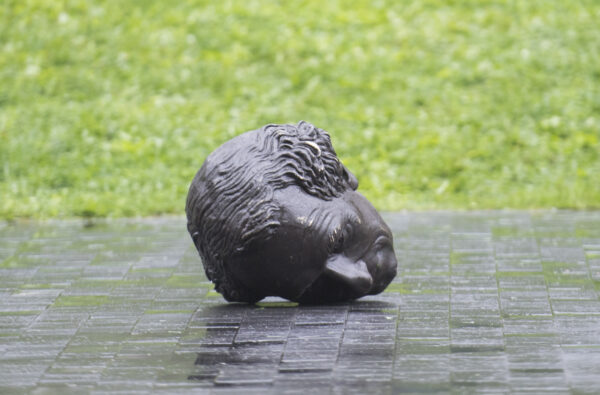 Alberta MLA Kaycee Madu, the first black justice minister in Canada, also condemned the act of vandalism in a tweet.
"This madness needs to stop. Governments across our country must take steps to rein in these violent activists. They serve no identifiable good to the cause of justice or equality," Madu wrote.
"We must strengthen our law enforcement and make reforms where needed–not defund the police or defame those who bear enormous risks to keep our people and communities safe."
On Aug. 31, two days after the statue was torn off its pedestal, Prime Minister Justin Trudeau said he was "deeply disappointed" by the incident.
"I understand the impatience, the frustration, of Canadians who faced systemic discrimination and racism throughout their lives and their concern that we act quickly on that," Trudeau told reporters in Montreal.
"But we are a country of laws, and we're a country that needs to respect those laws, even as we seek to improve and change them. And those kinds of acts of vandalism are not advancing the path toward greater justice and equality in this country."
With files from The Canadian Press