LOS ANGELES—A group of parents, teachers, and students gathered outside the Los Angeles Unified School District (LAUSD) headquarters on April 15, calling on the district to end its staff COVID-19 vaccine mandate and let unvaccinated teachers return to school campuses to help with the worsening teacher shortage.
Dozens of adults and children were holding signs that read "Let Our Teachers Back to Classroom," "Stop the Segregation," and "Let My Daddy Work."
The rally was organized by the education advocacy group Los Angeles Educators and Parents United in response to new LAUSD Superintendent Alberto Carvalho's recent plan to fill 400 vacant teaching positions in the district by drawing from a pool of about 3,000 administrators and other district staff.
The group's leaders said they believe the district is facing teacher shortages largely due to its staff COVID-19 vaccine mandate, which was enacted on Nov. 15.
Since November, the LAUSD—the largest school district in California—has fired 800 staff members for non-compliance with the mandate, and about 600 teachers were forced to move to teach remotely in the City of Angels, the district's online learning program.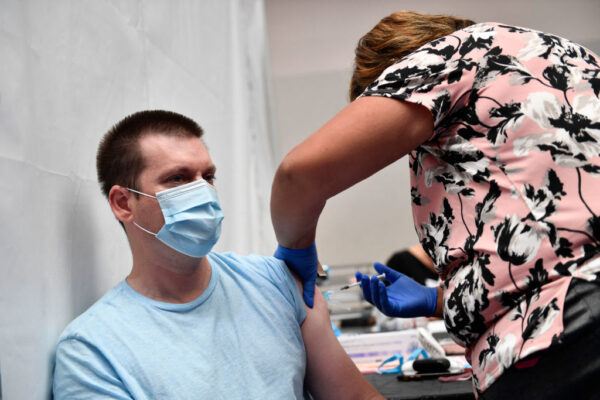 LAUSD teacher Francis Moreno said she felt "humiliated" when she learned of Carvalho's plans to fill teacher vacancies with administrators, intervention specialists, and other office staff.
"When we [learned] that [Carvalho is] going to bring personnel from LAUSD, like anybody [can] just fill these vacancies … we felt humiliated, we felt ignored, we felt like they're just pushing us to the side," Moreno told The Epoch Times. "They're not considering that a lot of [unvaccinated] teachers want to go back to their classrooms."
Moreno, who taught special education preschool in the district, had to shift to teaching third grade in the City of Angels program—something she said she did not feel fully equipped for at the time.
Moreno said she thought the shift from district offices to classrooms would likely be difficult for the administrators pulled by Carvalho to fill teacher vacancies.
"There are probably some administrators who have teaching credentials but have not been in the classroom for a long time, so obviously, it's going to take a while for them to adjust, just like we did," she said.
Moreno went on to say that teachers in the online learning program have only about three hours' worth of classroom teaching to do, and then are given clerical work, such as assignment records and contract paperwork, to do for the district.
"It feels kind of like they're switching our roles," she said. "These administrators who are used to being on the computer and doing all this paperwork are going to go into the classrooms, and we're the ones who are teaching three hours and doing all this other paperwork."

LAUSD teacher Yvonne Rios, who formed the group with several other educators and parents, said she thought it was "ridiculous" for the district to send administrators and uncredentialed new hires into classrooms instead of letting the experienced unvaccinated teachers back into their classrooms.
To fill teacher vacancies, the district has also hired 2,336 new teachers this school year, of whom only 26 percent are fully credentialed by the state to teach, according to a March 29 report by the district's Board of Education.
"Instead of sending us highly qualified and credentialed teachers back, [the district is] also hiring people that are not credentialed and just starting teaching school," Rios said.
Rios also pointed out that since last year the state no longer requires teacher candidates to take the California Basic Skills Test or the California Subject Matter Exams for Teachers to earn a credential.
Instead, candidates can demonstrate their subject proficiencies and skills by earning a college degree in the subjects they are going to teach or completing approved college courses with a B or better grade, according to EdSource, a nonprofit media reporting on California's education.
EdSource also attributed the state-level reform to a "persistent teacher shortage in California" that "became more urgent during the pandemic as testing centers closed, teacher retirements increased and the number of teachers earning credentials declined."

A January report by nonprofit education research group Learning Policy Institute found that some of the largest districts in the state had 10 percent of vacancies still open at the start of the 2021–22 school year while one district had a quarter of its vacancies unfilled.
In addition, the report found that the number of substandard teaching credentials and permits—such as teaching through internship programs that lead to full credentials or teaching with 1-year permits or waivers—issued in California nearly tripled in the recent seven years, to the point of more than 13,000 in the 2019–2020 school year.
Rios chalked the statewide teacher shortage up to stress, which has been exacerbated by strict COVID-19 protocols and student learning gaps caused by the pandemic.
"Teaching has been very hard, with all these new mandates that they require," she said. "My second graders were kindergarteners when the pandemic hit, and with the masks, they're having trouble with basic things like learning to talk and socializing. And so, I just think the teachers who loved teaching got burnt out and didn't love teaching anymore."
Both Moreno and Rios said if the district keeps its staff vaccine mandate, they will seek to teach in other districts, which could be foreshadowing a potential teacher exodus from online learning programs next school year.
Los Angeles Educators and Parents United already sent a letter to the district on April 8 requesting to meet with Carvalho to talk about allowing unvaccinated credentialed teachers to return to campuses and removing student and staff COVID-19 vaccine mandates for the upcoming school year.
A spokesperson for the LAUSD was not immediately available for comment.