Teacher's Day No Cause for Celebration in China
The respect given teachers in China has declined, and the holiday celebrating their role is disappearing
September 11, 2014 2:11 pm Last Updated: September 11, 2014 2:57 pm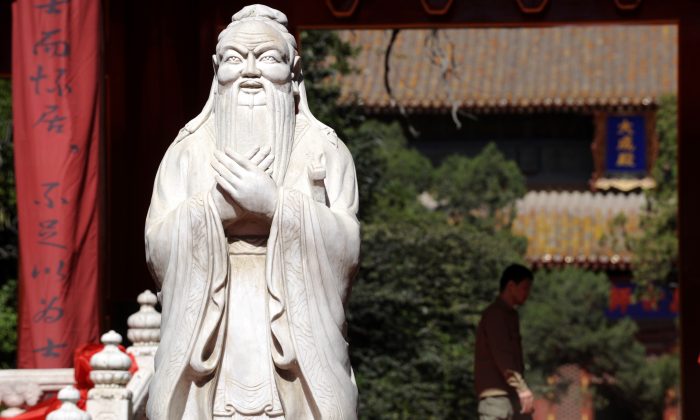 Teacher's Day in China falls on Sept. 10, but a former teacher in southeastern China's Jilin Province did not find much to celebrate.
"Nowadays, teachers from Dunhua City only care about money," former secondary school teacher Gao Yuxiang told Epoch Times. "The important lectures are only taught during after-school sessions, not during regular school hours."
"Teachers hold a grudge against students who refuse to attend these sessions," Gao said. "This is very common—a result of how people in society care only about money."
Gao was dismissed by her school after working as an English teacher for 13 years. Her job and those of other teachers were sold by the director of the Dunhua City commission of education.
Gao petitioned in Beijing for 3 years for redress of the injustice done her. She and other teachers who were fired are now trying to make a living as a tutor.
Another fired teacher from Dunhua City named Qui Lirong was beaten to death by local police after being kidnapped by interceptors—thugs hired by the regional authorities to illegally bring back petitioners.
Preying on Students
The desire to make a profit off their students is not the worst characteristic of teachers nowadays in China. There have been a series of sexual scandals involving teachers over the past few years that have shocked Chinese society.
In April, 2008, a senior attending Pine Bridge High School in Chongqing City was believed to have been raped and murdered by a school teacher. The incident led to a protest of 20,000 people at a local park. 
In May 2013, an elementary school principal in Wanning City, Hainan Province, was accused of raping students—including a girl as young as 11 years old.
In June 2014, history teacher Wu Chunming at Xiamen University was accused of sexually harassing a female student. After 3 months, the school remained silent about its ongoing investigation.
The cases have occurred all around China. In Guizhou Province in the southwest a teacher raped a student. In Guangdong Province in the southeast a student was sexually abused. In Yunnan, again in the southwest, a student was raped. In Anhui Province in eastern China, another rape. In Henan in central China, a case of sexual harassment.


Sept. 10 is Teacher's Day in China. Many teachers have said that the national holiday seemed to have lost its traditional meaning and significance under CCP rule. (Weibo.com)
Corruption and Education
"Ever since Jiang [former Chinese regime head Jiang Zemin] took power, these things have become increasingly common," said Lu Guang, a university lecturer from eastern China's Jiangsu Province, referring to corruption and sexual scandals at schools, in an interview with Epoch Times.
Zhang Zan-ning, a well-known Chinese legal expert from Jiangsu, pointed out that the chaotic education system is closely tied to the free fall of moral values in society, which he attributed to the rule of the Chinese Communist Party (CCP).
Zhang added that Jiang's era saw corruption, sex scandals, and the persecution of the spiritual practice of Falun Gong, all of which he said accelerated the decline of moral values in society.
"There is no way that the education system cannot be affected by corruption," Zhang said. "Kindergarten parents need to bribe the teachers—otherwise their children won't be taken care of."
"The purpose of education in China is not about teaching students to become qualified citizens," Zhang said. "Rather, it is about passing examinations and instilling the CCP's doctrine. This is so very different from any normal educational system."
Nowadays in China, according to Zhang, rich families are sending their children overseas to be educated in Europe and America. Even poor people are risking illegal immigration so their children can be educated overseas.
There are also Chinese families that do not believe in the teachers and system in China—they would rather educate their children themselves.
Restoring Classic Chinese Literature
In most countries, Teacher's Day often celebrates an esteemed local educator or someone who has made important contribution to education.
Taiwan and Hong Kong celebrate Teacher's Day on Sept. 28, the birthday of Confucius, the most respected Chinese educator and philosopher (prior to Hong Kong's return to China in 1997).
In China, the holiday is starting to disappear.
According to Yang Bo, an elementary school teacher from Huanggang City, in central China's Hubei Province, said his school had cancelled the national holiday this year.
"There isn't a Teacher's Day," Yang said. "It is just like any other day. A normal working day."
In ancient China, teachers imparted morality and knowledge, and exemplified the virtues. During the Cultural Revolution (1966-1976) under the CCP, teachers were targeted for humiliation and violence. Since then, respect for teachers, and the understanding of the duty of a teacher, have been greatly diminished.
On Aug. 26, Chinese media reported that in Shanghai Chinese classic poems and essays would be deleted from the textbook for 1st-year elementary school students—a proposal intended to lighten students' workload.
Parents objected, and they have found an ally in CCP head Xi Jinping. When visiting Beijing Normal University on the eve of Teacher's Day, Xi said, "I think these classics should be ingrained into the brains of students—becoming the cultural genes of the Chinese people."