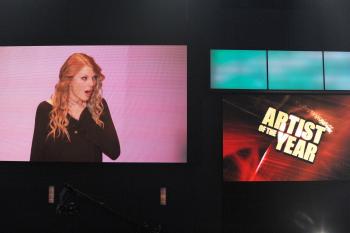 American Music Awards Held
The 2009 American Music Awards were broadcast live on ABC on Sunday night. Among the star-studded performances were those by Whitney Houston, Alicia Keys and Jay-Z, Lady Gaga, Jennifer Lopez, Carrie Underwood, and Janet Jackson. Michael Jackson was posthumously honored with four awards. Country music star Taylor Swift also received four awards, including "artist of the year." The network received a reported 1,500 complaints regarding American Idol runner-up Adam Lambert's performance, which featured sexually explicit themes. Lambert later told "Rolling Stone" he was trying to promote "artistic freedom." Lambert's act is being both celebrate and condemned in the news (the "Los Angeles Times called it "ultra lewd") and is garnering him a healthy does of publicity as his new album drops in stores this week. ABC enjoyed the highest ratings of its annual broadcast of the AMA's (which target teens and young adults) since 2002.
Michael Jackson's Famous White Glove Sold
The famous white glove Michael Jackson wore for his infamous Motown 25 performance where he introduced the world to the moonwalk, sold at auction this weekend in New York for $350,000. Hong Kong businessman Hoffman Ma won what auction house CEO Darren Julien deemed "the Holy Grail of Michael Jackson." Ma, who called the price "a fairly good discount," bid for the prize on behalf of the Macau hotel Ponte 16.
Sting Speaks Out on Amazon Dam Proposal

Musician and founder of the Rainforest Foundation Sting spoke at a news conference this weekend regarding the planned Belo Monte Dam in Brazil. Some have deemed the dam an environmental risk to the Amazon Basin. The artist called for more discussion about the pros and cons of the project that some estimate will cost $17 billion, saying, "I'm sure there are sound economic reasons why this dam makes sense, just as on the opposite side there are sound environmental reasons why it's not a good idea." Sting was in Brazil for a pro-environment concert in Sao Paulo.
Bulls Escape Set of Tom Cruise Film
Seven bulls escaped the set of "Knight & Day" in Spain on Sunday, injuring two women on a nearby beach. The picture will star Tom Cruise and Cameron Diaz who were not on set for the incident. The stars are scheduled to begin filming in Cadiz next weekend. The injuries are said to be minor, however, filming has been suspended until further notice, according to local officials.
Stars Honor Everyday Heroes
Cable news network CNN enlisted the participation of some of today's biggest stars to shine the spotlight on deserving, although they are not famous people. The annual awards show was hosted by CNN's Anderson Cooper and taped on Saturday in Hollywood. Special appearances were made by Julia Louis Dreyfus, Kate Hudson, Nicole Kidman, George Lopez, Carrie Underwood, Neil Patrick Harris, Pierce Brosnan, and many more.
The extraordinary accomplishments of ten select individuals were highlighted and a Hero of the Year was chosen. The top honor this year went to Efren Peñaflorida who created a "pushcart classroom" in the Philippines in an effort to bring education to poor children. "CNN Heroes: An All-Star Tribute" will air on the network on Thanksgiving night at 9 p.m.
Compiled by Barbara Danza, Epoch Times Staff