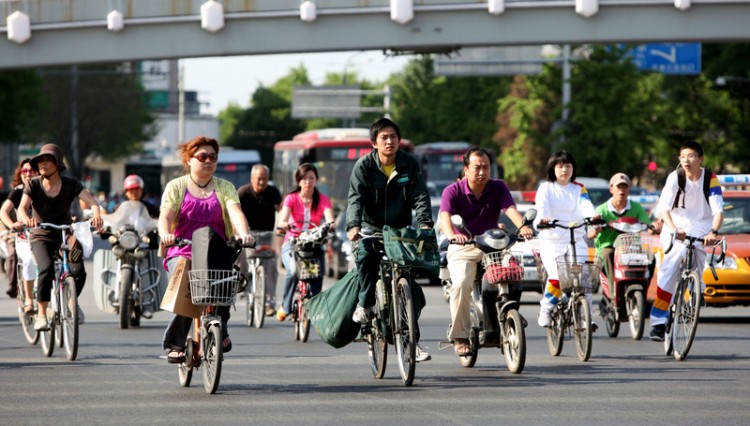 China's 2011 fiscal revenue officially exceeded 10 trillion yuan (US$1.6 trillion), most of it from taxes. Experts pointed out that the figure shows that China's macro tax burden is too heavy.
Data released by China's Ministry of Finance says it is the first time that China's fiscal revenue exceeded 10 trillion yuan. Taxes account for 8.9 trillion yuan (US$1.4 trillion), 1.6 trillion yuan (US$254 billion) more than last year, an increase of 22.6 percent. Gross domestic product (GDP) increased by 9.2 percent from last year.
Chen Zhiwu, a professor of finance at Yale University, says that ignoring inflation, from 1995 to 2010, the government's budgetary fiscal revenue increased 10 times in 15 years, while the per capita disposable income for urban residents has grown only about 2.2 times; and in the case of farmers, just 1.7 times.
Research from Gao Peiyong, the director of the Institute of Finance and Trade Economics, Chinese Academy of Social Sciences, shows that only six percent of the government tax revenue in 2010 was from individual income tax, and more than 70 percent from from value-added tax (VAT), business tax, consumption tax, and other indirect taxes, which means more than 70 percent of tax in China was paid by consumers.
A Henan Business Daily article, published on March 12, calculated that if the annual salary of a person is 150,000 yuan (US$23,800), he pays at least a million yuan (US$158,740) as tax from 25 to 60 years of age, assuming that he buys a car and a house. This figure was provided as a conservative estimate.
China's macro tax burden has been discussed in the media previously. As early as 2009, the Tax Misery Index released by Forbes ranked China's Tax Misery Index second in the world, second only to France.
According to a report in Southern Weekly on March 13, since China's Engel coefficient (an economic theory which says that as income rises, the proportion of income spent on food falls) is relatively low, most tax revenue is from mid or low income earners, rather than wealthy people. This means the middle class has a heavy tax burden.
Official media organs try to paint a different picture, however. The Party mouthpiece People's Daily published an article at the end of 2011 claiming that China's tax burden was "reasonable," because according to 2007 International Monetary Fund (IMF) data, the average macro tax in industrialized countries was 45.3 percent, and that of the developing countries was 35.5 percent. The article argues that in China, macro tax was 26.5 percent in 2010.
Taxes Push up Prices
In a tax structure mainly based on commodity turnover tax, tax revenues are mainly from taxes like VAT, and business taxes paid by enterprises during the circulation of goods. 
According to the Henan Business Daily, many enterprises in China let the tax expenditure upstream flow to the consumers downstream.
The value-added tax pushing up the prices of commodities is reflected in the cost of the iPhone 4S in China.
A Southern Weekly report on March 9 compares the price of the Apple iPhone 4S (16G) in different countries. The phone was 4,988 yuan (US$790) in China, about 4,129 yuan (US$655) in Hong Kong, and about 4,087 yuan (US$649) in the United States. The difference arises because the Apple cell phones are imported from the Apple Company in the U.S. by China Unicom and other operators. If goods are imported, a 17 percent VAT is added to the prices, while the Apple cell phone, produced in the Shenzhen Free Trade Zone, doesn't pay taxes when being exported to the United States and Hong Kong. They are therefore cheaper than in China.
The chairman of the Lenovo Group, Yang Yuanqing, said Lenovo computers cannot be sold cheaply in China. The 17 percent VAT needs to be added to the price, because the products' gross margin is only 15 percent.
Since 2004, the Chinese Communist Party (CCP) has been talking about "structural tax cuts." However, fiscal revenue grows every year. Its annual growth rate is over 10 percent faster than the growth rate of GDP.
Premier Wen Jiabao vowed that one of the priorities for this year was "the implementation of structural tax cuts," during his government work report press conference at the eleventh National People's Congress in March.
The Reasons for Tax Growth
An official in China's tax system told The Epoch Times that the CCP sets tax revenue indicators at each level, starting at the provincial level. All tax collection units, at every level, need to reach the target. The CCP sets a tax growth target based on the tax income of the previous year for each level. These targets have never been reduced, but only ratcheted up. If the target cannot be achieved, cadres in the revenue departments face the risk of losing their jobs.
Part of the complaint with the Communist Party's high tax burden relates to what the money is spent on. Data from China's Ministry of Finance shows that from 2009 to 2011, the CCP's "public safety" expenditures were 474.4 billion yuan (US$75.3 million), 551.7 billion yuan (US$87.6 billion), and 629.3 billion yuan (US$100 billion) respectively. The annual increase was more than 70 billion yuan (US$12 billion).
A report by Guangming Daily in 2010 said: "The public security expenditures in Liaoning Province were 22.3 billion yuan (US$3.5 billion) in 2009. The average fee for stability maintenance for each person of the 43 million people in the province was more than 500 yuan (US$79)." 
The fiscal revenue of Liaoning Province that year was 159.1 billion yuan. This means "stability maintenance" costs accounted for 14 percent of fiscal revenue. Actively persecuting religious groups also cost vast sums of money. Some estimates indicate that hundreds of billions of yuan have been spent every year pursuing the campaign to persecute practitioners of Falun Gong, a Chinese spiritual practice.
Liu Xirong, vice-chairman of the Law Committee of the National People's Congress and former deputy secretary of the Central Commission for Discipline Inspection, said during the "Two Meetings" in Beijing that civil servants in China were 6 million people four years ago. Now they are more than 10 million people, having increased at the rate of one million per year.
Little Public Welfare
In light of the high tax burden, the public welfare provided by the regime is much lower than other countries.
Liu Huan, vice dean of the School of Taxation, Central University of Finance and Economics, said that in China, much public finance expenditure, including for social security, medical insurance, education, etc. does not cover the entire population. 
As a counter-example there are northern European countries: there, tax rates are high, but the commensurate services provided are also high. 
Liao Shiming, a Hong Kong financial columnist who now lives in the U.S., said that public taxes in many countries in the world are higher than in China, such as the income taxes in Northern Europe and even the United States. However, in the United States the government uses it for social welfare, including low-income subsidies, unemployment, health care, education, and so on–this takes up a significant portion of fiscal revenue. In China, these expenses only account for about 20 percent of fiscal revenue.
Chinese thus complain that in contrast to other countries, where money is taken from people and then used to benefit them, in China it is taken from people and then spent by officials, or even spent on violently suppressing Chinese people under the guise of "maintaining stability." 
Read the original Chinese article. 
chinareports@epochtimes.com