Target Corp's second-quarter sales and profit beat estimates on Wednesday, helped by strong online sales and higher customer visits that grew the most in a decade, sending its shares up 6 percent in premarket trade.
The Minneapolis-based retailer also raised its profit forecast for the year after comparable sales including stores and online grew the most in 13 years.
Rising wages, lower unemployment and tax cuts have put more money in U.S. consumers' pockets this year spurring them to shop more. That has translated to rising sales for retailers including Target's rivals like Walmart Inc and Nordstrom Inc.
Target has benefited from the demise of weaker competitors in the past year. Retail chains including Toys 'R' Us Inc and department store operator Bon Ton Store Inc have either shut down operations or filed for bankruptcy this year. Roughly 4,000 retail stores had shut in the U.S. this year through Aug. 10, according to Coresight Research.
The retailer's performance was also boosted by ongoing investments in its online operations, store remodels and price cuts in grocery that have helped it compete with rivals.
It cut its next-day delivery fee for household essentials to $2.99 from $4.99 and is rolling out a new drive-up service where shoppers can pick up orders in an hour.
Expansion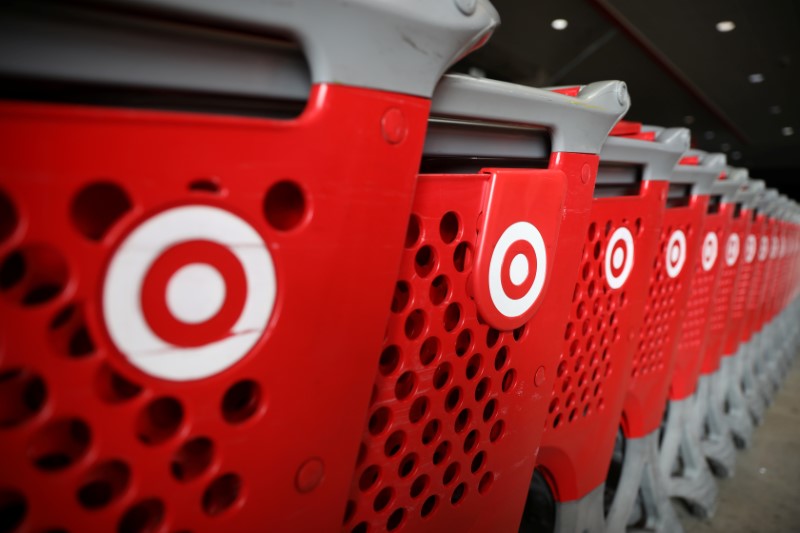 Target is also expanding its delivery services through Shipt, a same-day delivery company it bought for $550 million last year, and partnering with courier services on same-day orders in metro areas.
The retailer has said it plans capital expenditure of $3 billion this year on its supply chain, online delivery, its own brands and merging online and in-store shopping. In February last year, the retailer said it would reinvest more than $7 billion through 2020.
Second-quarter same-store sales at Target were higher than estimates, rising 4.9 percent. Analysts expected a 3.99 percent increase, according to Thomson Reuters I/B/E/S. Customer traffic at its stores grew 6.4 percent.
Online sales rose 41 percent in the second quarter, up from a 32 percent rise a year ago and above the 28 percent rise in the first quarter.
Excluding items, Target earned a profit of $1.47 per share in the quarter ended Aug. 4, higher than the average analyst estimate of $1.40.
Margins continued to remain under pressure from investments in e-commerce. The second quarter gross margin rate was 30.3 percent, compared with 30.4 percent during the same period in 2017.
Revenue rose to $17.78 billion, topping the average estimate of $17.31 billion.
For the full year, Target raised its forecast, expecting adjusted earnings of $5.30 to $5.50, compared with the prior range of $5.15 to $5.45.
Shares of the Minneapolis-based chain have risen more than 27 percent so far in 2018 and over 47 percent in the past 12 months.
By Nandita Bose