Taiwanese NGOs Concerned About Gao Zhisheng
February 5, 2010 2:59 am Last Updated: October 1, 2015 8:50 pm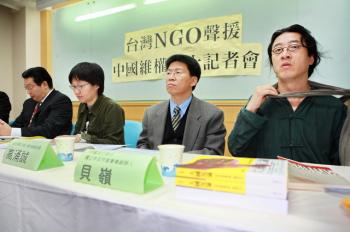 TAIPEI, Taiwan–Chinese human rights attorney Gao Zhisheng disappeared a year ago. A group of Taiwanese non-governmental organizations (NGOs) gathered for a press conference to support Mr. Gao and to condemn the Chinese Communist Party (CCP) for their flagrant disregard of human rights
Gao had previously been arrested and tortured in China for defending the rights of those persecuted for their religious beliefs, including adherents of the Falun Gong spiritual movement.
After his arrest and disappearance on Feb. 4, 2009, the first report to surface was a statement by a policeman to his brother, Gao Zhiyi, that "Gao Zhisheng lost his way and went missing in September 2009."
At the National Taiwan University Alumni Club in Taipei, NGO leaders met on Feb. 3 to publicly call on the Chinese regime to reveal Mr. Gao's whereabouts. They appealed for Gao's lawyer and his family members to be able to visit him.
Those present at the press conference included attorney Yong-cheng Kao, representative of the Human Rights Protection Committee of the Taipei Bar Association; Ku Li-hsiung, chairman of the Judicial Reform Foundation; Tsai Chi-hsun, secretary-general of the Taiwan Association for Human Rights; and others.
Serious Concerns
Gao's disappearance has likewise raised serious concerns in the international community. Susan Stevenson, a spokesperson at the U.S. embassy in Beijing, said on Wednesday, "We have raised our concerns about Mr. Gao's well-being and whereabouts repeatedly, both in Washington and in Beijing."
Beijing's first response regarding Gao's whereabouts came on Jan. 21 when Chinese foreign ministry spokesman Ma Zhaoxu said, "The relevant judicial authorities have decided this case, and we should say this person, according to Chinese law, is where he should be."
Dr. Yang Jianli, one of the leaders in China's pro-democracy movement of 1989, called the response an excuse. Gao has suffered the most serious persecution among all Chinese human rights lawyers, he said, and a case should be established regarding his persecution. The policemen who have violated the law should be investigated.
Tashi Tsering, chairman of the Regional Tibetan Youth Congress-Taiwan, said he supports the Chinese people in their struggle for human rights and called on the international community to join with and support the effort.
Exiled poet and essayist Bei Ling said the cruel and inhuman persecution suffered by Gao is the most hideous he has ever known. He called on the Taiwanese and the international community to "care about where lawyer Gao is and whether he is still subjected to inhumane treatment."
Feng-Yi Chang, Director of the Policy Secretariat of the Taiwan Labor Front, spoke of having witnessed the changes which led to democracy in Taiwan. The CCP has persecuted human rights activists even more brutally than anything he witnessed in the past, he said. He expressed the hope that the Chinese people can also have party alternation and thus enjoy a better life with freedom and democracy.
The conference also called on the CCP to allow all Chinese human rights activists and their families the opportunity to freely express their opinions and exercise their rights without being harassed, intimidated, detained, tortured, or incarcerated.
Read the original Chinese article