Taiwan's immigration authorities said Chinese officials involved in persecuting adherents of the spiritual discipline Falun Gong will be barred from entering the island. The move comes amid growing calls for countries to sanction rights abusers in China.
A senior official at Taiwan's immigration ministry, Ge Guangwei, during a parliamentary committee hearing on Oct. 2, said the island's immigration laws prohibit entry of Chinese officials who "previously persecuted Falun Gong, or those who had violated rules or laws in Taiwan."
Ge's statement was in response to a question from legislator Wang Ting-yu of Taiwan's ruling Democratic Progressive Party, who asked, "Under what situation will the National Immigration Agency not let in people who are connected to the Chinese communist government or the Chinese military?"
The official said the same restrictions would also apply to Chinese students or tourists in Taiwan who damage Lennon Walls—large mosaics of post-it notes or posters relaying messages of support to the ongoing Hong Kong protests—or those who beat up or insult sympathizers of the Hong Kong movement.
"Those people have violated rules and laws," the agency's director-general Chiu Feng-kuang said.
Under Taiwanese law, any mainland Chinese person who has committed serious crimes or has criminal records overseas will be denied or have their entry permit revoked.
The restriction also applies to mainland Chinese who have "participated in violence or acted against good morals."
Taiwan deported a mainland Chinese tourist on Oct. 8 after he intentionally tore down messages of support to the ongoing Hong Kong protests the previous morning. Taiwan's police have charged him with one count of damage to property.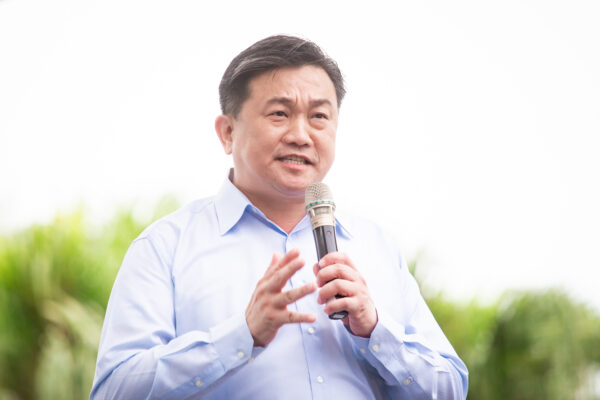 Safeguarding Democratic Values
Wang, in an interview with the Chinese language edition of the The Epoch Times, said that the move was a "significant announcement," marking the first time the Taiwan government has publicly confirmed such a policy.
"We as a region welcome all countries in the world, but we won't allow the Chinese Communist Party to take advantage of Taiwan's democracy to persecute people that they have already been persecuting in [mainland] China," he said.
"As a very important democratic country in Asia, we should do our best to uphold the responsibility of protecting people, democracy, and freedom."
Meanwhile, Falun Gong practitioners in Taiwan welcomed the move, saying it sent a strong message to violators of religious freedom in China that their actions will not go unpunished.
Falun Gong, a traditional discipline consisting of slow-moving exercises and moral teachings centered around truthfulness, compassion, and forbearance, rose in popularity in mainland China in the 1990s.
By the end of the decade, 70 million to 100 million were practicing in China, according to official estimates at the time. Deeming the practice's popularity a threat to its control, the Chinese Communist Party launched a persecution against adherents in 1999, aimed at eradicating the practice.
The sweeping campaign has resulted in waves of practitioners being detained, brainwashed, tortured, and even killed for their beliefs.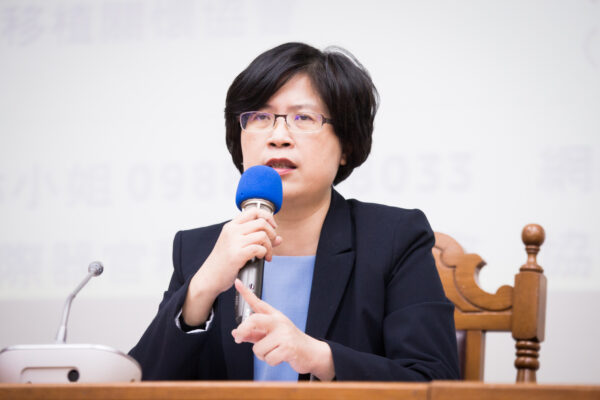 Theresa Chu, a human rights lawyer and spokesperson for the Taiwan-based Falun Gong Human Rights Lawyers Working Group, applauded the government's announcement, adding that in June, she submitted to Taiwan's Mainland Affairs Council a list of more than 100,000 Chinese officials known to have been involved in the persecution.
The U.S.-based nonprofit World Organization to Investigate the Persecution of Falun Gong, which compiled the list, also submitted the names to the U.S. State Department in July, urging officials to increase scrutiny of visa applications of Chinese officials complicit in severe human rights abuses.
Individuals on the list include those from a variety of Chinese state entities, such as officials in the propaganda department, doctors involved in forced organ harvesting of imprisoned Falun Gong practitioners, judges, and prison guards.
The United States recently clamped down on Chinese human rights abuses by imposing visa restrictions on Chinese officials responsible for suppressing Muslim minorities in Xinjiang.
Chu said the impact of the persecution has extended outside China's borders. For example, overseas pro-Beijing media have spread propaganda smearing Falun Gong.
In addition, Chu said there have been reports of organized attacks on Falun Gong practitioners during demonstrations or at sites where practitioners expose the persecution to tourists from mainland China.
Chu expressed hope that the Taiwan government could ban every individual on the list, and thus demonstrate that "democratic Taiwan does not welcome human rights abuses."
"Protecting human rights of Falun Gong practitioners is a touchstone of a country under democracy and the rule of law," she said.