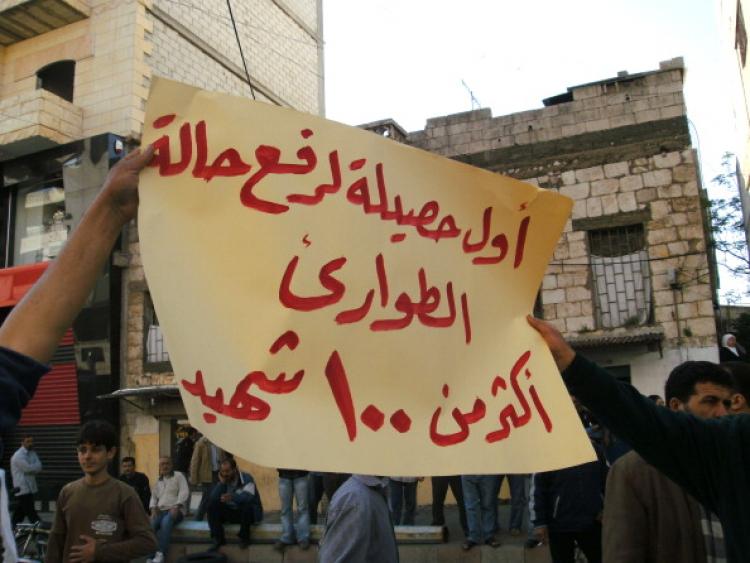 Syria sent additional tanks and troops to the southern city of Daraa on Wednesday, considered the hub of the two-month-long anti-government protests that have shook that nation and left more than 400 deaths.
Witnesses told Al Jazeera television that tanks were approaching the city and that they could hear gunfire in different pockets of the city. Another witness said that 30 tanks were spotted outside of the capital, Damascus.
"Snipers are on top of all the buildings in Deraa and there are lots of bodies on the streets," an unnamed witness told the television station. "They were left on the street for three days and we couldn't remove them."
State mouthpiece media SANA said that "extremist terrorist" groups in Daraa cut access to roads and then shot at citizens. An unnamed military source said that the army killed "a number of terrorists," according to SANA.
Al Jazeera received reports that more than 30 people died in Daraa on Wednesday.
The situation in Daraa has become increasingly severe according to opposition accounts. Witnesses are telling "horrifying stories of streets strewn with the bodies of the dead that residents are unable to retrieve for fear of meeting the same fate," according to the Syrian Revolution Digest blog.
President Bashar Assad, facing the biggest threat to his power since he took office, attempted to make concessions with protesters last week, saying that his regime would lift the decades-old emergency law and provide other reforms. However, protests continued as did the crackdown with security forces killing 100 protesters during massive protests on Friday, and more ever day since, according to reports.
The international community as well as prominent rights groups have attempted to apply pressure on the Assad regime, by issuing condemnations and suggesting sanctions.
The U.K., France, Italy, and Portugal said that they would impose sanctions on the country and would attempt to freeze Assad's assets. The United Nations called for an independent investigation into the killings and launched an emergency meeting into dealing with the situation on Wednesday.