Public outdoor swimming pools will be allowed to open across New South Wales from Sept. 27, including those in areas of concern, as the Australian summer approaches.
The decision comes after the leaders of Sydney's 12 local government areas of concern pleaded with Premier Gladys Berejiklian for restrictions to be eased.
"All public pools will be open in a COVID-safe way, and those COVID safe plans will be formalised and made public, making sure that we keep the community safe as much as possible and prevent seeding," Berejiklian said on Sept. 19. "But all of us appreciate the importance of enjoying the warmer weather, the positive mental health, and recreation and exercise."
NSW Health Minister Brad Hazzard said it was fantastic that restrictions in the state could begin easing due to high vaccination rates.
"The NSW Government is determined to ensure everyone can benefit from increasing vaccination rates," Hazzard said. "Outdoor pools are part of Australian life, and enjoying a summer splash no matter where you live is a big plus for families."
To open pools to the public, councils must have a stringent COVID-19 safety plan approved by NSW Health. Natural pools are already allowed to be open.
Sydneysiders have already begun flocking to beaches like Bondi and Manly as temperatures start hitting 30 degrees Celsius (86 degrees Fahrenheit).
Hazzard said he was more concerned about unvaccinated citizens than people gathering at beaches.
"Fresh air we know is the safest place to be at the present time," Hazzard said on Sept. 11, adding that people should still maintain social distancing.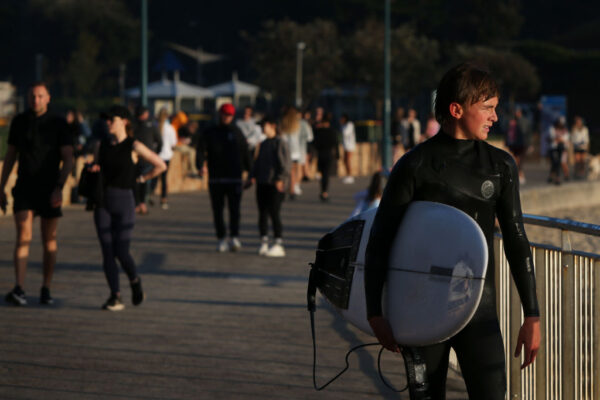 It comes as all other restrictions in council areas of concern will also be eased to align with other lockdown areas.
"From tomorrow, very pleasingly, all areas of concern will be equalised, so relating to exercise, recreation or outdoor gatherings, everything will be the same across Greater Sydney," Berejiklian said.
Berejiklian said the government felt comfortable with the current plans for reopening despite concerns that greater freedoms would lead to more cases.
"This is the tension; there will always be people that think you are not strict enough, and there will always be people that think you are too strict," she said. "And that's why the biggest challenge for us during this has been striking the right balance at all times."
"We're not displeased with where we are, but we know it's precarious," she said.