Update: At about 8:00 a.m. on Oct. 1, a loud explosion went off at residential apartment in Liuzhou City near Liucheng County, according to Chinese web portal Sina.
A series of explosions ripped through a city in a southern Chinese province in the late afternoon of Sept. 30, killing at least 7 and injuring 51, according to Chinese state media.
The explosions occurred in at least 17 locations in Guangxi's Liuzhou, including at a government office, a shopping mall, a prison, and a hospital, the state mouthpiece Xinhua reported. There was at least one explosion at a bridge. All the explosions took place in Liuzhou City, a large urban and suburban area of 3.7 million people, which includes multiple townships and counties; most of the blasts took place in the county of Liucheng, which is part of the larger Liuzhou urban area. 

Photos shared by Internet users on Chinese microblogging site Sina Weibo showed half-collapsed buildings, a vehicle on its side, rubble-strewn streets, a smashed storefront, and shattered windows in buildings.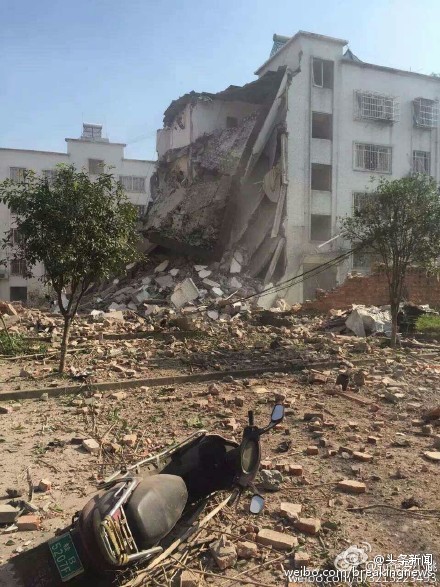 "At about 4:10 p.m., I heard a bang and then another sound of explosion two minutes later," a hotel staff member told Beijing Youth Daily. The staff added that second explosion came from a trashcan about 32 feet from the door of the hotel.

Ms. Wei, a Liucheng resident, told new Chinese news website The Paper over the telephone that she heard explosions going off one after the other at about 4:00 p.m. She hurried to a nearby riverbank. Before hanging up, Ms. Wei said she's still hasn't gotten over the panic of the explosion.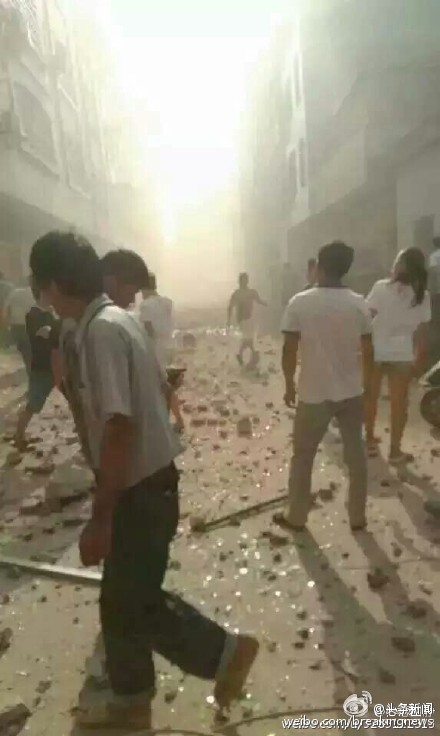 Other witnesses said they first heard an explosion at 5:30 p.m., then 11 successive explosions, one about every 10 minutes, according to BBC's Chinese language Web edition.
Local firefighters, police, and housing, safety, and health authorities hurried to the various blast sites to begin rescuing survivors. At least two people are still missing.

Liucheng County police said that the blasts, which were first heard at about 3:50 p.m. Beijing time (3:50 a.m. Eastern time), were likely "criminal in nature," but have currently ruled out "an act of terrorism." At 5:17 p.m., the safety bureau in Liucheng County sent a text message to local residents warning them against opening any recently received parcels, the method by which the explosives were supposedly delivered.  
Cai Tianlai, the political commissar of the police department of Liucheng County, said local residents reported over 60 suspicious packages to the police, and they are awaiting disposal by explosive experts, according to state news outlet China News Service. The police later identified a Wei Yinyong, a 33 year-old male quarry worker, as a suspect, and released some of his personal information and cellphone number, according to state media.
Chinese citizens remain skeptical of the police account of the incident.
"Please tell me how the suspect was able to run to about 13 places and successfully trigger the explosions? Can the media provide a map of the route?" read one comment on Sina Weibo. "Also, what kind of bomb has such power? And how were they installed? Please clarify, thank you."
Others expressed disbelief that the police did not consider the explosions to be an act of terrorism, given that they took place a day before the National Day of the People's Republic of China. The Chinese communist regime had declared Oct. 1 a public holiday when it inaugurated its rule in 1949.
Chinese censors, which are usually active during natural and man-made disasters, have already started removing pictures and posts on Weibo, according to Weiboscope, a project by the Journalism and Media Studies Centre at the University of Hong Kong, which tracks social media censorship.  
Jenny Li and Juliet Song contributed to this report.
Correction: An earlier version of this article said that police have apprehended a suspect; they had identified and are seeking him.