The suspect in the latest attack on the U.S. Capitol "intentionally struck" officers on April 2, police said Monday.
Noah Green, 25, was driving a blue sedan just after 1 p.m. on Friday when he entered the north gate on Constitution Avenue and rammed into two on-duty Capitol Police officers with the vehicle, the Metropolitan Police Department said in the new incident summary.
The suspect then drove his car into a barricade before he exited the vehicle armed with a large knife and "charged toward another United States Capitol Police Officer," the summary stated.
That officer fired their service weapon, striking the suspect, who was declared dead a short time later at a hospital.
The suspect "did start lunging toward" officers and "did not respond to verbal commands," acting Capitol Police Chief Yogananda Pittman told reporters last week.
A new photograph from police showed the knife Green allegedly used lying on the pavement.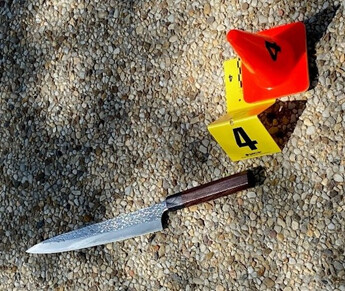 Police still do not know what motivated Green to carry out the attack, but his social media pages were rife with extreme ideas that he said stemmed from the Nation of Islam, an Islamic group whose theology is of "innate black superiority over whites," according to the Southern Poverty Law Center.
The Anti-Defamation League says the group's leader Louis Farrakhan is America's "leading anti-Semite." The Nation of Islam has not responded to requests for comment.
"One thing I'm assured everyone can lean on, as I've leaned on, is faith in the Honorable Minister Louis Farrakhan as the man who can carry us through the dark hour," Green wrote on Facebook last month.
Green also shared that he left his job in part due to the desire to seek a spiritual journey and claimed he was being poisoned by government agencies.
Green's family said their son was not a terrorist and may have suffered from drug addiction or mental illness.
The attack left one officer, 41-year-old William Evans, dead. Another was taken to a hospital with non-life threatening injuries and was later released.
Metropolitan Police Chief Robert Contee told reporters on Friday that the attack did not appear to be related to terrorism, though he also kept the possibility open. There was also no indication that Green meant to target a member of Congress. Officials declined to say whether drugs or alcohol were involved.
The U.S. Capitol Police, the Metropolitan Police Department, and the FBI continue investigating the attack.
"Clearly this was someone who was actively trying to just get at whoever, or whatever, we just don't know right now," Contee said. "So we have a responsibility to investigate that, to get to the bottom of this, whether the attack was at law enforcement or whoever, we have a responsibility to get to the bottom of it. And we'll do that."