Police have identified the suspect in a fatal campus shooting as a 22-year-old man.
Charlotte-Mecklenburg Police issued a statement late Tuesday identifying the suspect as Trystan Andrew Terrell. They say he's in custody with charges pending.
Authorities have said he used a pistol to open fire on students in a classroom building at UNC-Charlotte, killing two and wounding four—three of them critically, authorities said.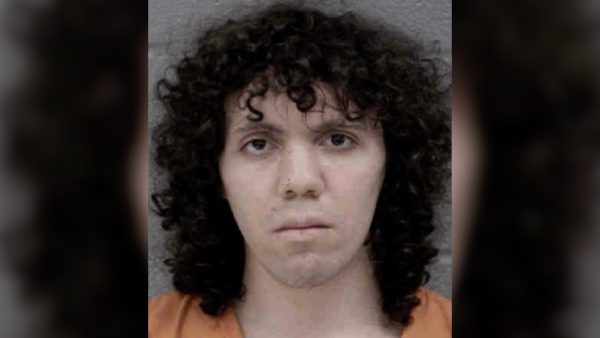 His grandfather, Paul Rold of Arlington, Texas, says Terrell had moved to Charlotte two years ago with his father.
Rold told The Associated Press that the actions don't sound like his grandson. He said: "This is not in his DNA."
As police led him away in handcuffs, he tilted his head back and smiled at the cameras.
Two people have died and four people are hurt after a shooting on UNC Charlotte's campus, Medic confirmed. Police have taken Trystan Terrell, 22, into custody. He is a former student. https://t.co/OrDqOiC6Y5 pic.twitter.com/A46MLCk9PI

— WFMY News 2 (@WFMY) May 1, 2019
Terrell is facing several charges, including two counts of murder, four counts of attempted murder, four counts of assault with a deadly weapon with intent to kill, possession of a firearm on educational property, and discharging a firearm on educational property, the Charlotte-Mecklenburg Police Department said.
He Started Shooting During Presentations
Tristan Field said the gunfire started while he was in class.
"He just started shooting during our final presentations and we all ran out," Field wrote on Twitter. "We were just doing presentations and someone started shooting up the room. … Why here? Why today? Why UNC Charlotte? Why my classroom? What did we do?"
The shooter at UNCC didn't say anything. He just started shooting during our final presentations and we all ran out. I'm praying for everyone that got hit and UNC Charlotte as a whole. #CharlotteStrong

— Tristan Field (@TristanField1) April 30, 2019
Why here? Why today? Why UNC Charlotte? Why my classroom? What did we do?

— Tristan Field (@TristanField1) April 30, 2019
Monifa Drayton, an assistant vice president at Atrium Health, told WBTV that she was walking into the building to teach a class when gunfire rang out. Terrified students dashed outside the building, and she helped lead them to a nearby parking deck.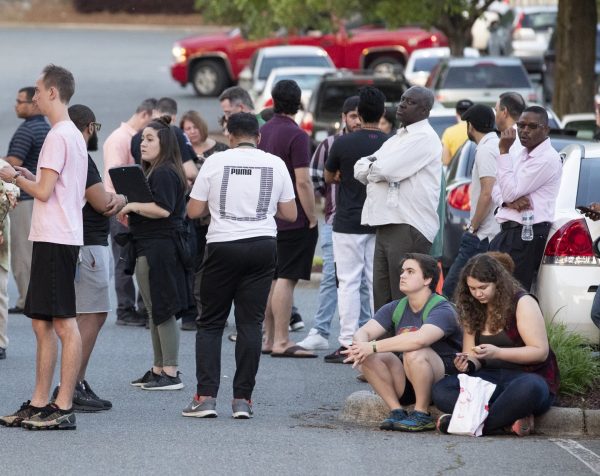 "The children were absolutely petrified," Drayton said. "And I also sat and waited with a gentleman whose girlfriend … was in the library. And at that point the library doors had been shot out and she was in there barricaded."
The shooting happened days after a gunman opened fire at a synagogue near San Diego, killing a woman and wounding several others.
"I can't tell you the sadness of the entire community to know that a situation like this has occurred on our campus," UNCC Police Chief Jeff Baker said. "We are all pretty much devastated."
Campus Was on Lockdown for Hours
UNC Charlotte issued a campus lockdown after a report that shots had been fired.
The North Carolina university issued an alert for students to remain in a safe location following reports of the shooting.
Aerial shots from local television news outlets showed police officers running toward the building, while another view showed students running on the campus sidewalk.
The campus was to host a concert at the school's football stadium.
officers were close by getting their assignments and a briefing for the Waka Flocka concert. The rapper later said that he was safe and nowhere near the campus.
An officer quickly went to the room where the suspect had fired from, disarmed him and took him into custody, Baker said. At the time of his arrest, the suspect was armed with a pistol, he said.
The suspect did not say a word while he was being handcuffed. "Right now, he is not somebody [who] was on our radar," Baker said.
'This Violence Has to Stop'
North Carolina's governor has vowed to take a hard look at how to keep guns away from universities and schools after the fatal shooting.
Governor Roy Cooper, a Democrat, addressed reporters near the University of North Carolina-Charlotte campus hours after the gunman killed two and wounded four others.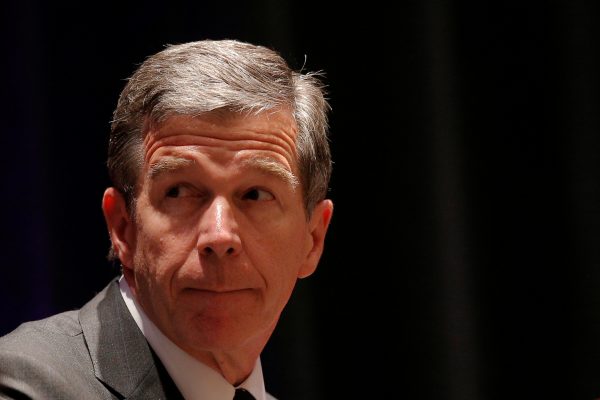 He said students shouldn't fear for their lives, nor parents fear for their children's safety when they go off to school. He said: "This violence has to stop."
He didn't provide specifics other than to say he planned to review everything involved in the shooting and work on ways to prevent others from happening.
The CNN Wire contributed to this report.