Sen. Susan Collins (R-Maine) received a suspicious letter on Oct. 15, the latest in an emerging trend toward violence and threats against Republicans.
A Utah man was arrested on Oct. 3, after suspicious letters initially believed to contain the poison ricin were intercepted on their way to the White House and the Pentagon, addressed to top military officials and President Donald Trump.
The letters actually contained ground castor beans, which are used to make ricin, but did test positive for ricin. William Clyde Allen III, the suspect, told investigators he wanted the letters to "send a message."
U.S. Attorney for Utah John Huber said the case was serious. "When you're dealing with suspected ricin, this is nothing to trifle with," Huber said. Sen. Ted Cruz (R-Texas) also received a threatening letter that was tested for ricin but did not test positive.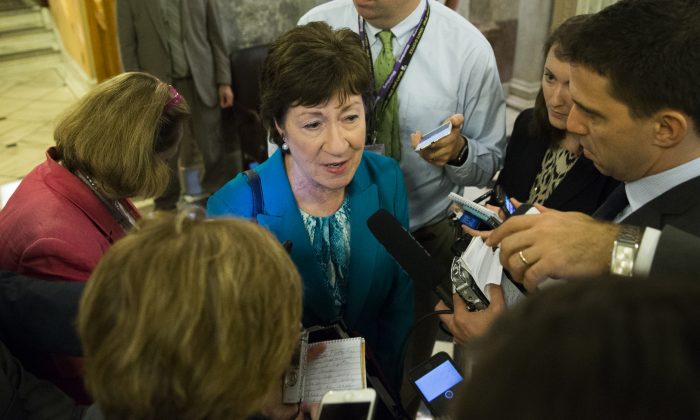 Threat to Collins
Collins became a target while trying to decide whether to vote for or against Supreme Court nominee Brett Kavanaugh in September. She eventually decided to vote for him, she announced in a speech on the Senate floor.
Following the announcement, Collins was yelled at and threatened by radical activists, some of whom claimed she was a traitor to women while others urged harassment. "Never let Collins have a moment of peace in public again," wrote activist Kat Calvin.
On Oct. 15, she and her husband were quarantined at their Bangor home after the suspicious letter was discovered, addressed to her husband Tom Daffron.
Annie Clark, a spokeswoman for Collins, said in a Twitter post that the writer of the letter claimed it was contaminated with ricin.
The affected areas have now been cleared, and Senator Collins and Mr. Daffron will be able to remain at home tonight.

The testing of the letter, as well as the investigation into its origins, remain ongoing. (3/4)

— Annie Clark (@annieclark25) October 16, 2018
Statement from Senator Collins and her husband, Tom Daffron, on threatening letter received at their Bangor residence: pic.twitter.com/xBLErGSRwX

— Sen. Susan Collins (@SenatorCollins) October 16, 2018
She said that a crime lab analyzed the house and was able to clear it to the extent that Collins and Daffron were able to sleep at home on Monday night.
"The testing of the letter, as well as the investigation into its origins, remain ongoing," Clark added. "Today's incident is the latest in a series of threats against Senator Collins, her loved ones, and her staff."
The Bangor Daily News reported that a number of law enforcement groups were at Collins' home on Sunday, including The Bangor Criminal Investigation Division, the Bangor Fire Department, the FBI. The FBI said an initial analysis indicated no threat to the public.
Ricin is a poison that is made from castor beans. According to the Centers for Disease Control and Prevention (CDC), ricin "can be in the form of a powder, a mist, or a pellet, or it can be dissolved in water or weak acid."
From NTD.tv