A plane with 98 people aboard crashed after takeoff early Friday in Kazakhstan, leaving at least 12 people dead, according to reports.
About 54 people were hospitalized with injuries, and 10 of them were said to be in critical condition, officials told The Associated Press.
The cause of the crash isn't yet known. However, fog was present in the area, and AP reported that a passenger said the Bek Air plane's wings were covered in ice.
David Soucie, a former Federal Aviation Administration safety inspector based in Hawaii, told CNN that freezing conditions likely contributed.
"The airplane is pretty much a tank. That airplane has been around for a long time, if properly maintained, that aircraft could continue to fly for many more years yet," he told the outlet. "It's too early to state anything about maintenance or anything else on the aircraft, I don't want to jump ahead of the game here. But at this point, my suspect would be weather being the biggest factor."
A passenger commented to AP about how the aircraft dropped.
"At first, the left wing jolted really hard, then the right," Aslan Nazaraliyev, a passenger on the plane, the AP. "The plane continued to gain altitude, shaking quite severely, and then went down."
Deputy Prime Minister Roman Sklyar told reporters than an investigation is now underway, according to Reuters.
"Before crashing, the aircraft touched the runway with its tail twice, the gear was retracted," Sklyar said. "A commission … will establish whether this was pilot error or technical issues. The runway was in an ideal condition."
The destroyed remains of the plane and parts of the fuselage were scattered around the aircraft, photos showed.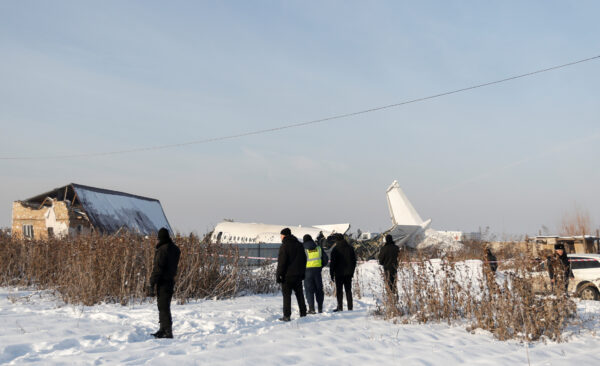 "The plane was flying with a tilt," another survivor told local website Tengrinews, reported The Guardian. "Everything was like in a movie: screaming, shouting, people crying."
A 35-year-old editor of the Informburo.kz website also died in the crash. In a post, the news website said that the editor, Dana Kruglova, was heading from Almaty to Nur-Sultan, the capital city, to celebrate New Year's.
"Dana Kruglova was a real journalist. Her articles … became an example for all the editorial staff. In January, Dana became a publishing editor, and on December 1 she headed the investigation department. Dana was honest, courageous and objective at the same time. This is a terrible loss for all of us," the website's editor wrote.
President Kassym-Jomart Tokayev said his government would provide families of the victims with compensation, according to The Guardian. He also promised "severe punishment" for those responsible for the crash.
Kazakhstan's air safety record is far from spotless. In 2009, all Kazakh airlines—with the exception of the flagship carrier Air Astana — were banned from operating in the European Union because they didn't meet international safety standards. The ban was lifted in 2016.
The Associated Press contributed to this report.