Surf Videos: 6 of the Biggest Waves Ever
September 3, 2013 4:52 pm Last Updated: December 11, 2013 4:19 pm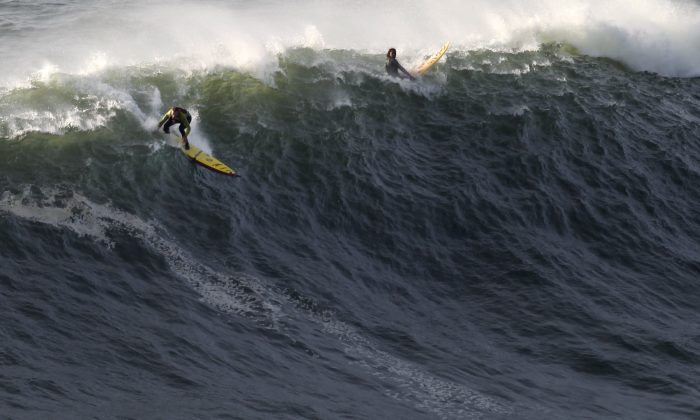 The two world records for biggest waves surfed—one for paddle-in and the other unlimited—were earned at Cortes Bank off San Diego, Calif., and at Praia do Norte, Nazaré, Portugal, respectively.
Guinness World Records confirmed that Shawn Dollar broke the world record with a 61-foot (18.5-meter) wave at the Cortes Bank reef 100 miles west of San Diego on Dec. 21, 2012. 
The previous record for the largest wave surfed (paddle-in) was held by Shane Dorian. In 2011, Dorian rode a 57-foot (17-meter) wave—Jaws—in Maui, Hawaii.
In 2011, Hawaiian rider Garret McNamara made history with a 78-foot (24-meter) wave off the coast of Nazaré, a small fishing village in Portugal. He reportedly broke his own record with a wave in the same location earlier this year, but it was not confirmed by Guinness World Records. His 2011 wave remains listed as the largest wave surfed (unlimited).
Here's a look at some of the biggest waves in the world, including the ones ridden into the Guinness World Record logs.
Cortes Bank
Shawn Dollar's Record-Breaking Ride

Nazaré
Praia do Norte, Nazaré, Portugal, sees huge waves as a result of a deep-water canyon that connects to the shore.
Garret McNamara's Record-Breaking Ride 2011

Garret McNamara speaks with the Surf Channel about his ride:

Jaws
Peahi, or "Jaws," in Maui, Hawaii, is generated by winter storm swells over a barrier reef, according to GoHawaii.com. Jaws reaches 40 to 70 feet (12 to 20 meters).
Shane Dorian's Record-Breaking Ride 2011

Laird Hamilton Surfs Jaws

Teahupoo
Teahupoo off the south-west coast of the island of Tahiti, French Polynesia, in the southern Pacific Ocean, has claimed five lives since 1985. 
Tahitian surfer Thierry Vernaudon was the wave's pioneer rider in 1985, according to Surfer Today. Surfers told the publication that anyone surfing Teahupoo should be sure to avoid where the wave breaks and shouldn't hesitate—if a surfer is going to ride Teahupoo he or she has to go full-on.
Laird Hamilton Surfs Teahupoo 2008
Mullaghmore
Mullaghmore, or "Mully," is a reef/point break serving waves higher than 40 feet (12 meters) off the north west shore of Ireland, according to Northcore. 
Peter Conroy Surfs Mullaghmore
Prowlers
Prowlers was discovered by Northcore surfer Richie Fitzgerald and New Zealand photographer Aaron Pierce. It is about 1.5 miles off the Cliffs of Moher on the Irish west coast. 
It has been compared to the Mavericks in California. Waves higher than 50 feet (15 meters) can come off the undersea reef/sea mount.
Fitzgerald told Surfer Today: "The problem of Prowlers is that it is affected by many crossing swells. It is an European big wave leader by a long shot. You just got to get the right conditions. The 100-foot wave might only happen a couple of times in the decade."
Richie Fitzgerald speaks about Prowlers: