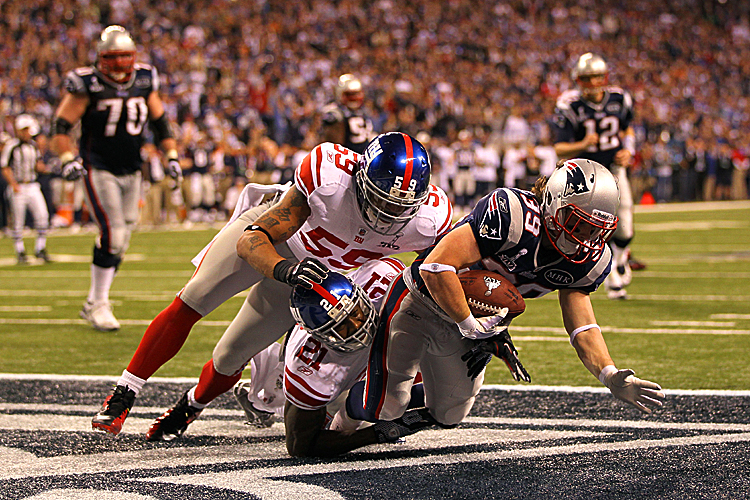 INDIANAPOLIS—Super Bowl XLVI's second quarter saw New England cap off their first impressive drive by kicking a 29-yard field goal. Kicker Stephen Gostkowski then nailed the ensuing kickoff for the game's first touchback.
The Giants faced a 3rd-and-6 on their first possession of the second quarter. Manning found Hakeem Nicks for a 17-yard gain down the middle.
A penalty for 12 men on the field then stalled the Giants momentum. Ahmad Bradshaw wasn't able to find a whole in the Patriots defense on the ground and after a 3rd-and-15 play that the Giants were unable to convert, the Patriots got the ball back on their own 20-yard line after Steve Weatherford's punt sailed into the end zone.
The Pats faced a 3rd-and-7 and Tom Brady found Wes Welker to set up a 4th-and-1. New England had to punt, given their field position.
The Giants got the ball on their own 23-yard line with 8:23 left to go in the second quarter. New York began making steady progress as their offensive line continued to get the better of the Patriots defensive line.
The Giants would have to go the rest of the Super Bowl without tight end Travis Beckum who injured his ACL ligament earlier in the second quarter.
Brandon Jacobs converted a 3rd-and-1 but due to a holding penalty, the Giants would have to try it again from 10 yards further back. Eli then went for Mario Manningham deep but the Patriots' Sterling Ward broke up the play.
Weatherford's directional kick, a 51-yarder pinned the Patriots to their 4-yard line.
Up to this point, Patriots tight end Rob Gronkowski hadn't touched the ball. He hadn't been moving as freely due to his high ankle injury.
Without the man who caught 17 TD passes, Brady looked uneasy. But finally, Gronkowski caught a 20-yard pass with 2:35 left to go in the first half.
Brady continued marching his team down the field after the two-minute warning but a holding penalty set the Patriots back with 1:12 to go. Yet, the Patriots still converted the first down.
With 18 seconds left to go, the Patriots had the ball on the 3-yard line of the Giants facing 2nd-and-2. After the Giants stopped them for a loss of one yard, the Patriots faced 3rd-and-3.
On the next play, Brady found Danny Woodhead for the go-ahead score, capping a 14-play drive. The Patriots took a 10–9 lead into halftime after the lengthy drive of 96 yards that began on their own 4-yard line, lasting 3:55.
The domination of time of possession the Giants enjoyed in the first half was erased by the Patriots in the second quarter. As expected, the game was extremely close with not much to choose between the two teams.
Follow Rahul on Twitter @RV_ETSports