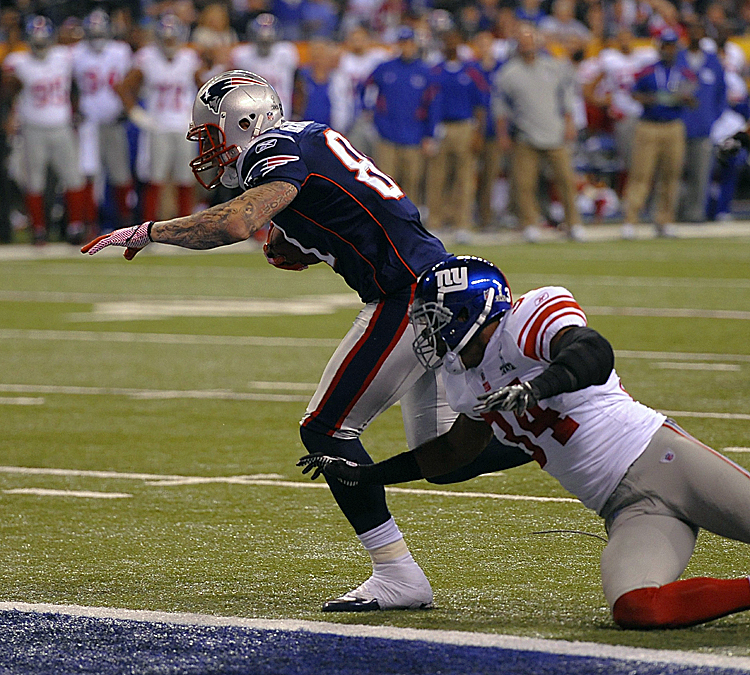 INDIANAPOLIS—Super Bowl XLVI's second half kicked off with the New England Patriots getting the ball after having deferring at the start of the game.
With the momentum of a strong finish to the first half, the Patriots offensive surge continued. Brady capped the opening drive of the second half with a 12-yard TD pass to tight end Aaron Hernandez, giving New England a 17–9 lead. The eight-play drive included a 21-yard pass play to the enigmatic Chad Ochocinco and a 17-yard sprint down the right sideline by BenJarvus Green-Ellis.
The Giants responded with Eli Manning to Hakeem Nicks for eight yards converting a 3rd-and-4. With the Giants in the hurry-up offense, they had some success moving the ball against the Patriots again.
The Patriots Patrick Chung broke up a sideline pass to Nicks with a huge hit that had the crowd oo-ing and aah-ing. That seemed to fire up the Pats defense which pressured Manning, setting up a long 3rd-and-10 from the Patriots 25-yard line.
The Giants then were unable to convert and Lawrence Tynes came on to kick a 38-yard kick field goal, making the score 17–12 with 6:43 to go in the third quarter.
The Patriots then went three-and-out, as Brady was sacked on third down. With 5:36 to go in the third, the Giants took over in great field position on the New England 48-yard line.
A very close battle was beginning to develop as the Giants defense managed to stop Brady, who had completed 16 straight passes with surgical precision. Brady appeared to injure his left shoulder on the sack but he didn't wind up missing a play.
Manning then completed a rocket of a pass to Nicks who fumbled, but the Giants managed to recover, keeping their drive alive.
From the 9-yard line, facing 3rd-and-8, Manning was sacked by Rob Ninkovich. Tynes kicked a 33-yard field goal to bring the Giants within two points at 17–15 with 35 seconds left in the third quarter.
The third quarter ended with the Patriots having the ball on their own 38-yard line.
Follow Rahul on Twitter @RV_ETSports