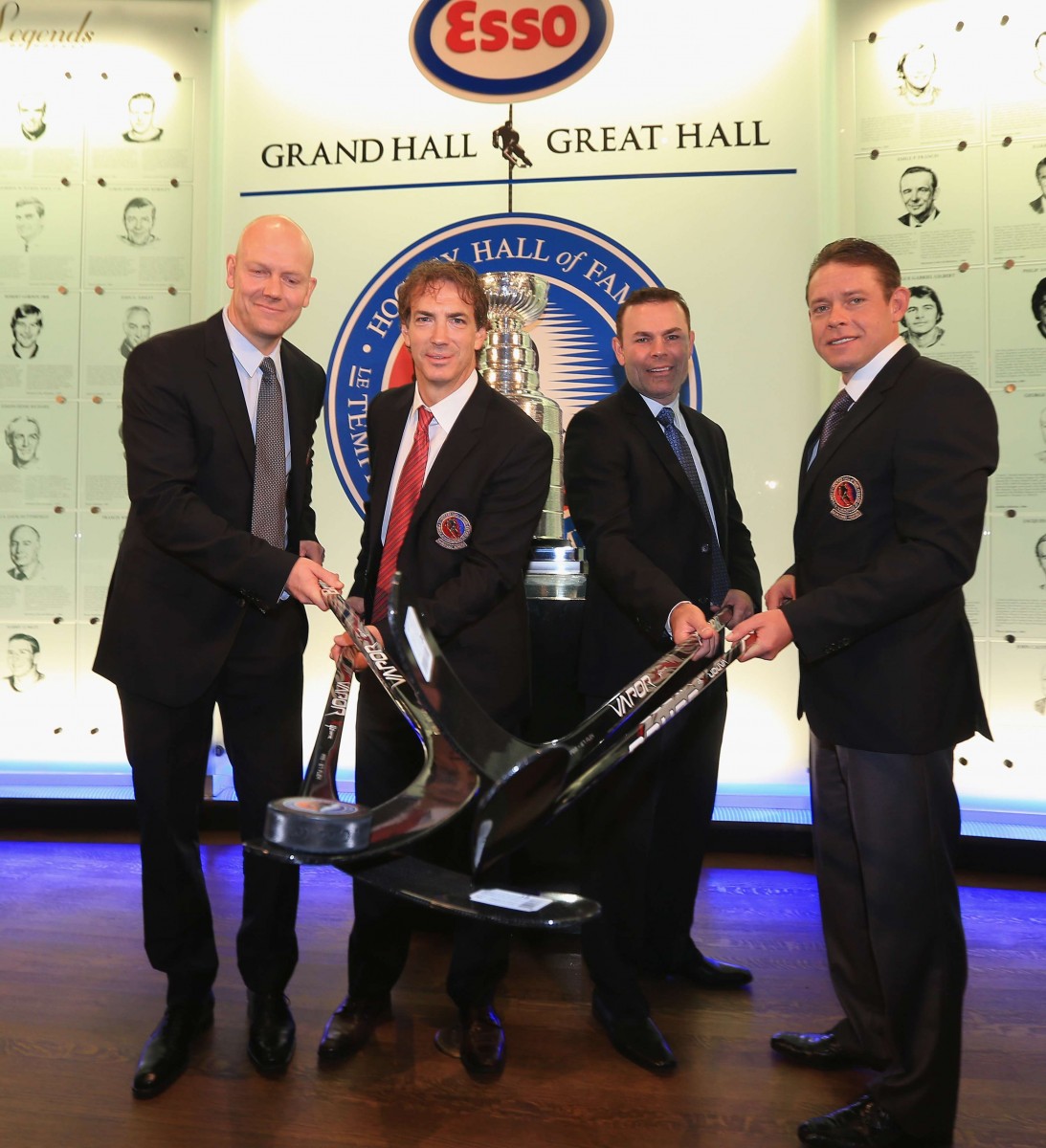 Mats Sundin, Joe Sakic, Adam Oates, and Pavel Bure exemplified leadership, selflessness, hard work, and supreme talent were inducted into the hockey Hall of Fame on Monday. The four inductees were dominant throughout the 1990's and into the early 2000's.
The 2012 Hockey Hall of Fame induction ceremony in Toronto gave hockey fans a fleeting moment to remember the greatness of their sport as it remains mired in a lockout.
A brief appearance by NHL commissioner Gary Bettman drew some angry stares from the gathered crowd, but the night was meant to be a celebration of four fantastic careers.
Russian Rocket
Pavel Bure began his NHL playing career with the Vancouver Canucks and looked young enough to be still playing, assuming there was NHL hockey to be played.
Bure, 41, was a five-time 50-goal scorer and averaged more than a point a game over 702 regular season games during a 12-year career.
"I feel privileged to have lived this life, played this game, and accomplished my dreams," Bure said in his speech to the attendees, which was broadcast on TSN.
Few players could make highlight-reel goals like the Russian rocket.
Playmaker Extraordinaire
Adam Oates, who grew up in Toronto, was never drafted but his hard work earned made him the NHL leader in assists three times.
He formed a remarkable duo with Brett Hull in St. Louis for three years. "His work just screams brilliance," said Hull.
"You put me on the map," he said about Hull.
Oates was one of those players like Mario Lemieux and Wayne Gretzky who had a special ability to make the crucial pass at the right time.
Oates did not bring some papers with a written speech. He spoke from the heart and didn't forget a thing.
He was a pretty good goal scorer too. After St. Louis, Oates played with the Boston Bruins for six years. And in the 1992-93 season, he scored 45 goals and added 97 assists for an incredible 142 points in 84 games.
Quiet Leader
Joe Sakic was drafted by the Quebec Nordiques and had seven impressive seasons there prior to winning two Stanley Cups with the Colorado Avalanche. In 2002, he won an Olympic gold medal with Canada and was the tournament's MVP.
The most decorated of the inductees, Sakic was a best known as an unselfish leader. This was best seen in the 2000-01 season when he scored 118 points (two points away from tying a career best), won the Hart, Lady Byng, and Lester B. Pearson trophies, and upon receiving the Stanley Cup from Bettman, promptly passed it on to Ray Bourque, who had finally won the Cup after an illustrious 22-season career.
"The one thing you miss most about this game is your teammates," Sakic said. Sakic was the consummate teammate.
Sakic possessed a terrific wrist shot and will always be known for his humility despite his long list of achievements. He played 20 seasons in the NHL.
European Pioneer
The final player inductee was Mats Sundin who ended his career as the Toronto Maple Leafs' leader in goals and points. The Swede was drafted first overall in 1989 by the Nordiques.
But Sundin's importance was what he did for his fellow Europeans. Ottawa Senators forward Daniel Alfredsson called him the "best Swedish player of all time" and a "pioneer for European hockey." Sweden won Olympic gold in 2006 led by Sundin.
Sundin, at 6-feet-5-inches, was an imposing figure and he spoke about the benefits of playing in team sports. He said it about "understanding it's not all about yourself."
Sundin also paid homage to the Toronto Maple Leafs fans saying, "Leaf fans, I will never forget what you have given me."
In listening to the four speeches, it's clear how much hard work and support these athletes have had to reach the pinnacle of hockey. It was also a chance for them to acknowledge that as well as the support from their families.
Follow Rahul on Twitter @RV_ETSports
The Epoch Times publishes in 35 countries and in 19 languages. Subscribe to our e-newsletter.