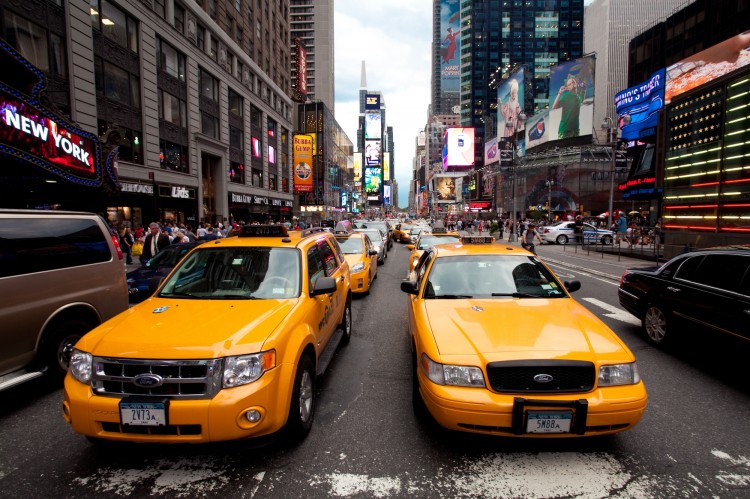 NEW YORK—A pair of students, the TaxiTreats team, are closer to their goal of putting vending machines in taxis around the world. They would like to start with New York City, after winning prize money in the Next Idea competition run by the city's Economic Development Corporation and the Columbia University School of Engineering.
Brian Shimmerlik, CEO of TaxiTreats, and his partner, Tomas Grosskopf, accepted half of $35,000 in prize money on Wednesday. Another student group, Stylsize, shared the top prize in the final round of the competition, which saw 700 participants and more than 270 business plans from more than 60 countries.
"TaxiTreats is going to give New Yorkers what they want, when they want it, where they are," said Shimmerlik. "We're going to increase the effectiveness of their time, when they're sitting still."
"I'm very happy," Grosskopf said with a smile.
Prize money will be used to get the machines built according to the students' design. While seeking approval from the Taxi & Limousine Commission (TLC) to allow vending machines in the commission's new "Taxis of Tomorrow," the machines will be tested in taxis in Westchester. Snacks and small items such as mints, granola bars, and energy drinks will fill the machines.
"We love the students' ingenuity," says David Yassky, TLC commissioner, via email. "[Though] I don't know if this is something we'll ever see in a taxicab."
The TaxiTreats team are both university students. Shimmerlik graduated from the University of Michigan with a bachelor's degree in business administration, and has held positions at JPMorgan Chase and Emigrant Bank. He is currently an MBA candidate at NYU's Stern School of Business.
His partner Grosskopf attends the Universidad de Buenos Aires in Argentina. He first connected with Shimmerlik through his sister's husband, who studies with Shimmerlik. Grosskopf says he would like to move to New York in the future. Along with foreign members of the other six finalist teams, he was flown in by the EDC, sponsor of the Next Idea competition.
Business plans were required to have a component that incorporates New York City, such as a city launch, or basing part of the business here.
TaxiTreats won the grand prize in the category NYC Connect, a section of teams that had at least one NYC-based full-time student. Stylsize, which developed a heat map and other technology for people to try on clothes—such as allowing users who enter body measurements or upload photos to scan a barcode in a magazine and see a 3D-model of what the clothing would look like on—won the international section.
Along with the $17,500 prize money, each team will receive six months of free office space in NYC. The ceremony was held at Columbia's Davis Auditorium.