The lawyer for ISIS bride Shamima Begum's family said there are "strong but as yet unconfirmed reports" that her baby has died.
The 19-year-old Begum and her newborn son, Jarrah, had been living at a Syrian refugee camp after fleeing the crumbling vestiges of the terror group's so-called caliphate.
Begum made numerous public appeals to be allowed back into the UK but sparked controversy after showing no remorse for joining a terrorist organization and appearing to sympathize with a suicide attack on British soil. The UK government stripped her of her British citizenship, effectively blocking her re-entry.
Her family's lawyer Tasnime Akunjee wrote on Twitter: "We have strong but as yet unconfirmed reports that Shamima Begum's son has died. He was a British citizen."
We have strong but as yet unconfirmed reports that Shamima Begums son has died . He was a British Citizen.

— Mohammed T Akunjee (@MohammedAkunjee) March 8, 2019
Reports about the death of Begum's infant son have not been independently verified.
https://t.co/0nuP9vnv34 BREAKING: Shamima Begum's newborn baby may have died, says her lawyer https://t.co/FiTxvjUe7c Daily Star pic.twitter.com/TUbSSSqFvE

— 🇬🇧 MyAmigo #LetsGoWTO (@myamigocouk) March 8, 2019
'Struggling to Get My Supplies'
Begum told Sky News last month that her son was unwell and she would not allow him to return to the UK alone.
She told Sky correspondent John Sparks, "I am struggling to get my supplies in right now."
"I don't have a card because they lost my card, so I have to run around to take care of my son now, when I am sick. I am not getting my stuff."
The Mirror reported last month how Begum was said to have fled the Al-Hawl camp in northern Syria to another location after a "price was put on her head."
Her husband, Yago Riedijk, 27, told the BBC this month from the Kurdish-run detention center that he regretted joining ISIS and expressed his wish to bring Begum and their newborn son to the Netherlands.
Shamima Begum's husband Yago Riedijk describes their marriage, arranged by the Islamic State Group. #ShamimaBegum #Isis pic.twitter.com/gllNgR1xba

— Quentin Sommerville (@sommervilletv) March 3, 2019
Riedijk married the British teenager just weeks after she fled London a 15-year-old in 2015 to join the terror group.
Sky News Middle East correspondent Alex Rossi asked the jihadi if the pair had made a mistake by joining ISIS, he replied, "Definitely."
London Runaway Joins ISIS
Begum ran away from her London home with two friends to travel to Syria to marry ISIS extremists in 2015 at the height of the terror group's self-proclaimed caliphate. Now she, along with many other so-called ISIS brides, have ended up in Syrian refugee camps after fleeing the crumbling caliphate as coalition forces decimate the last vestige of the terrorist enclave.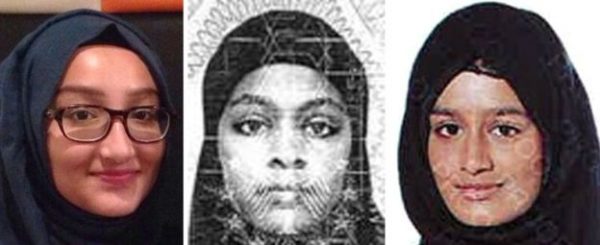 Citing security concerns, the UK's interior secretary announced in late February that her citizenship had been revoked.
The family has expressed its own shock at her lack of repentance, but proceeded with a legal challenge to the government's move to strip Begum of citizenship.
This is what they said to Shamima Begum's family in a letter sent earlier this week pic.twitter.com/7L28zvp5Md

— Daniel Sandford (@BBCDanielS) March 8, 2019
'No Regrets'
In earlier interviews, Begum said that while she did not agree with everything the terror group had done, she has "no regrets" about joining ISIS and suggested that air strikes against the terror group in Syria somehow "justified" the Manchester Arena terror attack.
"It's a two-way thing, really," she told the BBC, adding that the suicide bomber that killed 22 civilians at an Ariana Grande concert in Manchester was a "kind of retaliation" for bombardments of ISIS-held enclaves, adding, "So I thought, ok, that is a fair justification."
"I didn't want to be IS poster girl" – London teenager Shamima Begum, who fled to join Islamic State group in Syria, says she now wants the UK's forgiveness

[Tap to expand] https://t.co/9KwR4TYUqA pic.twitter.com/JWsgeHHppl

— BBC News (UK) (@BBCNews) February 18, 2019
Begum said that during her time with ISIS she was "just a housewife" and there was no evidence of her "doing anything dangerous.
Security experts such as British intelligence service head Alex Younger have warned, however, that would-be returnees like Begum were "potentially very dangerous." Because they were in "that sort of position," people like her were likely to have acquired certain "skills or connections."
Survivors and other victims of the murderous cult's reign of terror, meanwhile, are furious at the prospect of ISIS women getting a sympathetic hearing in the Western press, or worse—a free pass.
Ali Y. Al-Baroodi, who survived ISIS's bloody occupation of Mosul, told The Jerusalem Post that that claims on the part of jihadi brides that they were "just housewives," as Begum has insisted, are simply false.
"It was hell on Earth and every single one of them made it so," he said, asking sarcastically if perhaps local victims of the jihadi women should "apologize for disturbing their stay there."
"[ISIS] demolished cities and hundreds of mass graves, [and left] thousands of orphans and widows," he added.
"It's impossible to muster sympathy for her," author and academic Idrees Ahmad wrote in reference to Begum, according to the Post. "She went to Syria as a colonizer, several months after ISIS beheaded journalists and aid workers."