As China's National Health Commission continues to announce more CCP virus infections in northeastern China, local residents describe a tense atmosphere in which they're left scrambling to learn the true scale of the outbreak.
Chinese authorities have consistently underreported the number of infections and deaths, leading to citizens' distrust of official data.
The CCP virus, commonly known as the novel coronavirus, first broke out in the central Chinese city of Wuhan late last year, before quickly spreading across the country.
After a brief period in which most regions of China reported few to no new infections, since early April, virus outbreaks have occurred in the provinces of Heilongjiang, Jilin, and Liaoning in northeastern China.
Jilin
Jilin authorities announced that "patient zero" of the second wave outbreak on May 8 was a 45-year-old woman who works as an office cleaner at the Shulan city police bureau.
Within 10 days, the virus spread to nearby districts in Jilin city, as well as Shenyang, the capital of Liaoning Province. The entire city of Jilin was locked down on May 13, with all public transportation suspended, and authorities restricting people's movements.
On May 20, a Shulan resident named Mr. Li, told the Chinese-language Epoch Times: "The director of the Shulan police bureau was infected with the virus and visited the Shulan People's Hospital for treatment, which caused the police bureau to be locked down."
When The Epoch Times contacted the police bureau by phone, a staff member surnamed Wang denied that the director was infected.
Meanwhile, a hotel owner in Gaoxin district, in Jilin city, said that three people had been infected with the virus in his area, but residents don't know how they contracted it.
"I closed down my hotel, even though the government didn't ask me to," the hotel owner said. "Our local people know how severe the outbreak is. None of us dare to operate our businesses."
A grocery store owner in Gaoxin district said authorities have ordered strict quarantine for a large number of people—not allowing them to leave their homes at all—because they had visited Shulan or Jilin's Fengman district after April 1.
"My neighbor visited Shulan over 50 days ago," the store owner said. "He has no symptoms at all. But he was quarantined at home."
Several local residents said that authorities issued more restrictions on May 21. Since then, each household is allowed to have only one person leave the home for shopping each day.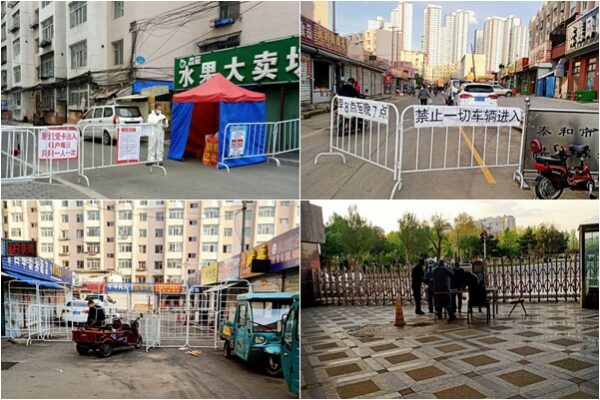 Yuan Min, who lives in Panying district of Jilin city, said one of her relatives who was being treated at the local Jihua Hospital for a non-virus-related pulmonary disease was recently discharged.
Yuan said she believed her relative was released because the hospital needed to accommodate patients of COVID-19. Jihua Hospital currently isn't on the roster of hospitals designated as COVID-only facilities in Jilin city.
Heilongjiang
In April, the second wave outbreak hit Harbin, the capital of Heilongjiang Province, as well as Mudanjiang and its suburb Suifenhe, two Heilongjiang cities that border Russia.
While in recent weeks, no new infections have been announced in Heilongjiang, local residents told the Chinese-language Epoch Times on May 23 that officials have kept strict isolation measures in place.
"Most of the open-air markets have been closed down by the government. Some others are asked to shorten their operating hours," said Ms. Li, a resident of Jiamusi city in Heilongjiang.
Li said she was told by vendors at the open-air markets that the markets wouldn't operate normally before May 28, the day when the Chinese Communist Party's annual Lianghui political meetings in Beijing conclude.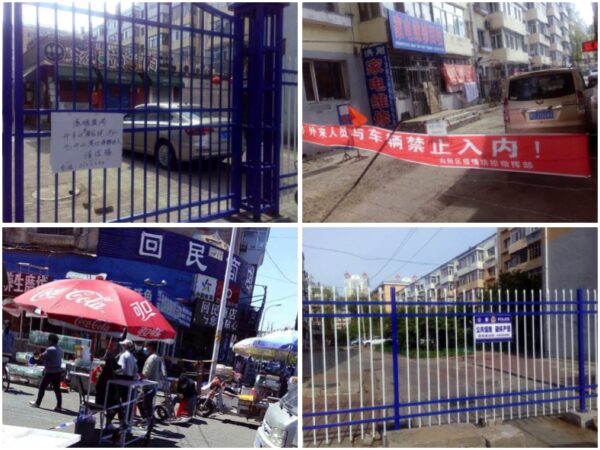 Meanwhile, Wang Wentao, governor of Heilongjiang, was to visit Fuyuan—a county-level municipality within Jiamusi—on May 25, the wife of a police officer in Jiamusi said. During Wang's visit, all open-air markets will be closed that day to ensure that isolation measures are enforced, according to the woman, who says he was told by her husband.
The Epoch Times couldn't independently verify the information.
Officials are planning to reopen the China–Russia port in Fuyuan city soon, which would allow the return of Chinese nationals, an insider within the Jiamusi government also told The Epoch Times. They have been stranded since early April, when Chinese port cities barred any travelers from crossing, due to fears that the virus could spread from those who had become infected in Russia.
Officials at hospitals in Jiamusi are worried that reopening the port may spark another outbreak in the city, the insider said.