Flooding overnight threatened a key production site of the Oxford/AstraZeneca vaccine in the UK as storm Christoph swelled rivers across the country.
Local authorities in Wrexham, Wales, say they worked through the night, successfully holding off floods at an industrial site where the nationwide supply of the vaccine is put in vials.
About 30 miles away, a river collapsed under floodwaters that sparked evacuations.
The company, Wockhardt UK, said in a statement that they had experienced "mild flooding" and that "all necessary actions were taken with no disruption to manufacturing."
They said that they are now operating as normal. 
Wrexham Borough Council said that Wockhardt contacted them for help yesterday evening.
"We worked through the night with them and gave them the resources and it's been successful, but it has been difficult," said Council leader Mark Pritchard, according to LBC.
"This could have had an impact on not just Wrexham and Wales but also the rest of the country."
Wockhardt has the contract for "fill finishing" of the Oxford/AstraZenca vaccines, which are distributed in the UK. Fill finishing means getting the already manufactured liquid vaccine into the glass vials that are distributed to vaccination centres.
In a statement on Twitter, Wales First Minister Mark Drakeford said: "Massive thank you to everyone who worked so hard to protect supplies of the Oxford-AstraZeneca vaccine in Wrexham. Happy to hear that the supply has been secured and that the site is now operating as normal."
In Manchester, around 2,000 homes were evacuated over concerns of rising water in the River Mersey.
The prime minister this morning visited flood-hit Didsbury area of Manchester, where people are now returning to their homes after the evacuation order was lifted.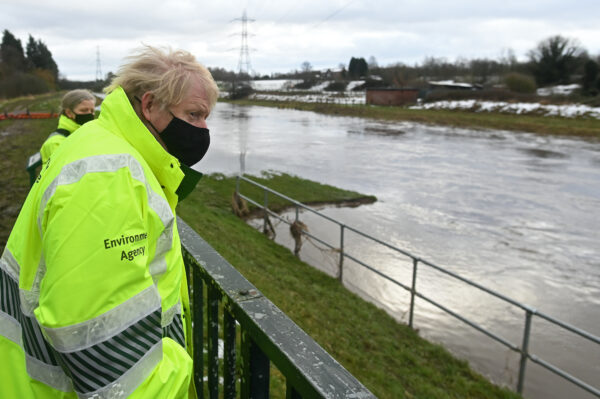 Manchester police said this afternoon in a statement that the flooding had now passed its peak in the region.
There are currently three severe flood warnings—meaning a threat to life—in place in the UK.
The Environment Agency has issued a further 172 warnings of expected flooding.
The risk of flooding in parts of northern England and the Midlands is likely to continue tomorrow and into the weekend, the Environment Agency said.
Craig Woolhouse, flood duty manager at the Environment Agency, said, "We urge people to keep away from swollen rivers and not to drive through flood water—it is often deeper than it looks and just 30 cm of flowing water is enough to float your car. "