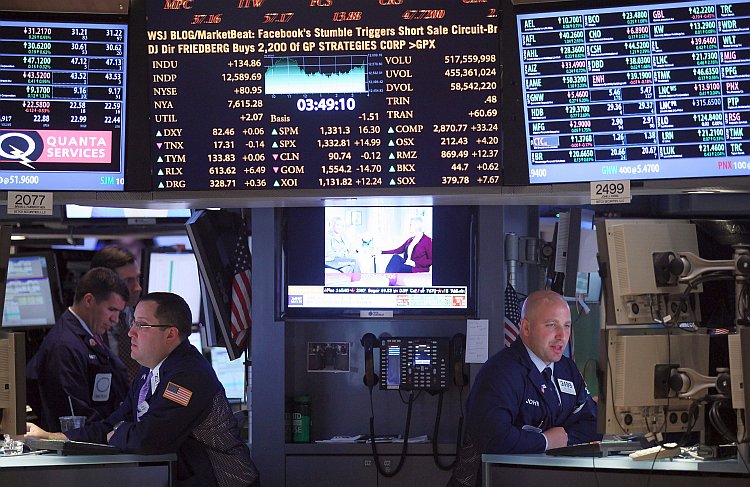 NEW YORK—The U.S. stock market surged on Tuesday, after global equity markets posted similar gains, on speculation of new monetary actions in Europe, which could ease concerns regarding the region's economy and the ongoing debt crisis.
The Dow Jones Industrial Average gained 125 points, finishing the day at 12,580 points, a gain of 1 percent. The broader S&P 500 index ended 1.1 percent higher, or a gain of 14 points. The Nasdaq Composite index rose 1.2 percent, or a gain of 33 points.
Shares of Facebook Inc. continued their decline, ending the day down 9.6 percent, and finishing at $28.84 per share, almost $10 below its IPO price. But pessimism on Facebook couldn't derail Tuesday's stock market gains, with bullish sentiment coming out of Europe.
Traders speculated that the European Central Bank (ECB) would step in and extend funding to the eurozone's ailing banks. In addition, news that European Commission President Jose Manuel Barroso urged member nations to come up with plans to unify the region fiscally further buoyed bullish sentiments.
"It is very important also in terms of confidence for the investment in the euro area now. We will support an ambitious and structural approach which should include a roadmap and a timetable for a full economic and monetary union in the euro area," Barroso said on Tuesday in a speech.
Weekend polls in Greece also showed that the conservative-leaning New Democracy Party (NDP), which is pro-bailout and pro-austerity, is leading the left-leaning Syrzia party ahead of June 17 elections. The polls were conducted by Kapa Research for the Vima newspaper of Athens. If the NDP can form a new government, it is less likely that Greece would exit the eurozone.
As a result, the EURO STOXX 50 Index gained 0.58 percent, or up 12.39 points, on Tuesday May 29. The EURO STOXX Index is the most followed blue-chip index in the eurozone, similar to the Dow in the United States. Other indices across the continent also gained, including London's FTSE 100 (up 0.65 percent), and the Frankfurt DAX (up 1.2 percent). On the other hand, the euro currency slumped, falling under $1.25 on Tuesday as continued weakness of Spanish banks was to blame.
U.S. stocks were also boosted by news out of China, with traders optimistic on the Chinese government's attempt to stimulate a slowing economy. Credit Suisse researchers estimated that a new stimulus from Beijing could total between 1 trillion yuan ($157 billion) to 2 trillion yuan. But so far, the Chinese Communist Party has given no indications that it would introduce a new stimulus package akin to the one it enacted in 2008 following the financial crisis.
Economic indicators due later this week include the official May jobs report, which will be released on Friday.
The Epoch Times publishes in 35 countries and in 19 languages. Subscribe to our e-newsletter.