MILAN—Around 200 people waited in line outside the first Starbucks cafe in Italy on Friday, Sept. 7, as the world's biggest coffee chain faces one of its toughest tests yet with an upmarket roastery in the center of Milan.
Coffee-obsessed Italy has more than 57,000 cafes and Starbucks, at its lavish roastery decorated with brass and marble, is charging almost twice what Italians are used to paying for their daily espresso drunk standing at a bar.
Yet people who stood in line in the central Cordusio square seemed undeterred by the prices which have drawn complaints from an Italian consumer association.
The opening enticed curious Italians and tourists alike.
"I hope the coffee here tastes better than it does in America," said Milan resident Sonia Vesti.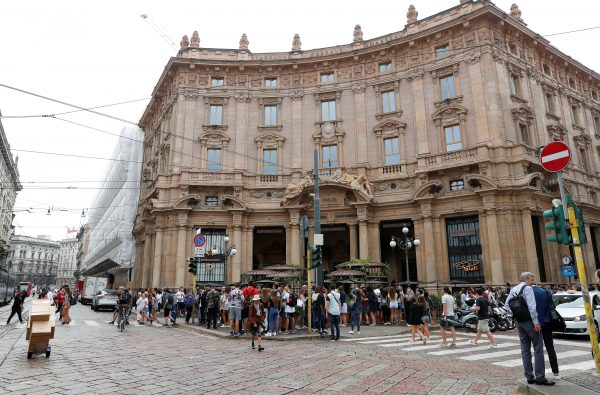 The cafe features a green industrial-scale roaster and serves coffee made only with premium-quality Arabica beans, while most Italian cafes use a cheaper blend.
Cocktails, pastry, and ice creams are also on sale at the store that marks the realization of a lifetime dream for Howard Schultz, the man who turned Starbucks into the world's biggest coffee chain.
Schultz has said he was inspired to develop Starbucks, which now spans almost 29,000 stores worldwide, during a 1983 visit to Italy where he was struck by the rapport between baristas and their clients.
The Milan shop is Starbucks' first roastery in Europe. There are two others, in Seattle and Shanghai.
Starbucks' arrival in Italy could shake up the local cafe industry, analysts said.
"Our research shows younger Italians, 16-34 year olds, are much more open to American coffee-style concepts such as flavored Frappuccinos, cold brew, and more lightly roasted coffee," said Jonny Forsyth, global drinks analyst at market research group Mintel.
Starbucks plans to open four traditional cafeterias in Milan with local partner Antonio Percassi by the end of this year.