In his final game at Heinz Field, veteran quarterback Ben Roethlisberger and the Steelers (8–7–1) dominated the Cleveland Browns (7–9) in a workmanlike manner, 26–14, befitting his 18-year career in the blue-collar town of Pittsburgh on Monday Night Football.
Roethlisberger, who led the Steelers to two Super Bowl Championships, stated earlier in the week that this may be his last season. The Pittsburgh fans packed the stadium, as usual, with farewell signs and cheers. At introduction, they chanted "let's go Ben;" and late in the game until Roethlisberger finally left the stadium, the chant was "thank you Ben." Roethlisberger has never had a losing season for the entirety of his career, and has a near overwhelming record against the Browns 26–3–1.
This late-season matchup would have expected major play-off implications from these divisional foes. However, the Steelers have struggled greatly away from home, and the Browns have a losing season, after high hopes beginning the season leading the division.
The Browns have Browns lost 7 of their last 11 games. They began the season 6–2, and lost their third game against the Arizona Cardinals, as quarterback Baker Mayfield suffered a severe injury to his left non-throwing shoulder with a broken humerus and a torn labrum. His passing proficiency and accuracy declined greatly thereafter as he was forced to wear a shoulder brace.
Following the game, Mayfield stated, "I am going to have surgery. I am going to get this shoulder fixed and be able to come back next year at 100 percent."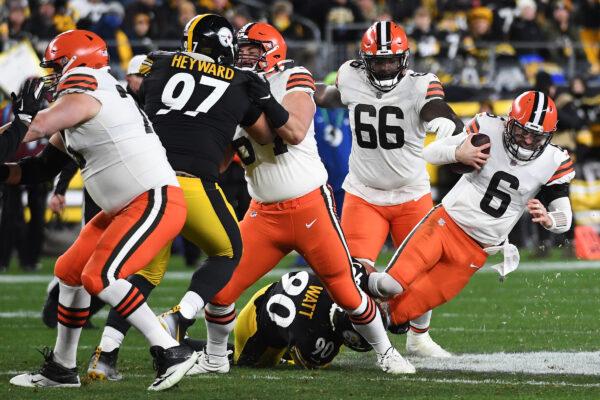 In 20-degree temperatures, Mayfield threw for 185 yards on 16 of 38 attempts, two touchdowns, and two interceptions. Nick Chubb ran for 58 yards on 12 carries. Critics state that the strategy should have been reversed against the lowest-rated run-defense of the Steelers.
The Steelers' defense did shutout the Browns in the first half. T.J. Watt led with a career game-high of four of the team's nine sacks, and currently leads the league with 21.5 sacks; one shy of the all-time record set by Michael Strahan in 2001.
"Everything was pretty calm and collected throughout this whole week," said Watt. "The pregame was normal until you walked outside and felt the energy, and saw all the seven jerseys, all the seven signs, and it was truly an atmosphere that I've never felt here before. It was really special. The fans made it so amazing for him [Roethlisberger] and I'm very appreciative that they were able to do that for him."
The atmosphere was electric in the 248th game for the #7 Roethlisberger. He passed for 123 yards on 24 of 46 attempts, for one touchdown and an interception.
"That's been the story of my career," Roethlisberger said. "Not always pretty, but we find a way."
Roethlisberger has morphed from the play-extending quarterback, to now releasing the pass the fastest in the league with an average of 2.0 seconds.
Najee Harris was heroic, rushing for a career-high 188 yards on 28 attempts, and one touchdown. On several runs, he stiff-armed defenders to the ground running over them on the way to breaking Franco Harris' rookie rushing record. Many records are being broken this year, as the number of games per season has gradually increased in the past couple of decades.
Roethlisberger thanked Harris after the game as Harris waited to congratulate him. "He was still sitting there," said Roethlisberger. "I said I'm so proud of you. And he's a heck of [a] football player tonight. He just ran possessed tonight. I mean, some of the things he did was just special and he gave us this victory."
The Steelers scored their first touchdown in the first half in the past five games. Roethlisberger completed a five-yard TD pass to Diontae Johnson with 10:39 remaining in the second quarter, capping off a drive of 66 yards on 10 plays. The Steelers would add a field goal two possessions later to take a 10–0 halftime lead. Three more field goals were successful by kicker Chris Boswell in the second half.
The Browns finally scored on a 48-yard drive that culminated with Mayfield completing a three-yard pass to David Njoku, with 0:56 remaining in the third quarter getting them within a touchdown 13–7.
Boswell kicked his fourth field goal for a 19–7 advantage before the Browns would score their second touchdown with 1:10 left in the game; Mayfield threw his second TD pass to Harrison Bryant to get within five, 19–14.
The Steelers would close out the game with Harris breaking loose for a 37-yard touchdown run with 0:51 seconds remaining for the final score of 26–14. Tre Norwood intercepted Mayfield immediately after, to bring Roethlisberger out for one last home victory-formation kneel on the final play of the game.
"It just shows you how special this group is and how much we mean to each other," said Roethlisberger. "I wanted to give them everything, and I tried to do that every week anyway. I think we all do, and it was such a team performance tonight."
"I'm just so thankful for the fans," added the teary-eyed Roethlisberger. My family obviously, and the good Lord has blessed me in so many ways. We still got another game, I'll be excited ready to go for that. But this is just an awesome place all week."
The Steelers have a slim chance to make the playoffs with one week remaining in the regular season. They would have to beat the Ravens away and hope for the Jaguars to upset the Colts. "We've got another game," Roethlisberger said. "We've got to keep fighting."
Roethlisberger waved goodbye to the packed stadium of fans that remained to honor him. As if he was not quite ready to depart, he decided to walk around the stadium to give high fives to the ecstatic fans. His wife, Ashley, and their three children came onto the field to escort him through the Heinz Field tunnel one last time, as the fans continued to chant "Thank you Ben."