The Los Angeles Angels (38–45) ace Shohei Ohtani won his fifth consecutive start against the Miami Marlins 5–2 at LoanDepot Park on Wednesday night, ending the team's four-game skid.
"It's special, it's historic, it's elite," said Angels catcher Max Stassi. "He's a frontline guy. He's established himself as one of the better arms in baseball, everybody else knows that, and you've got to fear him at the plate the same day, too. He's a superstar pitcher and he's a superstar hitter."
Ohtani's scoreless-innings streak ended at 21 2/3 innings, giving up a first-inning unearned run following a throwing error by shortstop Luis Rengifo, allowing Jon Berti to reach first, who then scored off of Garrett Cooper's sacrifice fly.
In seven innings of work, Ohtani (8–4, 2.44 ERA) gave up just two hits, struck out 10, and walked three to end the Marlins' six-game winning streak.
Ohtani has not allowed an earned run in 28 2/3 innings, along with several other MLB records—including being the first player since the RBI became official in 1920 to record 10 strikeouts as a pitcher, hit two RBIs, and a steal a base in one game.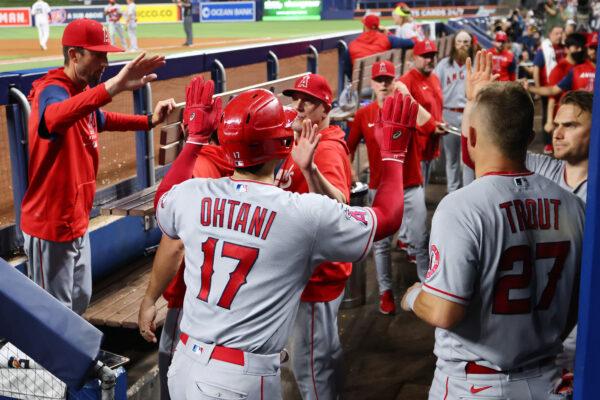 "There can't be many [records] left, right?" said acting manager Ray Montgomery. "I mean, he has most, if not all of them by now. He competes at everything. And he's relentless. He can't quench his thirst for what he does. It's really fun to watch."
Ohtani is also the eighth pitcher since earned runs were made official in 1913 to record over 40 strikeouts and zero earned runs in a four-game start.
"I didn't change much, the most important thing is I made my pitches when I needed to," said Ohtani through a translator. "I think it's huge when we're winning, and I'm pitching because I'm part of the ball club."
"When you get one in the first, you feel good about it, but with a guy like [Ohtani] as the game goes, he gets better and better," said Miami manager Don Mattingly.
On offense, Ohtani ended a 0–7 at bat hitting 1-for-4, with two RBIs, one walk, and a run scored off of Marlins starter Trevor Rogers (4-7).
In the fifth inning, Rogers loaded the bases and was replaced after giving up a two-run single through the left side of the infield by Ohtani to give the Angels a 3-1 lead.
Not yet in form having returned from a groin strain, the three-time AL MVP Mike Trout was hitless in four at-bats but had one RBI.
The Angels begin a three-game series versus Baltimore starting RHP Chase Chiselth (1–2, 5.23 ERA) Thursday at 4:05 p.m. PT.
The Marlins travel to NL East leading Mets starting LHP Daniel Castano (1–1, 2.47 ERA) Thursday at 4:10 p.m. PT.