Julius Randle returned from COVID-19 protocols to contribute with a double-double in the New York Knicks (18–20) victory over the Indiana Pacers (14–24).
Randle scored 30 points on 12–20 shooting, 2–7 from threes, 16 rebounds, and four assists, ending a two-game losing streak.
"We had no idea what he was going to be like," said Knicks coach Tom Thibodeau of Randle. "So unbelievable effort. Unbelievable game. Sixteen rebounds. Just all the things that he did. He makes us different. That's his gift. He can play with speed. He can play with power. He can make decisions. It does make us different."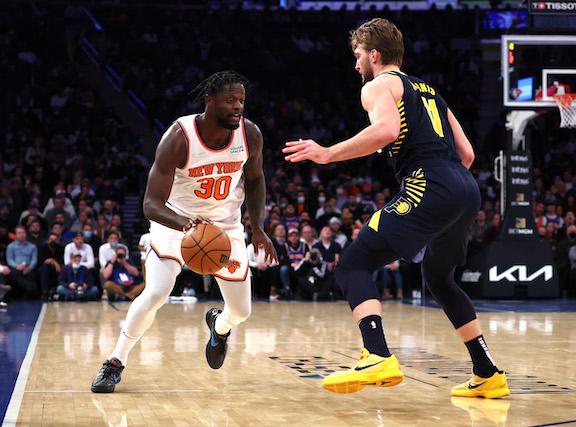 R.J. Barrett scored 19 points in the first quarter on the way to the Knicks' team high of 32; he was 12–20 from the field, 2–5 from threes, eight rebounds, and three assists.
"Just trying to be aggressive," Barrett said of his approach early in the game. "That's really it. When you get into the paint, you make reads. You finish or kick out. It puts pressure on the defense."
"With both guys, the most important thing is them attacking the rim," added Thibodeau about Randle and Barrett. "The aggressiveness of R.J. attacking the rim, and for Julius to do what he did today is just remarkable."
Other Knicks notables included Alec Burks with 14 points, six rebounds, and four assists; while Immanuel Quickley came off the bench to score 11 points, two rebounds, and an assist.
Indiana has now lost their fifth straight game. The Pacers have seven players out due to COVID-19 protocols, including three of their top five scorers: Chris Duarte, Malcolm Brogdon, and Caris LeVert.
Keifer Sykes, a 28-year-old rookie that signed with the Pacers as a free agent on Dec. 27, scored 22 points on 8–16 shooting, 4–8 from threes, four rebounds, and six assists.
"I'm not just here to survive," said Sykes. "I'm here to thrive. I want to be in the NBA for a long time. So I'm going to continue to work and have that mindset and outwork everybody."
Duane Washington Jr., playing in just his seventh NBA game, had the Pacers' second highest points with 17 on 6–16 shooting, two rebounds, and four assists. Domantas Sabonis and Torrey Craig both added 15 each.
Sykes hit three three-pointers to early to give the Pacers an 18–10 lead. Barrett countered, scoring 10 straight points in a 16–0 run by the Knicks to take a 32–25 lead at the end of the first quarter.
The Knicks led by as many as 12, but Indiana went on an 18–8 run to end the half, concluding with a Sykes 13-footer to tie the score at 55–55.
The teams would be tied five different times before the Knicks went on a 9–3 run to take a 84–77 lead at the end of the third quarter.
Pacers' Justin Anderson scored five unanswered points to begin the fourth quarter to come within two points 82–84, and came within a point with 9:01 left in the game at 87–88 with Craig's two free throws.
The Pacers could not get any closer as the Knicks extended the lead to eventually win 104–94.
Next up for the Knicks is a home-and-away series against the Celtics beginning on Thursday at Madison Square Garden, while the Pacers host the Nets on Wednesday.