Justin Thomas wins his second major championship at the 2022 PGA Championship at Southern Hills Country Club, in Tulsa, defeating Will Zalatoris in a three-hole playoff after starting the day seven shots behind Mito Pereira.
Thomas added to his first major win at the 2017 PGA Championship in Charlotte, shooting a final round of 67, as in the first two rounds, and made two birdies in a one-stroke victory in the aggregate playoff over Zalatoris.
Thomas felt dejected following his third round score of 74, but stated that he left the course feeling the best he ever had following a talk with his caddie Jim "Bones" Mackay.
"There's a lot of great players ahead of me, but I know that they hadn't won a major before, and I know I hadn't won in a while, but I just I remember how tough it was," said Thomas.
"I am fully confident saying and I wouldn't be standing here [as champion] if he [Mackay] didn't give me a talk, if you will," admitted Thomas. "I just needed to let some steam out. I didn't need to bring my frustration and anger home with me. I didn't need to leave the golf course in a negative frame of mind."
Mackay came out of retirement to caddie for Thomas in September 2021, after reporting for The Golf Channel. Mackay had both knees replaced in 2016 following many years as caddie for Phil Mickelson, winning their last major together in the 2013 Open Championship in Muirfield, Scotland.
"I played pretty well yesterday for shooting four over, and I felt like I played terrible, and he [Mackay] was just like dude, you gotta be stop being so hard on yourself," Thomas explained. "You know you you're in contention every single week."
"I've had a lot of chances to win tournaments and it's a hard golf course in a major championship," added Thomas. "You don't have to be perfect and just don't be hard on yourself."
The 29-year-old Thomas is a native of Goshen, Ky., and attended St. Xavier High School in Louisville. Just before his junior year in high school, he made the cut at the Wyndham Championship in 2009, becoming the third-youngest to make the cut ever in a PGA Tour event, at 16 years, three months and 24 days.
Thomas finished first six times for the University of Alabama, winning the most outstanding collegiate golfer in 2012 as a freshman; he also was part of the NCAA Golf championship team in 2013.
Thomas was taught by his father, PGA professional Mike Thomas at Harmony Landing Country Club since 1990—who was taught by his father Paul.
Following Justin's first major victory, Mike stated that he didn't enjoy playing golf very much, as his father had "gotten it wrong" in his teaching method, stating that Paul was "hard" on all of his students and hard on himself as a "old school kind of dig it out of the dirt" teacher.
So Mike made a promise that he would be "friends first" with Justin while teaching him, allowing him to enjoy the game.
Regarding the three-stroke leader Pereira's third place finish with a score of 75, after a double-bogey final hole resulting from an over-exaggerated left-to-right tee shot ending in the creek, Thomas graciously stated that "you don't want someone to lose it."
"I have had many times in my career when I feel like I've led a tournament, [and let it get] away and it's brutal," Thomas said.
"It's not fun, but at the same time, you're able to channel that and look back at it later whenever the time [comes], when you calm down and reflect," added Thomas. "He'll be able to learn from it and be better from it."
Pereira entered the Championship ranked 100th in the world and took the lead over Zalatoris in the third round with scores of 68–64–69, but his final round 75 dropped him to a tie for third. Pereira is 24th on tour in strokes gained total and 31st in scoring average.
The 72nd hole double-bogey by Pereira invokes memories of another 100th plus ranked player, Jean Van de Velde, who tragically made a triple-bogey on his final hole with a three-stroke lead to lose in a three-way playoff at the 1999 Open Championship at Carnoustie.
"Always be sad to be here and not make par to win," said 27-year-old Pereira. "It's not how I wanted to end up this week, but a really good result. Today, I was really nervous. I mean, I tried to handle it a little bit but it's really tough."
Pereira said his nerves got progressively worse each day, and it was "terrible" in the final round.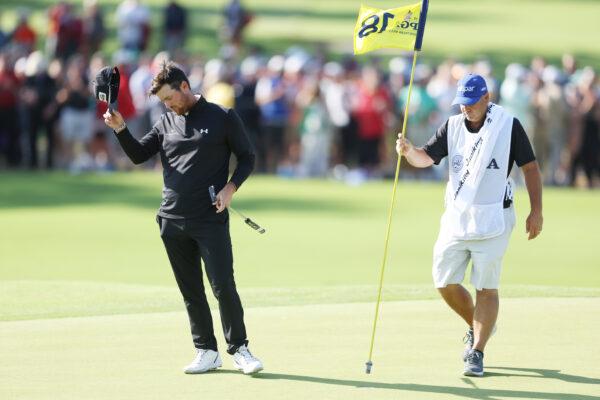 "But on the other [hand], just happy to be there," added Pereira. "I finished third on my first major this year."
After seeing his friends and family greet him at the 18th green, including fellow Chilean golfer and childhood friend Joaquin Niemann who tied for 23rd, "It was nice to see all the guys there," concluded Pereira. "It was a great week for me."