Since joining the Los Angeles Dodgers, Freddie Freeman returned for the first time to Atlanta Friday to play the Braves in a three-game series, and was overwhelmed with emotions—beginning with the pre-game news conference, to the ring ceremony, and during the 4–1 victory over his former team.
The 2020 NL MVP, Freeman played twelve years for the Braves and eventually led the Braves to their first World Series title last year, since 1995.
"Man, I love the Braves organization with all my heart. That will never change," said Freeman.
Freeman had to pause and take a break at the pre-game press conference to compose himself while in front of Braves reporters, as he was overcome with tears and emotions.
"I can't even look at you guys because I don't know how I'm going to get through it," said Freeman.
"I'm just happy to be back," said Freeman holding back tears. "This organization, the people who covered my family with grace and love over the last 12 years. I don't even know how I'm gonna get through this weekend."
"I was looking forward to today, "I'm hoping it's Monday soon," joked Freeman. "This is a lot harder than I thought."
A native of Orange County, Freeman was born in Fountain Valley, California, approximately 36 miles south of Dodger Stadium, and spent 15 years total with the Braves including the minor leagues after being drafted in 2007, following his college career at Cal State Fullerton.
The Braves expected to re-sign with Freeman, as he wished to play for Atlanta for his entire career, in the post-season following the World Series, requesting a six-year deal that Atlanta was not willing to provide.
The Dodgers agreed to a $162 million six-year deal, that Freeman accepted after the Braves signed Matt Olson from Oakland.
"I think it's something that Freddie long awaited," said Dodgers Manager Dave Roberts. "Everyone here adores him. I still know he'll be ready to play a baseball game."
In the first inning, Freeman walked following Trea Turner's single to start the game. Will Smith then singled to left field to score Turner, moving Freeman to third.
Justin Turner would hit a sacrifice fly to center to score Freeman to jump out to a 2–0 lead.
The Dodgers added two more runs in the fifth, beginning with Trea Turner hitting a 350 feet homer to right field; Freeman scored again off of a fielder's choice from Justin Turner's grounder to third for a 4–0 lead.
Julio Urias (5–6, 2.48 ERA) would get the victory over Ian Anderson (6–4, 4.60 ERA), as he would give up the only run to the Braves in the sixth inning for a 4–1 final score.
"It was amazing. I told you guys I would cry again, and I did," added Freeman. "That ring is special to me! It's everything you work for in this game. To finally win a championship and be able to win it and then receive the ring, that was special."
Freeman was presented his 2021 World Series Championship ring just before the game by his former manager Brian Snitker.
"To get it from Snit, I've been with Snit since I was in the minor leagues, ... he was our third base coach. Now he's over there winning division titles, manager of the year, and World Series titles. So it was just a special night."
During the ring presentation, Braves fans stood and cheered, chanting "Freddie! Freddie!"
"I left everything I had on this field every single night," said Freeman. "I think they [the fans] understood that. I love them very, very much and they showed me the love tonight and I appreciate it."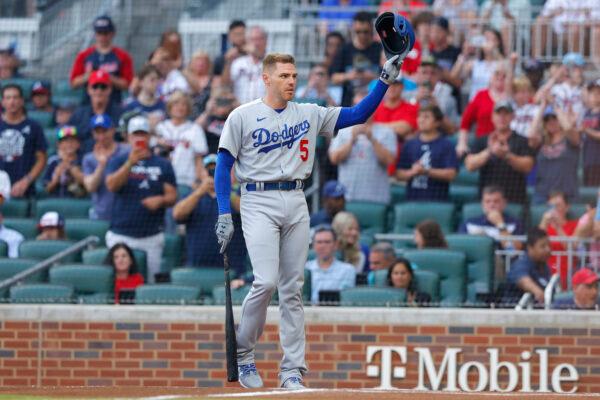 "I'm so glad I got walks, because I couldn't feel my legs for a few innings," said Freeman. "So it was emotional, and I am worn out."
The two teams play the second game of the series Saturday with the Dodgers starting  Mitch White (1–1, 3.86 ERA) versus Braves LHP Max Fried (7–2, 2.77 ERA) at 4:15 p.m PT.