House Speaker Nancy Pelosi (D-Calif.) said Friday that she supports Democrats passing immigrations reform in Democrats' multitrillion-dollar spending package without GOP support.
"I do believe that immigration should be in the reconciliation, some piece of that, in the reconciliation," Pelosi told reporters on Friday during a press conference with House Democratic leadership.
"But to qualify for being included in a reconciliation bill, the proposal has to have an impact on the budget. We have clear numbers to that effect to go forward … We know we have a very good case for this to be included," Pelosi added.
The speaker's comments come after Democrat leaders met with President Joe Biden and Vice President Kamala Harris earlier in the week about providing a pathway to citizenship for the millions of illegal immigrants living in the United States.
"Yesterday, I was pleased to join Chair [Zoe] Lofgren, and Chairman [Jerry] Nadler, as well as Chair [Dick] Durbin, and Chairman [Bob] Menendez, and a group of others in the White House to talk to the president about this and reiterate our support for reconciliation including immigration proposals," said Rep. Pete Aguilar (D-Calif.), the vice-chair of the House Democrat caucus and a leader for the party on immigration reform, at Friday's press conference.
"We should be guided by providing the greatest good for the greatest number of people in our country, and so, including a path to citizenship for those with DACA [Deferred Action for Childhood Arrivals] status, TPS [Temporary Protected Status], essential workers, and those farmworkers," said Aguilar, adding that the White House supports immigration reform provisions.
Democrats are pushing to include a pathway to citizenship for DACA immigrants who were brought to the United States as children and are protected from deportation, as well as TPS holders, essential workers, and farmworkers.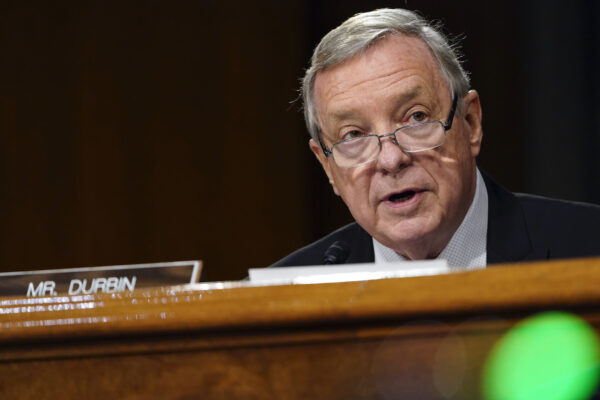 Durbin said it is essential to include a pathway to citizenship for undocumented workers because they sustain the country's agricultural industry.
"We estimate that there are 2.4 million migrants who come to the United States each year to plant and pick our crops, to milk the cows, to process the food, to work in poultry and meat processing, and without them, these industries would struggle to survive," said Durbin from the Senate floor in July.
"So, literally, we're saying to farmworkers, if you will give us 19 years of your life, picking our crops. We will give you a chance to be a citizen … Some call [it] amnesty. I won't," said Durbin.
The immigration reform provision would be included in the $3.5 trillion reconciliation package, which is being called an infrastructure package by Democrats. But critics say the massive bill will expand social programs by the federal government, and includes things like free community college, free pre-K, and expanding Medicare.
With the reconciliation process, the Democrats would not need any Republicans to vote for the package in order for it to be signed into law. Democrats say the bill would be paid for by raising taxes on wealthy Americans and corporations.
Sen. Lindsey Graham (R-S.C.) told Fox News on Friday that he will oppose the reconciliation process and do everything legally in his power to stop the passing of the multi-trillion-dollar package.
"The reconciliation package is not infrastructure. It's big government, a liberal wish list. Paid family leave, all kind[s] of new social programs unrelated to infrastructure," Graham said.
"If for some reason they pass [the] reconciliation budget resolution to bring that bill to the floor of the United States Senate, the $3.5 trillion bill, you got to have a quorum to pass a bill in the Senate, I would leave [Washington D.C.] before I'd let that happen," Graham said, referring to how Texas Democrats left Texas during a special session, breaking quorum and preventing a vote by the majority on election reform.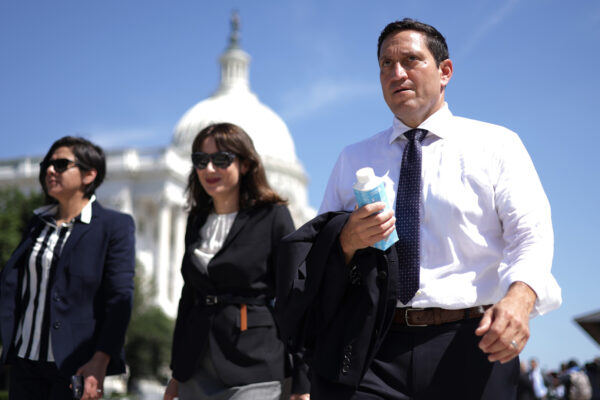 Graham stressed the reasons he would break quorum to prevent the $3.5 trillion package from passing.
"I will do it because if we pass that bill, you're going to have inflation through the roof. And if they put legalizing illegal immigrants in that bill, you're going to have a complete run on the border. It will be throwing jet fuel on a fire, called illegal immigration. It would lead to an invasion of illegal immigrants if we put amnesty in the $3.5 trillion bill. So, I would do anything I could to stop that."