Southern China's Guangzhou City announced more COVID-19 infections on June 7, even after more than 60 percent of its residents were vaccinated.
More than 85 percent of the city's residents have been tested in the past few days.
On June 6, Guangzhou authorities ordered residents to stay in the city, with people who live in locked-down areas not being allowed to leave their homes. On June 4, city officials announced they would use drones and self-driving cars to deliver materials to the locked-down regions.
Guangzhou City first reported the new outbreak on May 21 and identified the strain of the CCP (Chinese Communist Party) virus—commonly known as the novel coronavirus—that caused the outbreak as the Indian variant.
"The Indian variant spreads very quickly. The incubation period is between two to four days, and the viral load [of each COVID-19 patient] is large," Zhang Zhoubin, deputy director of the Guangzhou Center for Disease Control and Prevention (CDC), said at a May 31 press conference.
During a meeting hosted by the Chinese Academy of Sciences on May 30, Chinese CDC Director George Fu Gao said: "People are still infected after being vaccinated … The novel coronavirus outbreak is more and more like influenza. People might need to be vaccinated every year."
Guangzhou has a population of 18.68 million people. City authorities announced on May 24 that 7.45 million people had been vaccinated by May 23 and more than 500,000 people were receiving vaccines every day. By the end of May, more than 60 percent of Guangzhou's residents had been vaccinated.
The vaccines used by Guangzhou City are the China-made CoronaVac from Sinovac and Vero Cell from Sinopharm.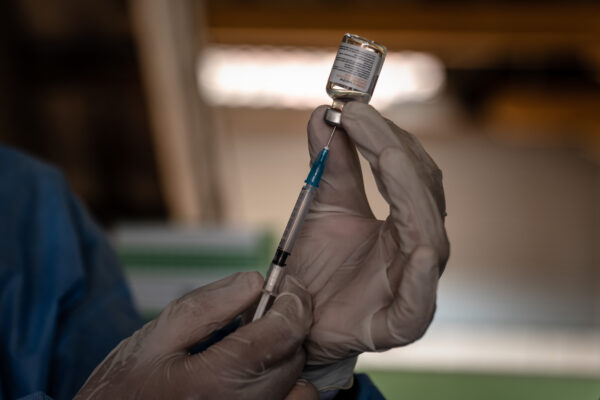 Tightened Control
Guangzhou City authorities announced they would lock down four more regions in the city on June 6, bringing the total number of locked-down regions within the city to 42.
On June 6, Guangzhou officials banned all cars from neighboring cities from entering the city and stopped all public transportation, which includes bus, subway, ferry, and railway, in the Nansha District of the city.
The outbreak spread to Foshan, which borders Guangzhou on the east side, and authorities have asked residents to stay in the city as of June 6.
To support the worsening outbreak, the Guangdong provincial authorities arranged for 5,600 medical staff from seven other cities to go to Guangzhou on June 5. Guangzhou announced it had collected swab samples for COVID-19 tests from more than 16 million residents by June 5.
Guangzhou Daily reported on June 4 that the city was testing drones that day, and planned to use them to deliver materials to high-risk regions.
By June 4, at least 12 hospitals in Guangzhou announced part or all of the hospital had closed, according to China portal NetEase.
Using Chinese vaccines, Two Countries See Outbreak Worsening 
Seychelles, an East African island country, and Bahrain, a Middle Eastern island nation, have completed large-scale Sinopharm vaccinations; yet both are seeing a significant increase in infections.
On June 3, Bahrain was reported to have a more than tenfold increase in the number of new infections in a single day, five months after mass vaccination with China's Sinopharm vaccine. Bahraini authorities then began using Pfizer/BioNTech vaccine to provide a booster dose to people who had received the Chinese vaccine.
Official data showed that 56.3 percent of Bahrain's population has received at least one vaccination, of which more than 60 percent was Sinopharm vaccine.
Two weeks ago, a surge in infections was also reported in Seychelles. This small country of about 100,000 people currently has the highest vaccination rate in the world, with more than 61 percent of the population having received at least one dose of vaccine; 57 percent of recipients were administered Sinopharm vaccines.
Young Chinese Woman Goes into Shock after Receiving Sinovac Vaccine
The CCP has almost never reported the safety data of Chinese vaccines. Recently, a case of shock after receiving the Sinovac vaccine was reported on Chinese social media, and several related posts were quickly deleted by the CCP authorities.
On May 28, a woman, using the Internet name of Tian Yiqian, posted on Weibo that she had received the vaccine and "didn't expect to go into anaphylactic shock right after the vaccination and was resuscitated for two hours."
The next day, she published two more posts on Weibo, saying that the doctor had told her that her heart had started to fail and that she "didn't want to treat it anymore." She also confirmed that when she was taken to the emergency room on May 28, she heard that "there was another person in shock." This made her feel that the adverse reactions after  vaccination in China were not as few as 11 out of 100,000 as reported by the official media.
After publishing a post on May 30, Tian Yiqian never updated again, and all her posts related to the vaccination were deleted. 
According to her Weibo profile, she was 25 and came from Xi'an City in northwestern China.  
Many netizens tried to contact her privately through her Weibo account, all they got were automatic replies. Someone posted a statement online, saying she had passed away.