South African (SA) star cricketer Quinton de Kock pulled out of his Twenty20 World Cup game against the West Indies minutes after the cricket board issued a directive requiring all players to "take the knee" against racism.
De Kock has never partaken in the gesture, often looking on at teammates who choose to do so. However, on June 12, in a press conference after South Africa's test series against West Indies in Saint Lucia, de Kock was questioned on why he refused to take a knee at the time.
"My reason? I'll keep it to myself. It's my own personal opinion. It's everyone's decision. No one's forced to do anything, not in life. That's the way I see things," he answered.
On Oct. 26, the Cricket South Africa (CSA) board said they had unanimously decided to require their players to take the knee for all remaining matches in the competition.
"Concerns were raised that the different postures taken by team members in support of the BLM initiative created an unintended perception of disparity or lack of support for the initiative," CSA said in a statement, referring to the way some players kneeled, some raised their fists, and others simply stood.
"After considering all relevant issues, including the position of the players, the Board felt that it was imperative for the team to be seen taking a united and consistent stand against racism, especially given SA's history."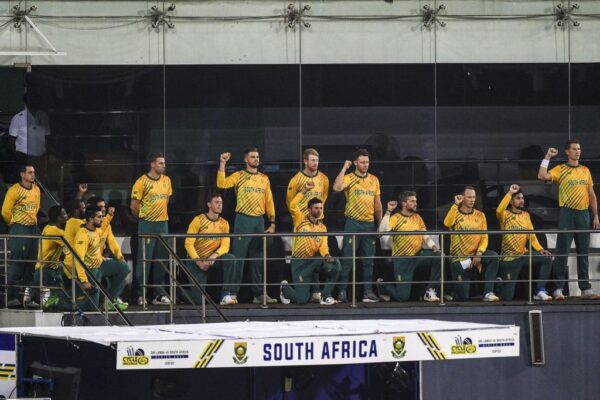 CSA said given that cricket was the second most-watched sport internationally, it is the "ideal platform" for the team to highlight the "national resolve" to heal divisions of the past.
"The board's view was that while diversity can and should find expression in many facets of daily lives, this did not apply when it came to taking a stand against racism," CSA said in response to de Kock's decision.
South Africa captain Temba Bavuma said de Kock's decision came as a surprise to the team.
"As a team, we obviously were surprised and taken aback by the news," Bavuma told reporters. "Quinton is a big player for the team … In saying that, Quinton is an adult. He's a man in his own shoes. We respect his decision. We respect his convictions."
Commentators and former cricketers Darren Sammy and Pommy Mbangwa criticised the decision on air.
"Sometimes, I don't understand why it is so difficult to support this movement if you understand what it stands for. That's just my opinion," Sammy said. "What my kind have been through. There are other issues affecting the world, but I don't understand why it is so difficult."
Mbangwa followed up with, "I'll say this with regard to Quinton de Kock that freedom of choice is fair enough. I don't want to speculate on what the personal reasons exactly are because I haven't got those, but I hope that discussion can actually be had."
Meanwhile, former England cricket captain Michael Vaughan wrote on Twitter that, "Surely it's down to the individual to decide whether he or she wants to be involved in any movement. A Cricket board should request players to do it, but if that individual decides they don't want to, it should not stop them playing the game of Cricket."
It is unlikely that de Kock will return to play in the remaining T20 World Cup games.