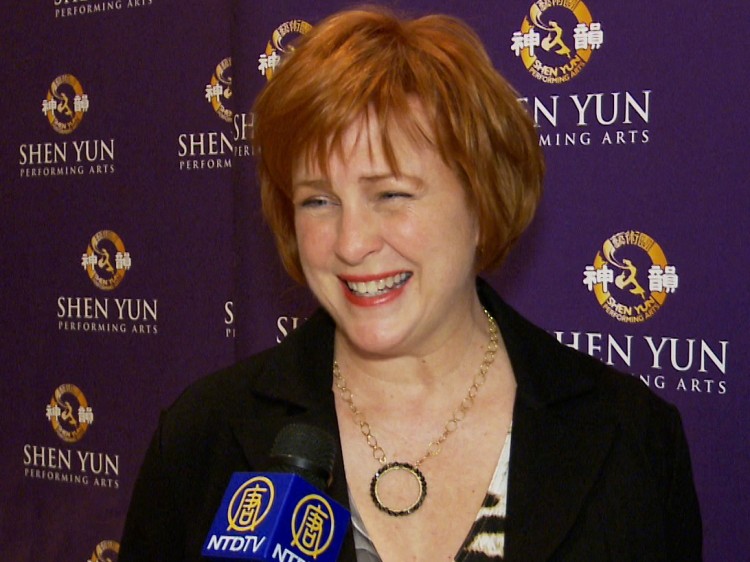 NEW YORK—Soprano Elisa Brown sung the praises of Shen Yun Performing Arts' tenors and sopranos on Wednesday night, April 18. The New York-based company appeared at Lincoln Center for the first of seven performances. Shen Yun's display of classical Chinese dance, along with ethnic and folk dance, is punctuated by solos from award-winning vocalists.
"The sopranos and tenors all had wonderful voices," said Ms. Brown. "Really great, wonderful voices."
Ms. Brown performs for New York Women's Ensemble, a community of musicians and singers that use their talent for philanthropic causes. She had high praise for Haolan Geng, the last soprano to perform, who also performed an encore.
"[She] was worthy of any of the Metropolitan operas—really spectacular!" said Ms. Brown. "I was glad she sang a second song. Really great, really beautiful. I enjoyed it very much." Ms. Geng won, among other awards, gold prize at the First Music Competition of the Guangdong Arts Festival and first place in New Tang Dynasty Television's 2009 International Chinese Vocal Competition, according to Shen Yun's program book.
Chinese lyrics are sung while English is seen on the digital backdrop behind the vocalists when they perform. "I particularly enjoyed that you had the translations on the backdrop because it's very useful—I don't speak Chinese," said Mrs. Brown. "But it was very interesting to watch and quite beautiful and very moving."
Ms. Brown's experience as a soprano gave her a deep appreciation of the singers; her familiarity with Daoism gave her a deep appreciation of the spiritual depth of the performance.
"They did it with wonderful energy, I could sense the flow," said Ms. Brown of the dancers. China's 5,000-year-old culture is held to be divinely inspired, according to Shen Yun's website, while traditional Chinese culture and its principles, such as benevolence, justice, and wisdom, originate from Daoist, Buddhist, and Confucian faiths.
Classical Chinese dance, the heart of a Shen Yun performance, was "passed down continuously within the imperial palace and ancient Chinese theater and opera," according to the company's website.
Ms. Brown described the dance, Crazy Ji Saves the Day, featuring the unconventional Buddhist monk Ji Gong, as "charming, really charming."
The legendary 12th century monk performs heroic deeds while overstepping Buddhist monastic rules—a "meat-eater, wine-drinker, and wielder of a magic fan," as the program describes him.
She also enjoyed How the Monkey King Came to Be, which depicts the birth of the Monkey King, a central character in China's classic novel Journey to the West. In the dance, the Monkey King goes to Heaven's peach orchard, startling a group of fairies. A comical series of events then ensues.
" I thought that was really charming," said Ms. Brown, noting that "every piece that I see is my next favorite one. So I like the first to the last. They keep getting better."
Human Rights and Asylum Seekers
Ms. Brown highlighted her philanthropic work as a mission to raise awareness about injustices. The persecution of the spiritual group, Falun Gong, in China is depicted in several dances. The spiritual meditation practice based on the principles of truthfulness, compassion, and tolerance, was outlawed by the Chinese Communist Party in 1999. Practitioners continue to be imprisoned, tortured, and killed, according to UN and Amnesty International reports.
"These people are very brave," said Ms. Brown.
"People need to know what's going on," said her husband, Jan, an immigration lawyer. Some of his clients are Chinese asylum seekers and he said he is familiar with the human rights abuses in China.
Reporting by Tracey Zhu and Tara MacIsaac.
Shen Yun Performing Arts, based in New York, tours the world on a mission to revive traditional Chinese culture. Shen Yun Performing Arts Touring Company will perform at the David H. Koch Theater at Lincoln Center through April 22.
For more information visit ShenYunPerformingArts.org