Sony Faces Tough Turnaround
PS4 and weak yen are bright spots
November 26, 2013 5:47 am Last Updated: November 26, 2013 6:36 am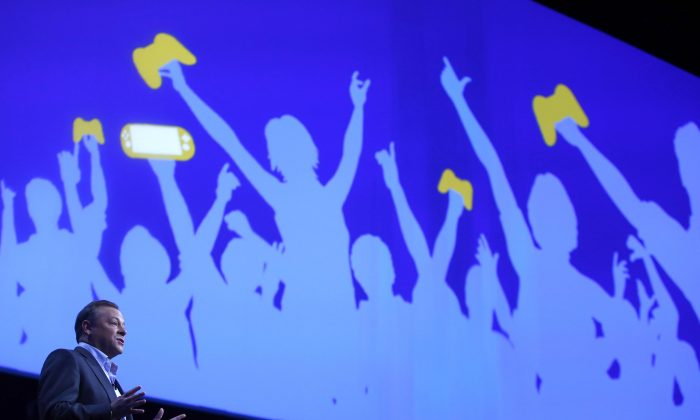 NEWS ANALYSIS
Sony's new PS4 video game console sold more than 1 million units in just 24 hours after launch Nov 15. But euphoria over PlayStation 4's successful debut cannot drown out concerns that the Japanese electronics giant is still mired in a difficult turnaround.
The PS4 is now Sony Corp.'s fastest-selling console ever, with more than 1 million units sold in the United States and Canada on launch day. It will debut in Europe on Nov. 29, and could very well sell 4 million units by end of the year, netting the company around $1.5 billion in gross revenues at $399 per unit. 
Anticipation over a new generation of video game consoles and software has buoyed shares of industry players Sony (up 63 percent YTD), Xbox One maker Microsoft Corp. (up 41 percent YTD), distributor GameStop Corp. (up 99 percent YTD), as well as developers Electronic Arts Inc. (up 59 percent YTD), and Activision Blizzard Inc. (up 62 percent YTD). All of them have outperformed the benchmark S&P 500 index, which has gained 26.5 percent since Jan. 1.
One-Trick Pony?
While its new video game system provides a ray of sunshine, dark clouds hover over Sony's other endeavors.
Its latest quarterly earnings released last month were disappointing. The Japanese electronics and entertainment giant cut its full-year profit guidance, following a net loss of 19.3 billion yen ($197 million) for the quarter ended Sept. 30. 
The negative guidance is another setback in the corporate turnaround led by CEO Kazuo Hirai, who replaced former CEO Howard Stringer nearly two years ago.
Topline sales at Sony rose 10.6 percent from the same quarter in 2012, but the increase was mainly due to currency translation as a result of a weaker yen. Excluding effects of foreign currency exchange, revenues actually fell by more than 9 percent.
Sony makes televisions, digital cameras, computers, smartphones, video-game hardware, and other electronic equipment. It also has subsidiaries engaged in making movies, TV programs, and music distribution. While it is a leader in the video-game industry, none of its other businesses are outperforming their peers, making Sony more of a one-trick pony in terms of operating from a position of strength.
Its traditional cash cow, consumer electronics, is suffering from margin pressures and increased competition from upstart rivals from China and South Korea.
"I still cannot see any fundamental and believable strategy for the rebirth of Sony's electronics business," Makoto Kikuchi, CEO of Myojo Asset Management, told Reuters in an interview following its recent earnings report. "On the other hand Panasonic, which is shifting its business away from consumer electronics, is reporting better-than-expected results. The contrast is like night and day."
Kikuchi is referring to Panasonic's shift away from consumer electronics and into electrical parts and infrastructure supply. Meanwhile, Panasonic recently announced improved quarterly earnings, raised its sales forecast to $73 billion (7.4 trillion yen), and doubled its profit forecast for fiscal year 2013 to $987 million (100 billion yen).
Entertainment Flops
Sony Pictures Entertainment is also reeling from a string of box-office disappointments this year.
At an investor conference Nov. 21, Sony announced a shift in its digital entertainment strategy away from making movies and into television shows. "We are reducing the number of films we make," Sony Pictures Entertainment Co-chairman Amy Pascal said at the conference according to the LA Times. 
Going forward, Sony will release 18 movies per year instead of the typical 23, Pascal said. It will also direct resources into television shows, which have the potential for better margins. Sony recently enjoyed one huge hit series in "Breaking Bad."
Box-office disappointments this year include "After Earth" starring Will Smith, and "White House Down" starring Channing Tatum. 
In addition, the film studio will cut $250 million in costs. A Hollywood Reporter report suggested that the cost cutting could come from holding film directors accountable for their budgets as well as eliminating filming location preferences dictated by actors. 
The moves come after activist investor Dan Loeb, CEO of hedge fund Third Point LLC, argued for boosting shareholder value by divesting Sony Entertainment. The company's entertainment division, which generates an overwhelming majority of its revenues outside of Japan, is a non-core business and diverts management focus, balance sheet usage, and marketing efforts away from its core electronics business.
A Bet on PS4
Despite the huge sales figures, Sony will initially take a loss on each PS4 unit sold. The per-unit loss is around $60, an inside source told video-gaming news website Eurogamer.com. 
The company expects to recoup the loss from PlayStation Plus subscriptions ($50 per year), game royalties, and other licensing fees. Those estimates are better than the losses incurred by Sony after the PlayStation 3 launch.
The PS4 launch isn't without its share of issues, as a "blue light of death" problem has plagued some consoles. While Sony has dismissed the issue as isolated, more than 34 percent of PS4: Launch Edition buyers on Amazon.com gave the product 1-star due to some form of hardware issue.
Sony, however, remains unfettered. "Everything's really lined up for us; the development community, the excitement from the gamers, the launch lineup that we have, the technology's great, the manufacturing yields have been great," Jack Tretton, CEO of Sony Computer Entertainment America, told Forbes.
But for the company to regain its former glory days, it's going to take a lot more good news.