Small-scale but Shining, Beauty Still Attracts
September 22, 2014 5:58 pm Last Updated: April 24, 2016 6:45 am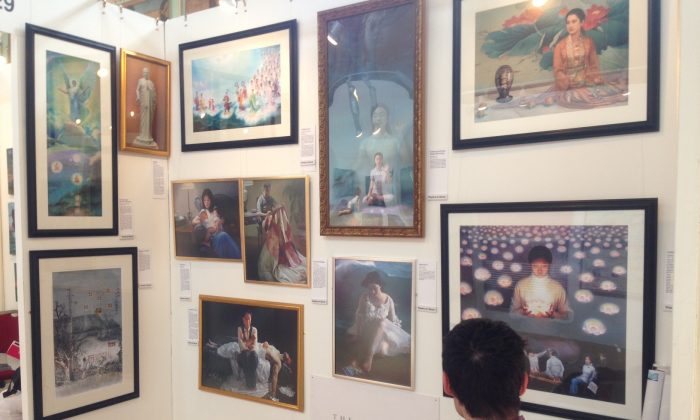 The Art of Zhen Shan Ren International Exhibition has been touring the world since 2004. This unique collection of representational works of art brings together paintings, drawings, and sculpture that incorporate the traditions of China and the skills of the fifteenth century European Renaissance.
On the weekend of July 25-27, The Art of Zhen Shan Ren continued its public-minded view of accessibility with the UK branch of the Exhibition, managed by the charity Zhen Shan Ren Arts (UK), displaying a microcosm of the work at the Parallax Art Fair.
Zhen, Shan, and Ren are Chinese words that mean truthfulness, compassion, and tolerance. They are the tenets of the spiritual practice of Falun Gong, also known as Falun Dafa, which is an ancient spiritual discipline brought to the public in China in 1992.
The nucleus of fourteen artists, only one of whom is a Westerner, all practice Falun Gong, a slow, meditative set of exercises which has profound spiritual teachings. Their works in The Art of Zhen Shan Ren depict their experiences and observations related to the practice. This includes the creation of the cosmos and the growth of Falun Gong around the world and inside China, where the practice has been mercilessly persecuted by the atheist Chinese Communist Party.
Usually the exhibition displays between 25 and 65 paintings of sizes varying from half a meter to three meters high. The Parallax Art Fair version presented 12 small, framed replicas and prints of the globally known artworks.
The Fair was held on the famous King's Road in London. Chelsea Old Town Hall's Main Hall has a marbled floor entrance, marble columns, high windows, chandeliers, and a more than 15-meter-high domed ceiling. With its wood floor and ornate and gilded coving, it could be the setting for an 18th-century Royal Ball.
Many of the 200 artists and exhibitors, and many visitors at the Fair, had heard of The Art of Zhen Shan Ren and visited its booth to find out more about the practice of Falun Gong, as well as the work of the artists.
The painters and sculptors of The Art of Zhen Shan Ren loan their work to the traveling exhibit at no charge. Their work is shown in every continent of the world.
Parallax Art Fair (PAF) organises several fairs in London, New York, and Miami every year.
For more dates of The Art of Zhen Shan Ren in the UK this year and other information visit http://www.zsr-art.org.uk/