Those who knew slain U.S. Drug Enforcement Agency officer Mike Garbo say he was fiercely committed to his job, which was taking down "bad guys."
Anyone in law enforcement who needed his advice knew Garbo as a "go-to guy." To be like Mike was a goal in itself, they said.
"He was a leader, a mentor, and a man who inspired others," Tucson Police Chief Chris Magnus said at a funeral service for Garbo at Calvary Chapel in Tucson, Arizona, on Oct. 8.
"He was … the best kind of cop," Magnus said.
More than 100 friends, family members, and law enforcement officers were gathered inside the chapel to remember Garbo as a devoted father, husband, and defender of justice.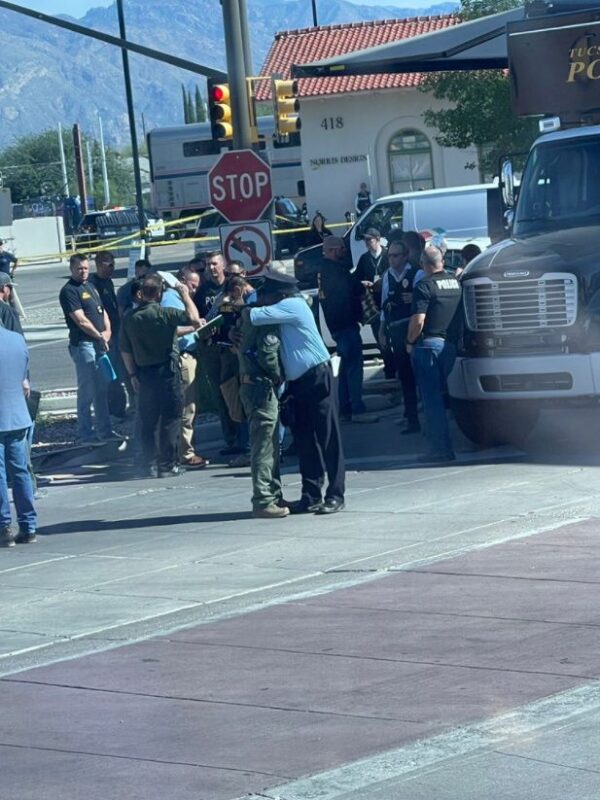 On Oct. 4, Garbo, 51, died in a shootout with a drug suspect aboard an Amtrak train in Tucson. Another special agent, Steve Fox, was injured in the bulk marijuana drug seizure and is recovering.
The suspect, Darrion Taylor, 26, died after being shot in the torso and limbs, according to the Pima County Medical Examiner's Office in Tucson.
"When I heard Mike had been killed, I expressed my disbelief," Lt. Col. Ken Hunter, deputy director of the Arizona Department of Public Safety, said during the service. "It is impossible to quantify the lives [Garbo] has changed, and even saved."
Garbo served as a police officer for the Metro Nashville Police Department before becoming a DEA special agent with a joint federal and local drug task force based in Tucson in 2005.
"He dedicated his life's work to combating drug traffickers–spanning from Kabul, Afghanistan, and across the United States–with unmatched talent, knowledge, dignity, and bravery," his obituary reads.
At one point, Hunter and Garbo were neighbors. The first time Hunter set eyes on him, "I said, 'He's a cop.'"
"He carried himself in a way where you knew he was no-nonsense and squared away," Hunter said.
Garbo was best-known for his devotion to his wife, Rita, and daughter, Alexis, the "pride" of his life.
"What kid would not love to have a father like Mike?" Hunter said. "Mike is gone, but he is not gone. He has left us general examples to follow.
"If you think you've sharpened the skills of your profession, you have more to learn," he said.
"Today, we honor his courage, his dedication, and we recognize his ultimate sacrifice being taken away too soon," said Deputy U.S. Attorney General Lisa Monaco. "He was the one everyone turned to for help. He was the one you wanted by your side.
"He was the first in. He was the one who led the way."
Often, his colleagues asked, "How would Mike Garbo handle this?" Monaco said.
"We will always have a part of Mike in us for the rest of our lives," said Tucson Police Sgt. David Ortiz. "A part of us died in that train station that day."
Garbo was "Mr. Everything"—the best in the use of firearms, the best at doing his job, and he was the best at telling stories and jokes—said DEA Special Agent Jason Wheeler.
The morning of Oct. 4, Garbo "kissed his wife and told her he'd be home to take the dog out," said DEA Special Agent in Charge Cheri Oz.
And then, "the world stopped" with the news that Garbo had been killed in the shootout, she said.
"This hurt every person in the Phoenix field division and in the law enforcement community," Oz said, but, "the DEA family never forgets."
"We consider Mike's family part of our family. Garbo, we love you," Oz said.