Sinclair A Most Worthy Canadian Flag-bearer
August 12, 2012 8:08 pm Last Updated: October 1, 2015 12:38 pm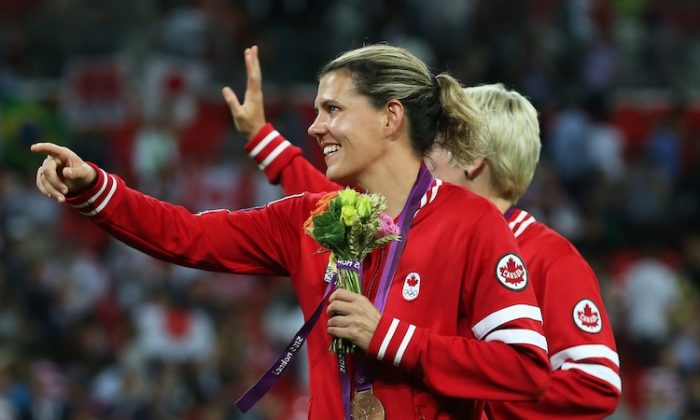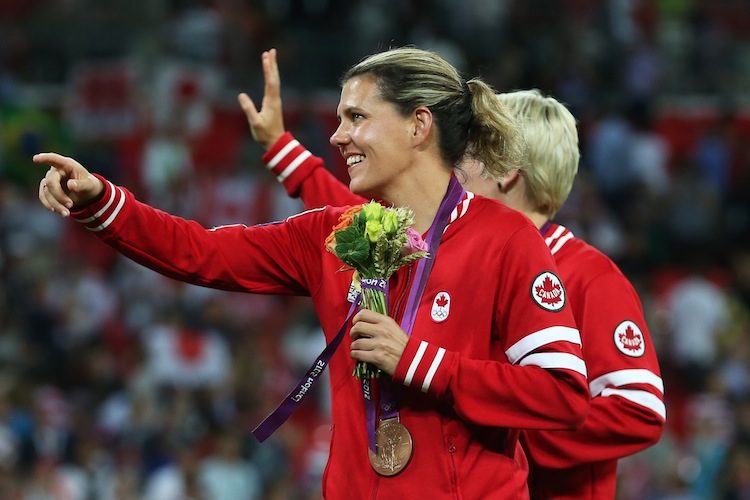 Christine Sinclair was a most deserving flag-bearer for Canada at the London 2012 Olympics closing ceremony Sunday.
She and the Canadian women's soccer team were less than a minute away from a penalty shootout, which, had they won, would have taken them into the gold medal game. Sinclair scored all three of Canada's goals against the United States in that controversial semi-final loss.
Nevertheless, Canada, ranked No. 7 in the world, put aside the tough loss and went on to win the bronze medal in what was one of the biggest surprises for Canada at the Olympics.
For Canada to take bronze after their disappointing last-place showing at last year's World Cup in Germany is an unbelievable achievement. Sinclair's performance spearheaded Canada's charge and her play elevated that of her teammates.
Not too many Canadians are internationally recognized as being one of the very best to ever play their sport. Sinclair scored six goals in the women's soccer tournament to lead all players. She has represented Canada 190 times and has been named as a starter in 185 of those appearances.
Sinclair put forth a true gold medal performance at the Olympics and is now tied for second in career goals scored among women's soccer players with 143. The numbers back up her greatness.
Sinclair, 29, entered the Olympic Stadium with a huge smile on her face in her denim jacket as flag-bearer. She came in along with all the other flag-bearers before eventually finding her teammates and fellow Canadian Olympians.
"I can't think of a better person. Christine Sinclair totally epitomizes what you want in a flag-bearer," goalkeeper Erin McLeod said as reported on the Canada Soccer Twitter account.
"She led the women's soccer team to making history—what an athlete!!" Canada's lone gold medalist Rosie MacLennan tweeted.
Sinclair described being named as Canada's flag-bearer "by far the greatest honour I've ever had in my athletic career" at a press conference Sunday morning prior to the Canadian Olympic Committee's official announcement.
She has now hopefully become a household name in Canada, not just among soccer fans, but among all Canadian sports fans. The women's soccer team took Canadian sports fans on a roller-coaster ride throughout the Olympics, from the tough loss against the United States to an unlikely bronze medal victory against France.
While Canada won 18 medals and finished 13th in the medal table, the women's soccer bronze is one of the medals Canada will be most proud of.
With the next women's World Cup to be hosted in Canada in 2015, the world's most popular sport should grow by leaps and bounds among young girls in Canada. Sinclair will be 32 in 2015 and certainly primed for another very strong showing leading Canada.
Follow Rahul on Twitter @RV_ETSports
The Epoch Times publishes in 35 countries and in 19 languages. Subscribe to our e-newsletter.