When Olga and her husband, Jason woke to an unexpected snowfall on the morning of December 19, 2019, their first thought was would the weather impact their appointment to pick up their brand new 2019 Volvo XC60 R-Design from their chosen dealership, Volvo of Mississauga.
Still learning what is involved with organizing themselves and preparing their newborn child for a journey in their current car, their excitement mounted at the thought of driving home in a vehicle they had sought out after painstaking research. "We had invested a considerable amount of time in finding a vehicle that would best suit our needs as a family. With the recent arrival of our son, safety was number one on our list. We kept coming back to Volvo. They checked off all the boxes for our requirements. And, we love how the XC60 looks and felt on a test drive. Loaded with useable technology, safety features, and a great value for our dollar, Volvo won out," beamed Jason.
Fortunately, in spite of the weather conditions, it turned out that the drive south on Highway 400 was uneventful. They arrived a little early for their scheduled 1:30 p.m. appointment, ready to sort out the last minute details of their 42-month lease. At that moment they were quite eager to sign all the necessary paperwork and then head home, as a family, in their brand new car.
Little did they know that their lives were about to change—in an extremely agreeable manner!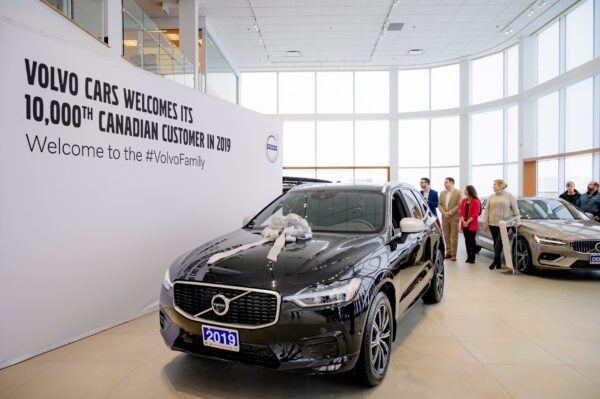 2019 was an important year for Volvo Cars Canada. In July they celebrated 60 years of selling automobiles in Canada. Further, fate would have it that Jason and Olga had earlier agreed to lease what would be the 10,000 Volvo sold in Canada in 2019—a feat that had not been duplicated since 2005. When they sat down in the office of the dealership's business manager that afternoon, they had absolutely no idea what was in store for them and how their lives would change these next few minutes.
Armed with a sizeable cheque to put towards a down payment on the shiny black, loaded SUV, they enthusiastically went through finalizing all the details of their lease. Simultaneously and unknown to them, the bright and fastidiously clean showroom was quietly and quickly being transformed into a unique, single-car display.
Circled by all the dealer employees including technicians, managers, sales personnel and administrative staff the showroom floor soon was bustling with anticipation. Led by long-time dealer principal, Rob McMillan, and a former President of the Trillium Automobile Dealers Association (TADA), the familiar and respected owner marshalled his troops into position to surprise the couple upon their entrance onto the showroom floor. Leaving the business office, Olga and Jason were directed through corridors to the wide open space of the showroom.
The first thing the couple saw as their stroller negotiated the final turn was a beaming Adam Kostanowicz, director of sales, Volvo Cars Canada—a face neither would soon forget.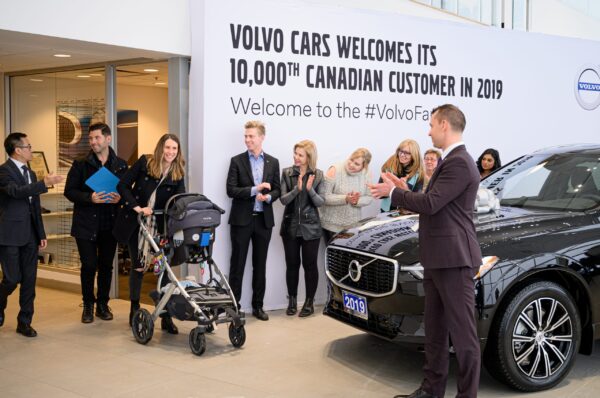 Wide-eyed and possibly a little uncertain, they hesitated when they saw scores of people, applauding and cheering wildly—and then they saw their gleaming black XC60 R-Design, the vehicle that had started this whole event.
As Adam stepped toward them, his hand extended to congratulate the bewildered couple, it was obvious that they had no idea what was about to transpire.
At first, what Adam announced to the room did not register with the awestruck couple. Almost paralysed, Jason and Olga stood there, their eyes wide like saucers, and their mouths open as they glanced at each other. At Adam. At the cheering masses. And finally, to their car. They had absolutely no idea what was going on. To make sure that they understood, Adam loudly declared that this unsuspecting couple had purchased the 10,000th new Volvo sold in Canada in 2019—a target not achieved since 2005.
Clutching a fist full of official papers, Adam then dramatically tore the file up in front of a wildly cheering audience as he further stated that the 42-month lease for their new car was being paid for by Volvo Cars Canada. This was Volvo giving back, a "thank you" to their customers across the country who restored the premium luxury brand to the highest tier, a reward for customers old and new, believing in the Volvo brand and their commitment to the marque today and for the immediate future.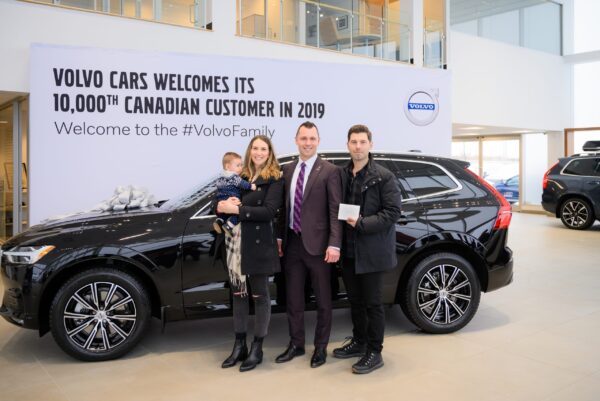 The true significance of this afternoon may not sink in until much later. Now, without any car payments looming for the next three and a half years, the funds budgeted may be put towards something else. Some new furniture. A bathroom renovation. Perhaps a savings fund for their child's future education. There were so many more possibilities than they had imagined before they crossed the threshold of Volvo of Mississauga that wintry December day.
After the initial excitement, the couple were congratulated by many people who had borne witness to this momentous occasion. The significance was not lost on Rob McMillan who later reflected on the excitement of the afternoon. "This dealership has been open for business for more than 50 years. Started by my father and then his work continued by me, I am now passing on my knowledge and experiences to my son, Tom who will be the third generation McMillan to run this business. This continuation is important and yes, even essential. All in all, it's a family-owned and managed business, serving our community, our customers, and their families going into our sixth decade. It's truly all about family. Something our Volvo Canadian head office recognizes—and encourages."
So there you have it. A free car for the next 42 months. All as a result of diligent research and belief in the Volvo promise of safety, style—and, of course, family values.
Here's to another 60 years!
Postscript: Volvo Cars Canada 2019 year-to-date sales totalled 10,155 vehicles compared to 9,217 vehicles in 2018, an increase of 10.2 percent, and for the month of December, 960 new units were sold, representing a month-over-month increase of 28.9 percent.
David Taylor is an independent automotive lifestyle writer, producer, and editor based in Barrie, Ontario.