This week's style diary is featuring Nicole DiCocco. The executive director of The H.O.P.E. (Helping Other People Excel) Foundation for a Better Tomorrow. She worked previously in diplomacy in Washington, and is now one of the most stylish socialites on the New York philanthropic scene. She is keeping the memory of her brother Frank DiCocco alive with the H.O.P.E. Foundation, which is an organization founded to help young people around the country, as Frank had done as a coach. Today, she is sharing with us her perspective on style.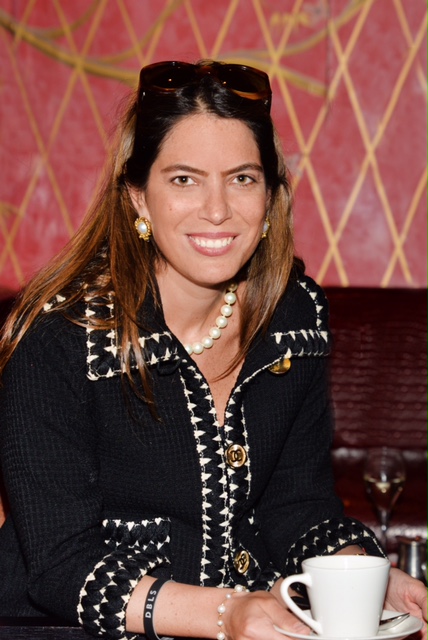 Sibylle Eschapasse: Describe your style?
Nicole DiCocco: My style is simple, classic, elegant, understated, and functional. Whether I'm running around the streets of NYC with a delegation from the United Nations or volunteering for a charity, my style is always put together and chic—but it always has to be functional! The best fashion advice I ever received was from the Libyan ambassador during the 2009 visit of Moammar Gadhafi to the United Nations General Assembly.  The ambassador looked at my shoes and said, "Nicole, the delegation is not going to wait for you." To this day, I have never bought another pair of shoes I could not walk in. 
Ms. Eschapasse: If a close friend were to describe your personality in three words, what would they be?
Ms. DiCocco: Inquisitive, determined, helpful.
Ms. Eschapasse: How did your style evolve since you were a teenager?
Ms. DiCocco: First of all, let me just say I had no style as a teenager. So much so that I am thankful to have grown up before the digital revolution, because I would never want to see pictures of me in some of those outfits on social media.  As a teenager, I wore a uniform to school up until high school, so my style really began to evolve there. I bought what I liked, and over the years I honed my look based on trial and error.
Ms. Eschapasse: What is the wildest thing you ever wore?
Ms. DiCocco: Wild is a subjective term. On New Year's Eve, I wore my hair in a bouffant and some people thought that was really wild. It took me three days to comb all the hairspray out, so I'm not sure if I'll ever try that again. For the Museum of Art and Design opening, I wore a ball skirt with the Grateful Dead bears. I always try to add something to every outfit that has a little bit of pizzazz. After all, "In order to be irreplaceable one must be different." —Chanel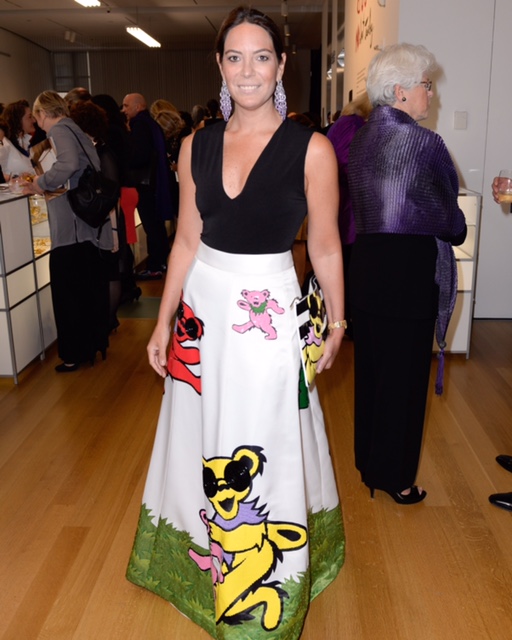 It's all about the alterations! I alter everything to accentuate my best features and draw attention away from my flaws!
Ms. Eschapasse: How do you dress on workdays versus weekends?
Ms. DiCocco: There's generally no difference.  My daytime uniform consists of black leggings and a black camisole paired with a three quarter length Chanel or St. John jacket or with a basic white shirt.  The look is classic and crisp and functional. After 5 p.m., I usually wear a cocktail dress or evening wear, depending on the event.  
Ms. Eschapasse: What are three accessories you can't live without, and what's one item that makes you instantly more confident?
Ms. DiCocco: My iPhone, my Hermès Kelly bag, and my French Sole ballet flats.  My François Pinton Jacky 2 sunglasses immediately make me feel more confident.  I have them in five colors!  Everyone who goes to Paris brings me back a pair since they are not sold in the USA!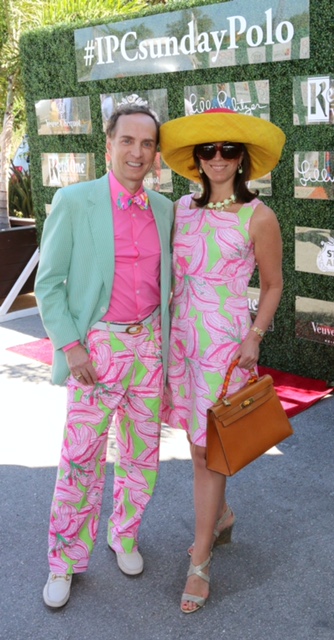 Ms. Eschapasse: Who have been your greatest fashion influences? 
Ms. DiCocco: Chanel and later St. John. It's all about being functional while looking chic. During the first world war, Coco Chanel started designing women's clothing out of jersey. As women joined the workforce, they still wanted to look elegant while wearing less constrictive clothing.   
Ms. Eschapasse: Who is your style icon?
Ms. DiCocco: Jacqueline Kennedy Onassis. Her style, in my opinion, was classic, simple, and regal.  In a letter written from her to designer Oleg Cassini in December 1960, during the inaugural preparations, she set the tone for Camelot style: "put your brilliant mind to work for a day—Coats—dresses for public appearances-–lunch and afternoon that I would wear if Jack were president of France–très Princesse de Réthy mais jeune." 
Ms. Eschapasse: What does having style mean to you? In other words, please define style.
Ms. DiCocco: Style to me is how a person presents him or herself to the outside world. It's an outward expression of their character and personality. That's why I think it's so important to be slightly underdressed, because it makes other people feel more comfortable and more at ease. It's always important to make others feel I'm approachable.
Ms. Eschapasse: What is one purchase you're most proud of? What would you pay a lot of money for, and what would you never pay much money for?
Ms. DiCocco: I'm very proud of my vintage Hermès collection. The quality and craftsmanship are just exceptional, and some of the pieces are older than me and are still in pristine condition. I always pay more for classic and staple pieces: a good black dress, a couple of Chanel jackets, an Hermès Kelly bag, a Cartier watch, and a good pair of sunglasses. Everything else is worth 10 cents on the dollar!
Ms. Eschapasse: When you go on the red carpet, how do you want your outfit to make you feel? Which designers can achieve that?
Ms. DiCocco: Glamorous and confident.  I wear a lot of Carolina Herrera, Harrison Morgan, Oscar de la Renta.  I also buy a lot of vintage gowns from the 1960s and 1970s.  It's really not so much about the designer, in my opinion, but the way the piece is cut and whether or not it flatters a person's particular body type. It's all about the alterations! I alter everything to accentuate my best features and draw attention away from my flaws!

Ms. Eschapasse: What do you think of how others dress and what's your advice to people who would like to develop their personal style?
Ms. DiCocco: I have none. Many times, people will see me in a particular outfit and ask if they could borrow it. I always lend it to them, but somehow they are always disappointed, because the outfit doesn't have the same effect when they wear it. It's the same thing when I see a friend wearing something and ask if I could borrow it. Style is unique, and just because a bouffant and white gloves work for me does not mean they will work for someone else.
I tell anyone who asks me for advice to buy what you like; buy what looks good on you; and buy what you feel comfortable in, because if you don't like the outfit and if it doesn't make you feel comfortable and confident, then it will absolutely not work for you! Regardless of price. I bought a $20 vintage dress at a flea market and wore it to opening night at the NYC Ballet and it was a winner!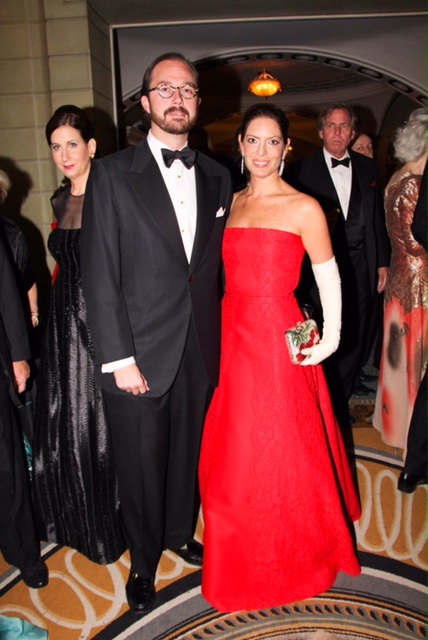 Nicole's Favorites
Favorite color: Red. It's bold, yet elegant.
Favorite perfume: For women: Carolina Herrera original fragrance. For men: Paco Rabanne eau de cologne.
Favorite restaurant in NY: Le Cirque for a glamorous evening, Amaranth for lunches with the girls, and Rosa Mexicano for fun nights on the town.
Favorite drink: Altaneve Prosecco, or a dirty Martini
Favorite movie: "Valley of the Dolls." After all, I am a single girl living in NYC!
Favorite book: An audio book: "Jacqueline Kennedy: Historic Conversations on life with John F. Kennedy."
Favorite quotes:
"Your dress should be tight enough to show you're a woman and loose enough to show you're a lady."—Edith Head
"Dress shabbily and they remember the dress. Dress impeccably and they remember the woman."—Coco Chanel
Sibylle's "Style Diary" is a column that explores style from the perspective of choices, and what that means for different people, with personal advice from some of the most stylish people in New York.
Sibylle Eschapasse is from Paris and now lives in Manhattan. She is a journalist and a contributing writer to various publications. Sibylle is also the author of a children's book, "Argy Boy a New York Dog Tale." She may be reached at sibylle.eschapasse@gmail.com