This week's style diary is about the very lively Lauren Makk. Makk is an interior designer and home décor and real estate expert, but she is mostly recognized as the host and home life-stylist on ABC's hit talk show "FABLife."
Along with social media celebrity and foodie Chrissy Teigen (also John Legend's lovely wife), fashion guru and stylist to the stars Joe Zee, and DIY YouTube sensation Leah Ashley, Makk discusses all things "fun and beautiful!" on air.
Sibylle Eschapasse: Describe your style?
Lauren Makk: My style is bold, bright, and classic. I love mixing bright colors and bold patterns into classic silhouettes that flatter my curvaceous figure.

Ms. Eschapasse: If a close friend were to describe your personality in three words, what would they be?
Ms. Makk: Effervescent, charming, witty!
Style is empowering yourself with fabrics.
Ms. Eschapasse: How did your style evolve since you were a teenager?
Ms. Makk: I have lost over 140 pounds as an early adult, so my style evolved with my body. As I've learned to dress multiple sizes—often from the same wardrobe—I have found that a classic silhouette has been a constant with my evolving physique. I like a simple silhouette like pencil skirts, boot cut jeans, classic T-shirts, and often find myself loving a black and white combo with a pop of color to really mix it up.
Ms. Eschapasse: What is the wildest thing you ever wore?
Ms. Makk: I was obsessed with the TV show "Blossom" growing up, so when I look back and see all those vests and sunflower-inspired prints, I still cringe …
Ms. Eschapasse: How do you dress on workdays versus weekends?
Ms. Makk: During workdays I love skirts, heels, button-up shirts, etcetera. On weekends, I still rock the same style, but with a more comfortable and casual approach. I keep the look, but opt for a pair of cropped jeans in lieu of a skirt, and a jean jacket with flats.
Ms. Eschapasse: What are three accessories you can't live without, and what's one item that makes you instantly more confident?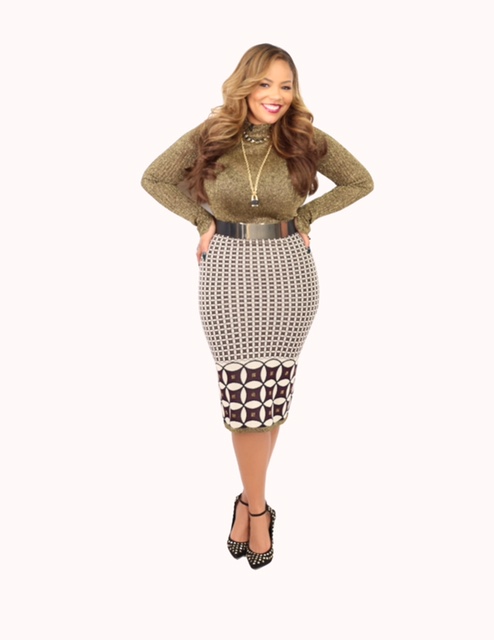 Ms. Makk: I cannot live without a good bra, the appropriate foundation garment (Spanx), and the right shoe insert. A good bra gets everyone up and at 'em, and makes me feel confident. I am instantly most comfortable with a good undergarment, and I think it really enhances my posture, and makes me feel good knowing all my shimmy ain't shakin'! And no one is hot if they can't walk, so a good shoe insert can help me strut all my stuff!
Ms. Eschapasse: Who have been your greatest fashion influences? 
Ms. Makk: Sophia Vergara, Michelle Obama, Ashley Graham.
Ms. Eschapasse: Who is your style icon?
Ms. Makk: Delta Burke as Ms. Suzanne Sugarbaker on "Designing Women!"
Ms. Eschapasse: What does having style mean to you? In other words, please define style.
Ms. Makk: To me, style is an outward expression of your innermost being. Style is empowering yourself with fabrics.
Ms. Eschapasse: What is one purchase you're most proud of? What would you pay a lot of money for, and what would you never pay much money for?
Ms. Makk: My Louis Vuitton backpack for sure! It's a classic piece that is functional and great for traveling. A classic leather jacket is something I would, and have, splurged on. I'll wear it forever, unlike jeans. I would never spend too much money on jeans. The styles change from year to year, and my wallet can't keep up!
Ms. Eschapasse: When you go on the red carpet, how do you want your outfit to make you feel? Which designers can achieve that?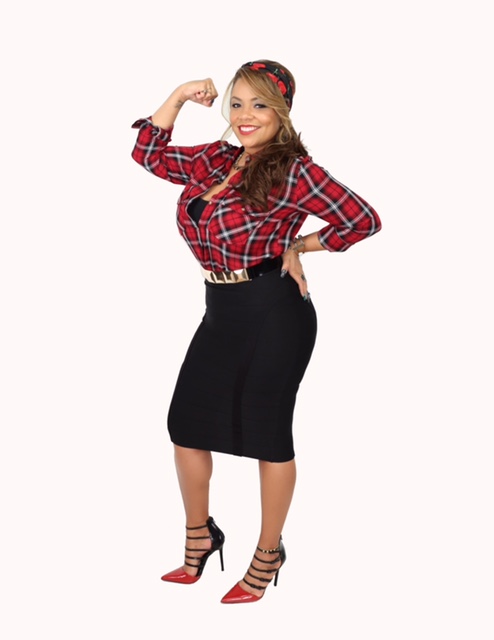 Ms. Makk: I want to feel confident, on top of the world, and the most beautiful woman there! I had the pleasure of presenting at the Daytime Emmy Awards this past year, for which Andy South made me a custom gown that made me feel everything I wanted! Glamorous, yet comfortable too!
Ms. Eschapasse: What do you think of how others dress and what's your advice to people who would like to develop their personal style?
Ms. Makk: I think that how others dress depends on how they feel. I say if you can rock it, DO IT!
Lauren's Favorites
Favorite color: Turquoise
Favorite perfume: Bond No. 9
Favorite restaurant in NY: Meatball Shop
Favorite drink: Jack Daniels and Diet Coke
Favorite movie: "Gladiator"
Favorite book: "A Return to Love" by Marianne Williamson
Favorite quotes: "Whether you think you can, or you think you can't–you're right." –Henry Ford
Sibylle's "Style Diary" is a column that explores style from the perspective of choices, and what that means for different people, with personal advice from some of the most stylish people in New York.
Sibylle Eschapasse is from Paris and now lives in Manhattan. She is a journalist and a contributing writer to various publications. Sibylle is also the author of a children's book, "Argy Boy a New York Dog Tale." She may be reached at [email protected]