This week's style diary guest is the very talented Debbie Christine Tjong, the entertainment director at Howl at the Moon in New York City, and to say she's highly musically skilled would be an understatement. She is rocking out and belting out requests from the audience and can sing anything the public is asking for while playing the piano, guitar, drums, saxophone…the list goes on. She is also known to have an edgy style of her own. She is sharing with us her perspective on style in this new style diary.
Sibylle Eschapasse: Describe your style?
Debbie Christine Tjong: I would describe my style as pop chic. I like to be comfortable and stylish at the same time.
Ms. Eschapasse: If a close friend were to describe your personality in three words, what would they be?
Ms. Tjong: Easy-going, goofy, and closet nerd.
Your style is the first conversation you have with others. 
Ms. Eschapasse: How did your style evolve since you were a teenager?
Ms. Tjong: I'm starting to appreciate the elegance of simplicity. Less is more! I'm definitely dialing down from the crazy hair colors to simple and natural looking highlights. The same goes for makeup and hairstyles. Natural colors brings out the natural beauty in so many women. Even a simple bun can accentuate a woman's best features. That's definitely something I didn't realize as a teenager!
Ms. Eschapasse: What is the wildest thing you ever wore?
Ms. Tjong: I'm pretty adventurous when it comes to clothing! Even now. I wouldn't call something that's considered "wild" by normal standards "wild." I'm always on stage performing, so I feel I can always push the boundaries with what I'm wearing, whether it is a simple crop top or a sparkly bra underneath a cage top. I used to have a phase where all I would wear on stage is a corset and a leotard I sewed studs and jewels on to make it look more rock and roll.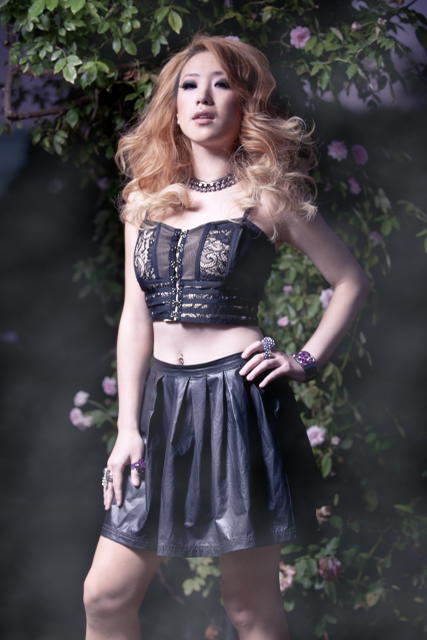 Ms. Eschapasse: How do you dress on workdays versus weekends?
Ms. Tjong: I work primarily on weekends! But I guess I do dress differently when I'm on stage on Wednesdays, compared to weekends. On the weekdays, I tend to dress a little more casual. I like a flattering button down tucked into nice fitted jeans. Sometimes if I'm feeling a little goofy I'll wear suspenders with a V-neck shirt and jeans. I'm trying to bring back the Newsies look! On the weekends, I tend to go with high-waisted pants, a crop top, and boots.
Ms. Eschapasse: What are three accessories you can't live without, and what's one item that makes you instantly more confident?
Ms. Tjong: Earrings, heels, and boots! A good, stylish pair of heels definitely makes even the worst outfit look stylish. It does a lot for one's confidence knowing that you look good.
Ms. Eschapasse: Who have been your greatest fashion influences? 
Ms. Tjong: Definitely my mom! She's way more stylish than I am. She was wearing crop tops way before it got popular. She graduated with a degree in fashion design, and she definitely keeps up with the trends. She's never been seen wearing any shoes less than 3 inches tall.
Ms. Eschapasse: Who is your style icon?
Ms. Tjong: I am a little obsessed with Marilyn Monroe. She rocked everything she wore. I love how she always managed to look effortlessly elegant no matter what she was wearing.
Ms. Eschapasse: What does having style mean to you? In other words, please define style.
Ms. Tjong: Style is an extension of your personality. Even without talking to someone, you get a sense of who they are by their style. Whether it is laid back, or unique, or fashion forward, your style is the first conversation you have with others.
Ms. Eschapasse: What is one purchase you're most proud of? 
Ms. Tjong: My Timberland boots! They are comfortable, fashionable, and they last. I can run and jump on and off the stage with them. I can even play the drums with them. 

Ms. Eschapasse: What would you pay a lot of money for, and what would you never pay much money for?
Ms. Tjong: I would definitely splurge on a good pair of shoes. I've learned that the hard way from all the years and money spent on cheap shoes. They end up hurting your feet, and they break in less than a couple of months. On the other hand, I probably would not pay that much money for T-shirts. I think it is absolutely absurd to spend more than $50 on a T-shirt. 
Ms. Eschapasse: When you go on the red carpet, how do you want your outfit to make you feel? Which designers can achieve that?
Ms. Tjong: I want my outfit to be sexy and unique. I want to make a statement and inspire others to think outside the box. I'm definitely not afraid to try different styles and outfits! I have always love Michael Costello's designs. His designs are very dimensional and he explores different shapes and constructions. It's amazing what he can do!
Ms. Eschapasse: What do you think of how others dress and what's your advice to people who would like to develop their personal style?
Ms. Tjong: Being in New York City, I think a lot of people dress really well and smart. There's something about this city! I do see some people who are a little timid with trying new things. Start with what you're comfortable with. Slowly build on that and dare to try a little more each time. Sometimes it works for you, sometimes it doesn't, but don't ever let that stop you from trying different things and developing your own style.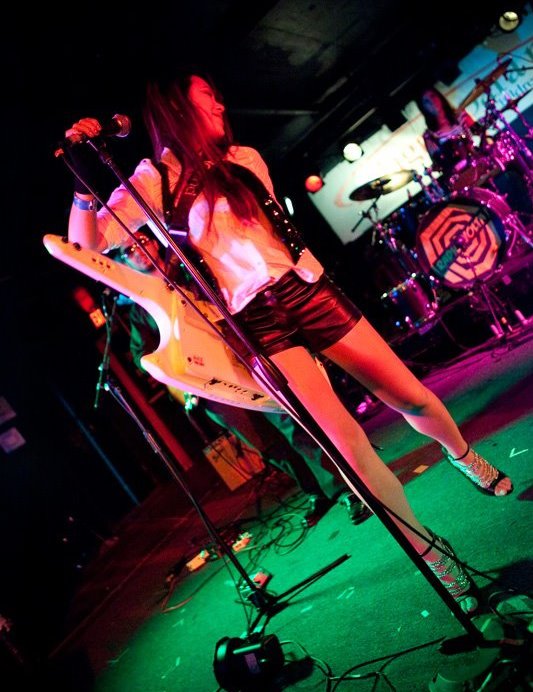 Favorites
Favorite color: Brown
Favorite perfume: L'Occitane Fleur d'or & Acacia
Favorite restaurant in NY: Bali Nusa Indah, an Indonesian restaurant in Hell's Kitchen
Favorite drink: Gin and Tonic
Favorite movie: "Inside Out"
Favorite book: This is a hard one.. I love a lot of books but I do find myself reading all of "Harry Potter" over and over again
Favorite quote: "Learn from yesterday, live for today, hope for tomorrow."–Albert Einstein
Sibylle's "Style Diary" is a column that explores style from the perspective of choices, and what that means for different people, with personal advice from some of the most stylish people in New York.
Sibylle Eschapasse is from Paris and now lives in Manhattan. She is a journalist and a contributing writer to various publications. Sibylle is also the author of a children's book, "Argy Boy a New York Dog Tale." She may be reached at [email protected]