The gunfire that rang out at a protest in Louisville, Kentucky, on July 25, striking three members of an armed militia, was a negligent shooting, police officials told The Epoch Times.
Criminal charges are possible as officers probe whether the discharge was avoidable.
"At this time, no charges will be issued, but the investigation is ongoing," Sgt. Lamont Washington, a Louisville Metro Police Department (LMPD) spokeswoman, said in an email on July 27.
A gun belonging to a member of the black militia named "Not [Expletive] Around Coalition," or NFAC, discharged around 1 p.m. on July 25.
All three victims were transported to a hospital; one suffered a minor injury, another is in serious but stable condition, and the third was moved to an intensive care unit but will survive, Washington said.
Police officers, fire department personnel, and emergency medical responders quickly rendered aid to the victims, LMPD Deputy Chief LaVita Chavous told reporters in a virtual briefing later July 25.
"Without their quick response, this could have been a much worse situation," Chavous said.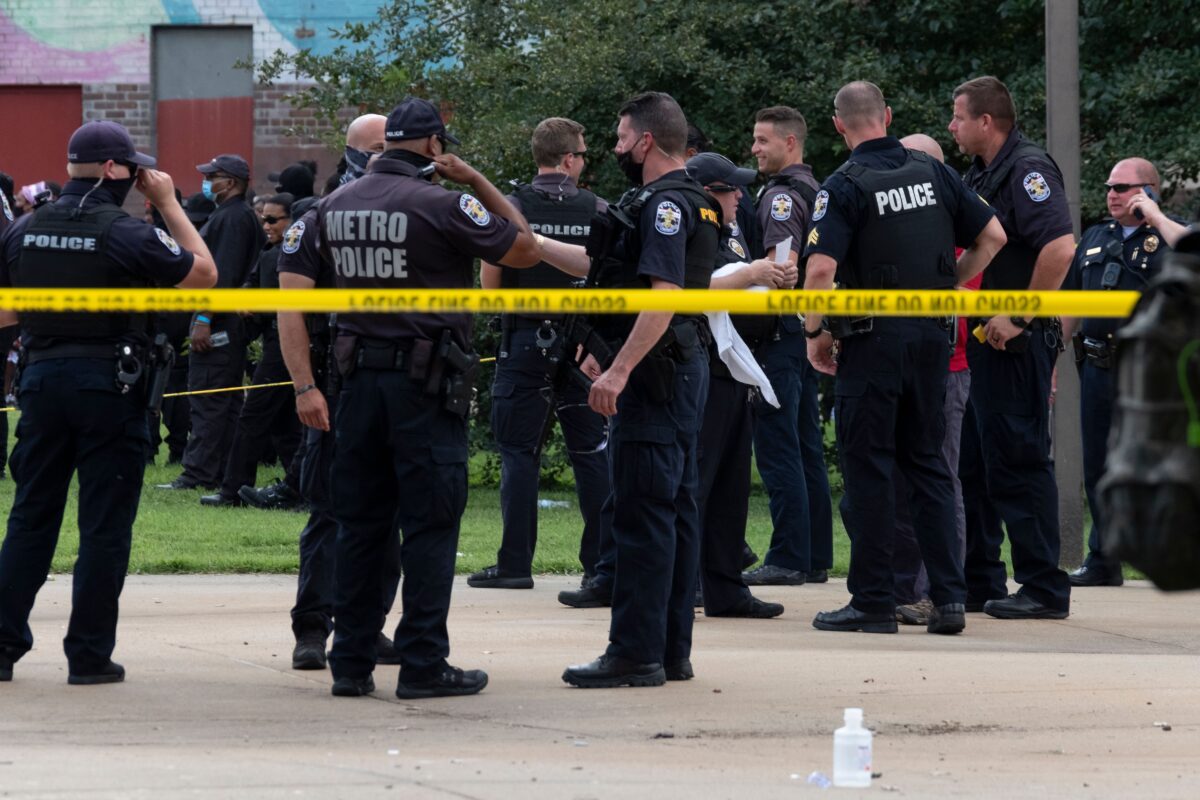 Video footage and photographs showed NFAC members kneeling after the discharge. Louisville Division of Fire Lt. Col. Bruce Himes praised people at the scene for allowing emergency responders to quickly access the victims.
Kentucky is an open-carry state.
One of the group's members fired their weapon by accident, NFAC's leader, a DJ and rapper named John "Grand Master Jay" Johnson, told WHAS.
"During one of our safety checks, one of our individuals accidentally fired their weapon," he said.
NFAC had gathered in Louisville as part of a push to get Kentucky Attorney General Daniel Cameron, a Republican, to complete an investigation into the fatal shooting of Breonna Taylor. Apart from the discharge, no violence occurred.
Taylor, a 26-year-old emergency medical technician, was shot during a no-knock raid on her home in March. One of the officers involved in the raid was fired last month while the two others were reassigned; so far, none have been charged.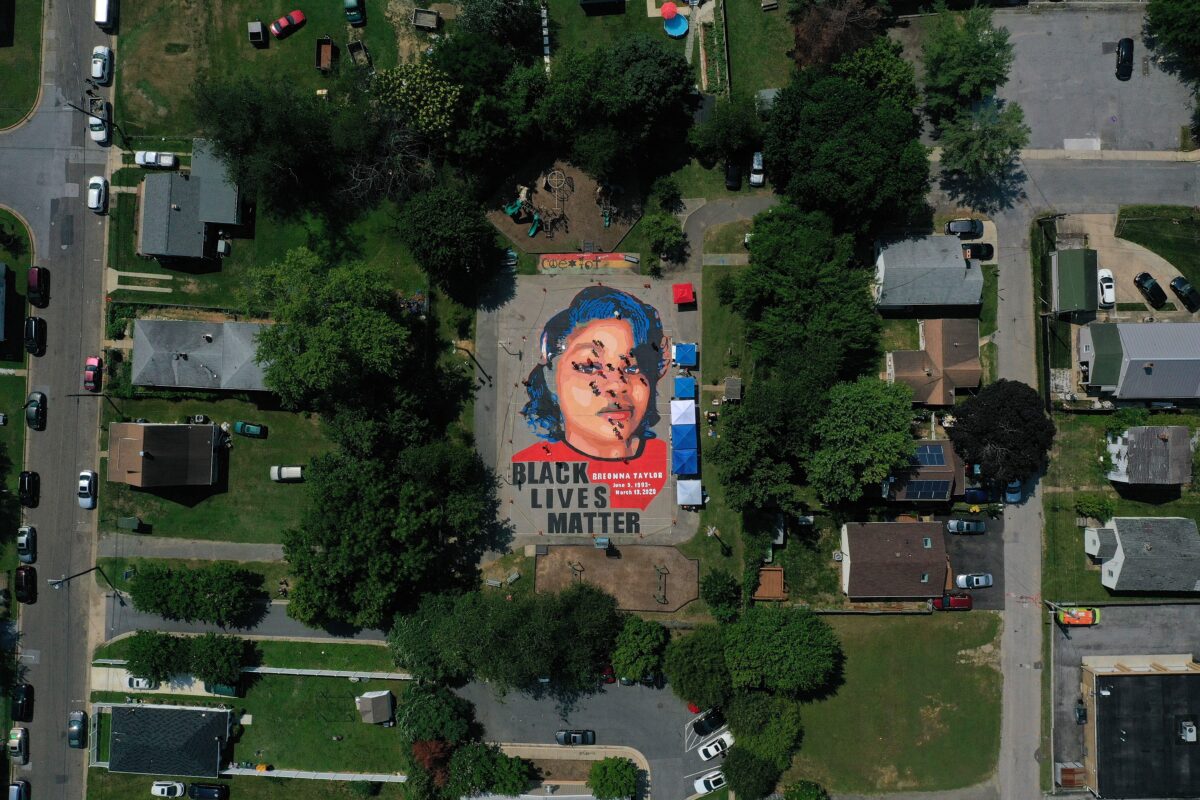 The NFAC leader spoke with Metro Council President David James and Cameron, demanding a conclusion to the Taylor probe within four weeks; if not, he said his group may return to Louisville.
A spokeswoman for Cameron said the conversation between Johnson, James, and the attorney general was productive. But, she said in a statement to news outlets, James "did not comment on any specifics related to the timeline of the investigation."
Cameron said in a separate statement before the rally: "We continue to work diligently in pursuit of the truth by conducting an independent investigation into the death of Ms. Taylor."
Police officials said there's no set deadline for when the probe might be concluded.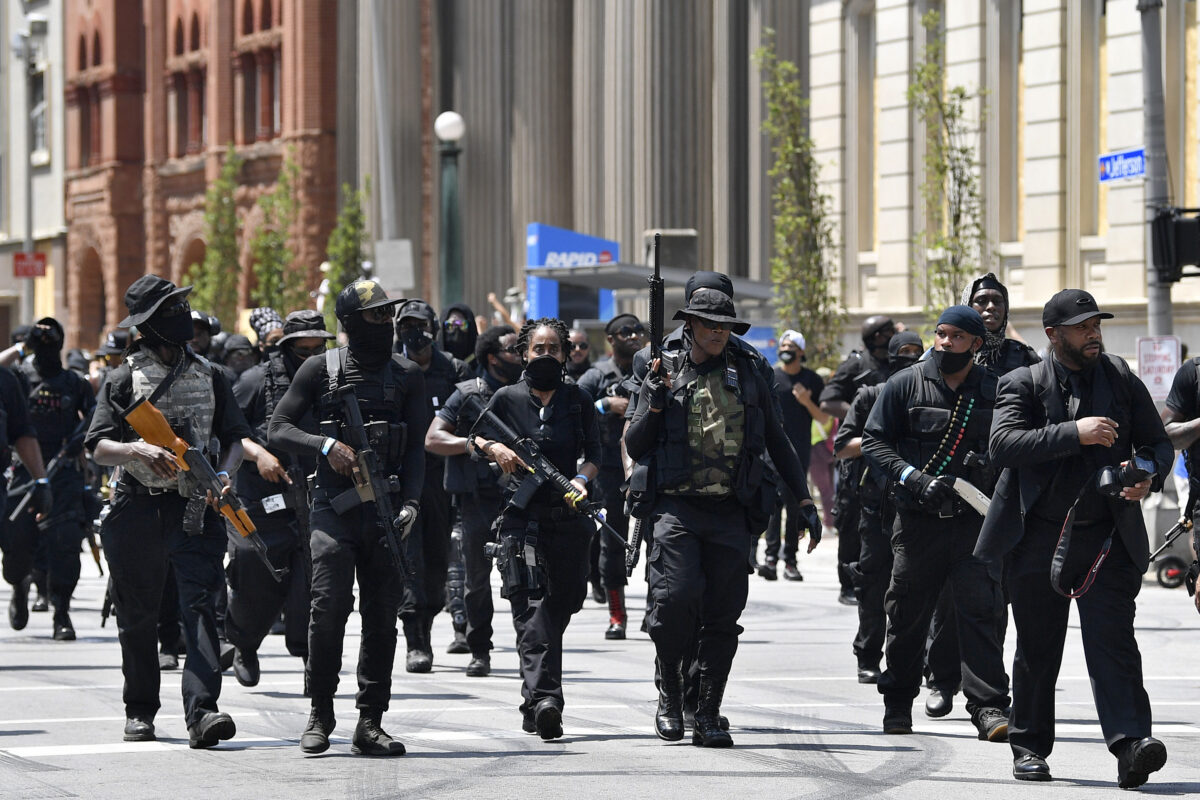 Louisville Mayor Greg Fischer, a Democrat, referred on July 26 to a recent update he gave on the investigation being conducted by Cameron's office.
"I have no control or influence over that process, or the additional independent investigations being conducted by the Department of Justice and FBI, and I am as frustrated as you are by how long it's all taking," the mayor said in a video message.
Meanwhile, Fischer pointed to his signing of a law that banned no-knock warrants and his hiring of an independent firm to review the Louisville Metro Police Department.
NFAC members came bearing guns, and Johnson set guidelines before the march and subsequent rally at Jefferson Square Park.

"Do not point your gun at anyone unless they point their guns at you," Johnson said, local media reported. "Then kill them, do not shoot them, kill them."
One other militia also showed up July 25, the Three Percenters. One member told WHAS that the group wanted to make sure protesters stayed safe. The militias were separated by police barriers.
Johnson told reporters earlier this month that he wants America to declare every black descendant of slaves a political prisoner before the United States cedes some land to them.
Every member of the NFAC was once part of the U.S. military and they're all "very disciplined" and "expert shooters," he said.
"We don't want to talk no more. We don't want to negotiate. We don't want to bring signs to a fight. We're an eye-for-an-eye organization. So when they decide to act right, we'll decide to act right," he said, in an apparent reference to the police. "And we do it all legally, just like they do."