Shen Yun Dazzled Ottawa With Five Spectacular Shows
December 24, 2011 2:10 am Last Updated: September 29, 2015 4:52 pm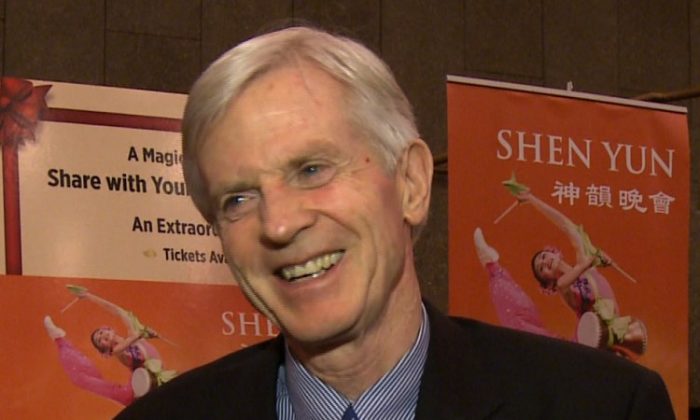 OTTAWA—Shen Yun Performing Arts successfully concluded its five-show run on Dec. 23 in Ottawa, the first Canadian stop of the premier classical Chinese dance company's 2012 world tour.
It was the company's sixth visit to the nation's capital and though the weather included freezing rain on Wednesday and bitterly cold temperatures on Friday, it did not deter warm audiences from coming downtown to the National Arts Centre.
Friday's performance was a full house and the week of shows attracted 8,500 theatregoers.
New York-based Shen Yun's mission is to revive the divinely inspired cultural heritage of China through presentations of authentic traditional performing arts. The company tours the globe with an all-new production each year.
This year's show included 22 pieces featuring classical Chinese dance, Chinese ethnic and folk dance, virtuoso singers, stunning costumes, state-of-the-art digital backdrops, and original compositions performed by a unique orchestra combining traditional Chinese and Western instruments.
Former cabinet minister David Kilgour came to see the show for the sixth consecutive year.
"The dancing was over the top, it was so good, and the costumes were the best I've ever seen. The singing was beautiful. It's becoming a major part of the cultural scene in Ottawa," Mr. Kilgour said.
Ottawa city councillor Marianne Wilkinson noted that "[Shen Yun] shows you a lot of different types of dancing and movements and things that we don't see normally in North America."
"The music is fantastic … Their lyricism was fantastic. I loved it," said Mr. Roy, a music director who works with various parishes in Ottawa. It was Mr. Roy's second time attending Shen Yun's performance at the NAC.
Former diplomat Brian McAdam, who spent two stints in Hong Kong, greatly appreciated the revival of China's lost culture.
"After the communists came into power in 1949, [and later instigated] the cultural revolution, they tried to destroy all the traditional values and culture of the Chinese civilization which is just absolutely horrible," Mr. McAdam said.

"There's been this huge vacuum of the traditional Chinese culture [that is] being shown to the world."
According to Mr. McAdam, Shen Yun has achieved their mission with aplomb.
"I'm so glad this is being revived and coming out again … it's fabulous," said Mr. McAdam.
Those sentiments were echoed by Mr. Kilgour. "You get a whole different dimension of China. That's what's unique about it. You see China as it could be, as it should be, as I think it will be. Certainly not as it is now," he said.
The opening presentation featured a battle in which good triumphs over evil, depicted as a red dragon. This theme runs throughout the evening and is vividly brought to life through the expressive art form that is classical Chinese dance.
Shen Yun captivated the audience who responded with oohs, aahs, and frequent applause culminating in a standing ovation each night along with curtain calls.
Pierre Camu, an Officer of the Order of Canada and former CRTC chairman, was particularly enthusiastic about Shen Yun's digital projections, vividly animated backdrops that extend the stage into spectacular landscapes.
Mr. Camu said that the effect of the dancers interacting with the visuals on the backdrop was "fantastic."
"I've never seen this before. That is unique and very well done," he said.
Progressive Conservative Member of Provincial Parliament Jack MacLaren said: "I think it's wonderful. The costumes are colourful, beautiful. The dancing is wonderful to watch, a little bit of culture and history thrown in there. And the story of the Falun Gong. So I'm impressed."
"It's unbelievable, it's fantastic. I don't think I've ever seen anything that even came close to what I'm witnessing here this evening. It's just very, very amazing," said fellow Conservative MP Garry Breitkreuz.
Greg Kells, CEO of Sunbelt Canada, left the National Arts Centre feeling uplifted after Shen Yun's performance. "These people were great, they had worked very hard to perfect their craft," said Mr. Kells.
"It was very well put together I must say. I don't know how to put it into words. I just enjoyed being there," said Mr. McAdam.

With reporting by NTD Television.
Shen Yun has three companies touring the world. The Shen Yun Performing Arts International Company will perform in Hamilton on Dec. 26-27.
For more information visit ShenYunPerformingArts.org.