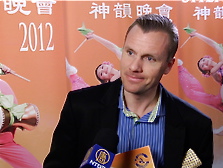 STOCKHOLM—Unlike the Swedish spring, which is still very much waiting in the wings, the Shen Yun Performing Arts show in Stockholm was bursting with color. Johan Nyström, sales manager, was in the audience, and he is already looking forward to the next one.
The New York-based Shen Yun performance features a backdrop in the form of a huge video screen, showing scenes from China, rendered by skilled artists.
"I've never seen anything like it. Very nice—it gave a great impression of China. Wonderful, actually," Mr. Nyström said after attending a performance at Cirkus.
The Shen Yun Performing Arts company is on a mission to reawaken the traditional Chinese culture it views as a divine gift. This gift was almost destroyed when the communist regime forced atheism on the Chinese people during the cultural revolution. This ideology and the policies that spring from the regime is what prevents Shen Yun from performing in Mainland China.
Mr. Nyström was especially caught by the opening scene, where the sound of war drums echo through the hall. This was his first meeting with the unique sound of the Shen Yun Orchestra, blending Eastern and Western instruments and musical traditions.
"The whole show, the dancers, the singers and the orchestra, it was an amazing mix. I've never seen anything like that from China before; it seems unique to me. It was really a grand performance, and I'm looking forward to next spring already," he said.
Shen Yun depicts both ancient myth and modern stories through classical Chinese dance. The spiritual practice of Falun Dafa has its roots in ancient China, but today its practitioners are persecuted for their faith. In one of the scenes, the courage of Falun Dafa practitioners is on display.
"Then this force of nature, or heaven, came down. It was a great to see, actually, because you could sense the message that there is a force greater than what humans can understand, this Buddha. It was really lovely," Mr. Nyström said.
Talking about the show in general, he added: "I would definitely recommend this show to anyone, to have this unique perspective on China. It was a very good show and quite unique. I recommend it to anyone and look forward to next year."
Reporting by NTD Television and Barbro Plogander.
Shen Yun Performing Arts, based in New York, has three touring companies that perform simultaneously around the world, with a mission to revive traditional Chinese culture. Shen Yun Performing Arts International Company will next perform in Paris on April 10 and The London Coliseum, April 12-15.
For more information visit ShenYunPerformingArts.org