Shanghai Police Detain Anti-Maglev Rail Protesters
January 12, 2008 12:00 am Last Updated: January 12, 2008 12:00 am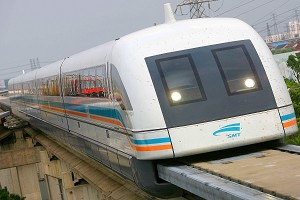 Shanghai—Hundreds of people marched through China's financial hub of Shanghai on Saturday protesting a planned extension of the city's magnetic levitation train, or "maglev", worried it would emit radiation and sicken them.
Police detained dozens of people, bundling them into waiting cars, vans and buses, as protesters thronged a major shopping street shouting "We don't want the maglev" and carrying placards reading: "No to maglev–bad for health".
"We are afraid how the radiation will affect us. Why does the government not listen to our concerns?" said a protester surnamed Guan, adding the extension would pass within 100 metres (328 ft) of her house.
Some people managed to shout out of the windows of police vehicles before being driven away: "We have done nothing wrong. Why are we being detained?"
The police initially attempted to stop journalists photographing the protests, the largest the city has seen since thousands took to the streets in anti-Japanese demonstrations in 2005.
But as the marchers wound their way down fashionable Nanjing Road, officers did not appear to stop people taking pictures or videos.
The protest started in front of the city government in the main People's Square, home to a horse racing track during Shanghai's colonial heyday, before police moved in to cordon off the area.
There was a similar, smaller anti-maglev protest in Shanghai last week.
The country is grappling with an acknowledged rise in unrest, driven by anger at illegal land grabs, corruption, environmental woes and a rising rich-poor gap, though large scale protests in big cities are rare.
China has the only commercial maglev in operation in the world, developed and built by the government and a German consortium including industrial giant Siemens.
Launched in 2003, the maglev floats on a magnetic cushion over a distance of 30 kilometres (18.6 miles) between an outlying part of Shanghai's financial district in Pudong and the international airport.
State media has previously quoted officials as saying the radiation emitted would be no higher than normal background radiation such as from a TV set, and would not harm residents living near the track.
The government wants to extend the train to downtown Shanghai, and then possibly to the nearby tourist city of Hangzhou.