China's Shanghai announced 2,676 new COVID-19 infections on Sunday, which is the highest daily tally given by officials over the past several months.
But many locals have told the Epoch Times they believe the real number must be several times higher while commenting that hospitals can't stand the workload as medical staff have increasingly been tested positive.
As of Saturday, 36 hospitals in Shanghai had been designated as special treatment sites for COVID-19 patients.
Most of those patients with relatively mild symptoms have been treated at makeshift hospitals set up inside stadiums and apartment buildings.
Chen, a resident at Zhuanqiao community in Minhang district of Shanghai, told the Chinese-language Epoch Times on Sunday that a medical worker who tests local people for COVID-19 started to have a fever a few days ago, but the officials didn't allow her to rest at home and forced her to keep on working.
An employee at the community's hospital posted on social media platforms that 12 of its staff had been diagnosed with COVID-19 after the hospital tested the community's 230,000 residents.
"Now, our whole community is locked down," Chen said, adding that COVID-19 patients with mild symptoms and asymptomatic infections were quarantined at makeshift hospitals.
"Some of the [makeshift hospitals] use freight containers to isolate people. The living condition [inside them] is very harsh," Chen said.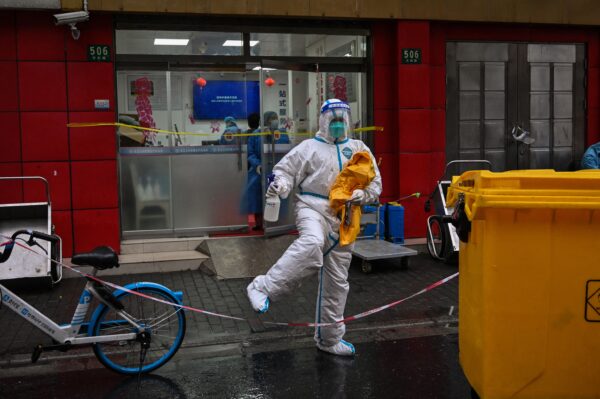 Zhou Yan (pseudonym), a resident in the Changning district of Shanghai, said in a phone interview that the designated hospitals and makeshift hospitals are handling many more cases than what the regime is declaring.
"The real total infections should be several times the official announced number," Zhou told the Chinese-language Epoch Times on Thursday.
Lockdown
Shanghai city officials announced on Sunday that 45 people in the city were diagnosed as COVID-19 patients while 2,631 others were diagnosed as asymptomatic infections on March 26. The Chinese regime categorizes COVID-19 infections without obvious symptoms separately.
These numbers are higher than previous announcements made over the past months. The regime announced 2,269 new infections on Saturday, 1,609 on Friday, and 983 on Thursday.
On Sunday, the regime announced a "block-style lockdown," in which the communities on different sides of the Huangpu River would be locked down at different times. The south and east sides would be locked down from Monday to 5:00 a.m. on April 1. And the west bank of the river would be locked from 3:00 a.m. on April 1 to April 5.
During the lockdown, the regime ordered that all residential compounds would be sealed and nobody would be allowed to leave their compounds but could enter. All public transportation would be shut down.
With a population of 25 million people, Shanghai is separated by Huangpu River into Pudong (east of Huangpu) and Puxi (west of Huangpu, and the traditional city center). The south of the river includes Jinshan and Fengxian districts, which are relatively far away from the city center.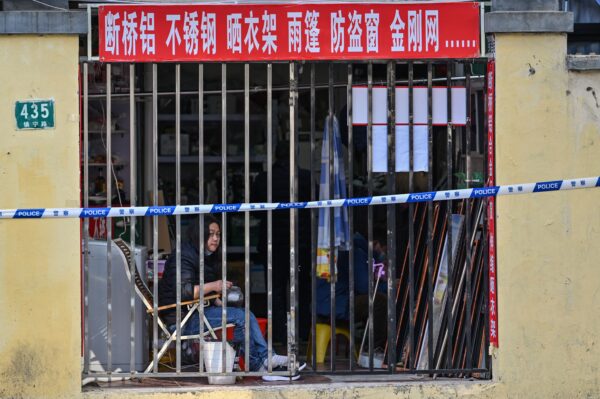 This more strict lockdown rule has scared Shanghai residents who had been semi-locked down for weeks with many of them struggling to obtain enough food while dealing with skyrocketing food prices.
On Saturday, the Shanghai Market Supervision Authority responded to residents' complaints and fined a grocery store for unfair pricing in 2020 and in February 2022.
However, residents complained it was the current food prices rather than the store's pricing history that was the problem. Residents posted online that the store's price for a green cabbage was 78 yuan ($12.25), a napa cabbage was 77 yuan ($12.1), while a potato was 36.8 yuan ($5.78).
According to the Shanghai Statistics Bureau, the average yearly income in the city was 78,027 yuan ($12,256) in 2021, which was $33.58 per day.
Panic
Local residents told The Epoch Times in phone interviews that they were worried about what was happening.
"One of my neighbors went shopping for food and later another shopper in the grocery store was recognized as having COVID-19 infection," Lu Yao (pseudonym), a resident in Xuhui district in Shanghai, told the Chinese-language Epoch Times on March 25.
"Then all the shoppers were locked inside and then sent to quarantine centers,"  Lu said.
She said her neighbor had to pay for the quarantine while living like a prisoner.
Hong Kong ON media reported on Saturday that nearly 100 COVID-19 patients were sleeping on the floor by using a piece of cardboard as a mattress at Jun'ai Rehabilitation Hospital, without any treatment or medicine.
Hundreds of patients in Jiading Stadium transferred to a makeshift hospital were treated by one doctor, the media said while reporting about a patient, who was coughing badly, only received two bags of Chinese medicine which wasn't enough for one day.
On Friday, Shanghai Dongfang Hospital stated that Zhou Shengni, a nurse at the hospital's obstetrics and gynecology department, died of asthma on Wednesday.
According to Zhou's colleagues, she had an asthma attack at home and her family sent her to Dongfang Hospital which couldn't treat her because the city regime didn't allow it to accept any new patients.
Zhou's family tried several other hospitals that evening, and finally found Renji Hospital which was the only one among them allowed to treat new patients. Unfortunately, the treatment arrived too late, and Zhou died at 11:00 p.m. that night.
Over the past few days, Shanghai netizens have also posted videos online, including senior residents asking the security officials to allow them to pick up their drugs at the entrance of Longhua Hospital in the city.