KAZAN, Russia—Champions Germany crashed out of the World Cup after suffering a stunning 2-0 defeat by a tenacious South Korea on Wednesday that eliminated them in the opening round for the first time in 80 years and sent the football-mad nation deep into mourning.
Long the benchmark of excellence in the sport, Germany's dismal campaign ended meekly, with stoppage-time goals to Kim Young-gwon and Son Heung-min condemning Joachim Loew's side to finishing bottom of their group.
On a warm and sunny afternoon at Kazan Arena, some 41,835 flabbergasted fans witnessed the fall of a titanic team that had made the semi-finals or beyond of every World Cup since 2002.
Four-times champions and four-times runners-up, Germany were heavily backed to retain their title and add another triumph to Loew's long list of honors.
Instead, they will head home after a scarcely believable failure, having also suffered a shock 1-0 loss to Mexico in their opener and only just scraped past Sweden with a stoppage time winner.
"At the moment … the disappointment of being eliminated is just huge. We need to congratulate our opponents," an apologetic Loew, who has overseen a golden era in German football since 2006, told reporters.
"We didn't deserve to win the title again, we didn't deserve to get into the last 16.
"We wanted to win but we didn't have what it takes."
With the group going down to the wire, Germany needed victory against the lightly regarded Koreans to give themselves a chance of progressing.
Yet they scarcely looked capable of scoring, let alone going on to claim another trophy. They became the fourth champions in five World Cups to fall at the first hurdle during their title defense.
They trudged off goalless at halftime, with frowns on faces and whistles ringing out from the terraces.
 Sense of Doom
An early fumble on the goal-line by captain and keeper Manuel Neuer betrayed their nerves, and all but delivered the Koreans' first goal.
A sense of doom grew in the stadium as Sweden leapt out to a 2-0 lead against Mexico in Yekaterinburg, forcing Loew to make changes in a desperate push for goals.
Mario Gomez and Thomas Mueller, who was dropped from the starting side, were injected soon after the break but a collective paralysis seemed to have taken hold.
Offered a free header from close in with minutes left on the clock, center back Mats Hummels missed the ball completely, a perfect snapshot of an afternoon of serial ineffectiveness going forward.
"We had a lot of chances, even me I should have scored in the 87th (minute)," said a rueful Hummels.
"Today it was not easy but, yes, no team could get through easily."
By then, Sweden had scored a third goal to make the equation even grimmer.
Toni Kroos, who curled in the winner to beat Sweden, tried to spark his side but was denied by Cho Hyun-woo in the 88th minute, one of a number of fine saves by the South Korean keeper.
"We were playing for the Korean people," said Cho, a cult figure at home for his ostentatious, orange bouffant.
"It was only after the match that we found out the other score, of course we were disappointed and that's why some of us cried."
Hogging 70 percent of possession and launching 26 shots at goal, Germany pushed forward in numbers but found no way through the Korean stonewall.
Their own defense was exposed on the counter-attack, however, and it finally buckled in the third minute of stoppage time when a corner fell to an unmarked Kim who poked the ball home from close range.
Although ruled out offside, the goal was confirmed with a review of the Video Assistant Referee, sparking mad celebrations from the Koreans and a gasp from the crowd.
Minutes later, Germany's humiliation was completed with a touch of farce.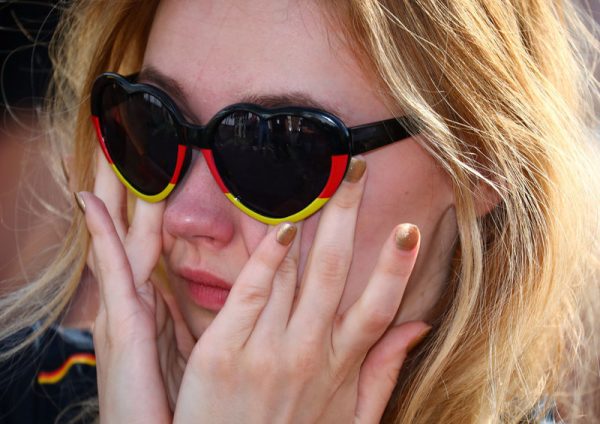 Son sprinted to retrieve a long ball, and with Neuer having gone upfield to try to help his side score, the Tottenham forward rolled a low, angled shot into the open goal to seal one of the most unlikely wins in recent World Cup history.
The Koreans, who had no idea of the score in the other match, rejoiced as if having won the tournament, while 11 German players hoped the ground would swallow them.
By Ian Ransom
Watch Next:
Why is Falun Gong Persecuted?
Although it's freely practiced in over 70 countries, doing this in China can lead to unlawful arrest, imprisonment, torture, or even death.