China Floods May Be Sign of Wider Problems
August 14, 2010 11:45 am Last Updated: October 1, 2015 7:20 pm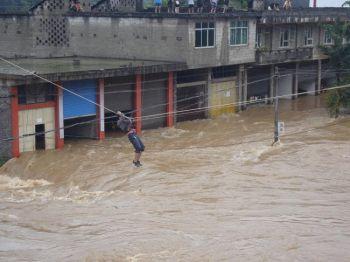 [ Heavy Rain, Mudslides Continue to Batter Northwest China ]
The floods now besetting China may be related to the country's trajectory of economic development, set by the Communist Party, which has pursued GDP growth at massive environmental cost and consequence, according to experts interviewed by The Epoch Times.
Southwestern China, stricken by severe drought in the first half of the year, is now suffering from flooding—along with three in four Chinese provinces, the worst since 2000.
Water resource experts believe that drought and flood are related, and that both are caused by water loss and soil erosion, which leads to a rupture of the ecological balance.
With thousands of potential and confirmed deaths so far, the heavy rain is expected to continue, putting more pressure on reservoirs and other flood control projects, according to forecasts by China's National Flood Control and Drought Relief Headquarter.
Dr. Wang Weiluo, a land-planning expert, has published numerous articles on China's water resource issues for decades, and is a leading expert in the field. He stresses that excessive development of river projects, single-minded pursuit of GDP growth, the destruction of virgin forests, and especially the destruction of the Tibetan Plateau (which he considers China's "water-tower"), are the largest contributing factors to the country's droughts and floods.
Water Resources at an Impasse
"Water is the lifeblood of economic development," Wang said in an interview with The Epoch Times. "Today the issue of China's water resources has become a bottleneck and the most difficult part of China's economic development."
A project of communist proportions was conceived by the Party's Academy of Sciences to attempt to resolve the issue. Announced at the National People's Congress by Chinese Communist Party (CCP) member He Zuoxiu, the South-North Water Transfer Project was meant to do what the name implies, and thereby "revive the Chinese nation" and double the size of its farmland.
China's future lies in its water. But after the drought in the southwest during the first half of the year, many note that its water resources have reached an impasse. "The Chinese nation has reached a most dangerous time—no water, and hence no agriculture," in Wang's words.
Northern China experienced severe drought in 2009, which the massive (and still unfinished) South-North Water Transfer Project was supposed to solve. It is planned to divert water from the upper, middle, and lower reaches of the Yangtze River to meet the development requirements of northwest and northern China.
But as a result of the drought, the Yangtze's water resources have been heavily taxed. Water resource experts in China are turning their sights on the water from the Tibetan Plateau.