Chinese authorities have so far released limited information about new COVID-19 cases that have recently sprouted across the country.
Residents in Jiangxi, Sichuan, Henan, Zhejiang, Shanghai, Hebei, and Guangdong provinces described in interviews with The Epoch Times a state of anxiety as local governments impose tight travel restrictions and quarantine measures.
In the westernmost region of Xinjiang, authorities announced at least 116 new CCP virus infections on Nov. 3—many more than the handful of cases they confirmed in previous days.
While the Xinjiang government claimed that all new infections were among local residents who were isolated at quarantine centers, with little transparent information, residents have been skeptical of the authorities' narrative.
After the virus broke out and spread in early 2020, the region experienced a second wave in July. A third wave appeared late last month.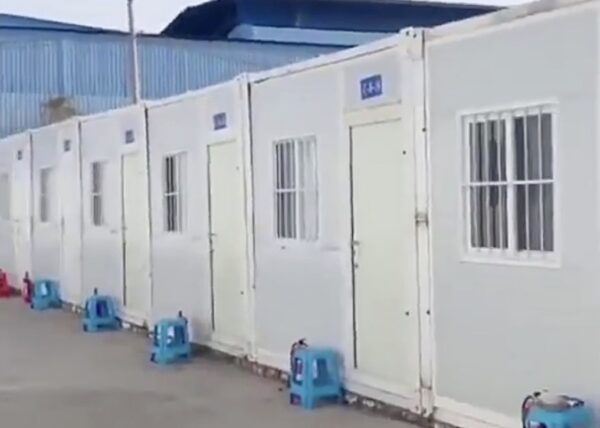 On social media, three videos circulated widely of the Midong makeshift quarantine center in Urumqi city, the region's capital.
The center was composed of tiny container rooms set up outdoors, with one person confined to each room. For the entirety of the 14-day quarantine period, people are barred from leaving the rooms, which are locked by staff from the outside.
Each room has a door and two small windows behind iron bars. Inside the room, there is a shower and toilet area cordoned off by curtains, a single-size bed, a small table with two plastic stools, an electric kettle, and a broom and dustpan.
People must pay for their stay at quarantine centers.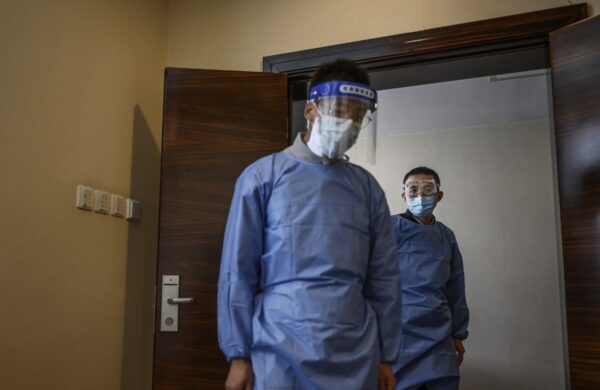 Restrictions
On Oct. 30, Chinese netizens from Langzhong city in Sichuan Province said that the Jinyuan Zhangfei International Hotel was locked down that day, with no one allowed to leave, including people who had visited the venue's restaurant.
Hotel staff told The Epoch Times on Oct. 31 by telephone that a male guest who had come from Xiamen city in southeastern China's Fujian Province was identified as a close contact of a diagnosed COVID-19 patient. He had stayed at the hotel for two days.
"All our employees and guests were tested [for COVID-19] yesterday," a staff member at the hotel's reception desk said. "All of us tested negative."
"The guest was taken away by officials yesterday, and we don't know where he is," a staff member at the hotel's restaurant said.
Sichuan officials haven't yet released related information; Fujian Province also hasn't announced any new domestic infections in recent days.
Meanwhile, a 49-year-old man in Guixi city, Jiangxi Province, was identified as an asymptomatic carrier on Oct. 27.
A local man who works at the same factory as the carrier told The Epoch Times in a phone interview that the carrier was previously infected but later fully recovered; he may have relapsed, the factory worker said.
"He [COVID-positive man] was isolated by officials and the whole building where he lives has been fully locked down," he added. He spoke on condition of anonymity for fear of reprisal from authorities.
A full lockdown blocks all residents in a building from leaving their homes for at least two weeks. They need to buy whatever they need online or via local government-authorized channels.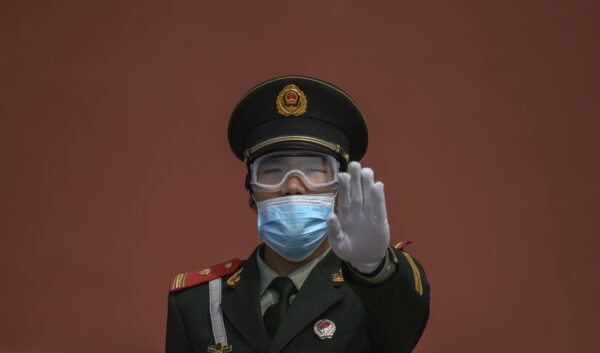 On Oct. 31, officials in Bazhou city in Hebei Province said they were seeking people who took a specific train on Oct. 23, because a passenger has been identified as an asymptomatic carrier, and they published some of the passengers' ID information and their last names.
Authorities identified them as people who had been in contact with the carrier and told them to report to the Bazhou city disease control center.
On Oct. 29, the local government of Puyang county in central China's Henan Province announced that a local man was identified as an asymptomatic carrier. Netizens there posted some videos showing that the local residential compound where the carrier lived was sealed off.